These Airlines Are Starting 2017 With Ridiculously Cheap Flights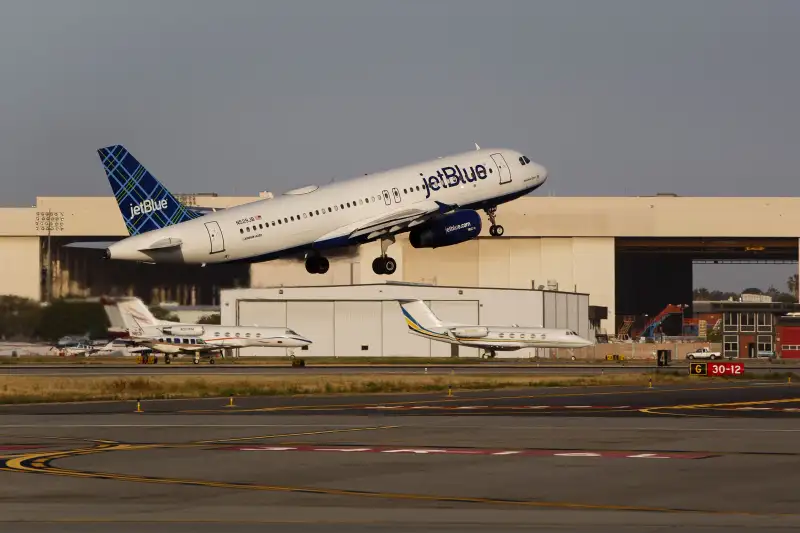 Bloomberg—Bloomberg via Getty Images
Almost like clockwork, a hot new JetBlue sale has popped up every week or two this winter, and the deals have often been amazing—like flights to the Caribbean as cheap as $114 round trip.
The latest round of outstanding JetBlue deals, introduced on Tuesday and valid for travel during the chilly weeks ahead, is again well worth your attention. The lowest fares are good for flights on any day except Friday or Sunday, from January 17 to March 8, with blackout dates during the peak holiday period of February 17 to 26. Below are some sample sale airfares, listed on a one-way basis. Availability is limited, and tickets must be booked by Thursday, January 5, to get the special prices.
Boston to Richmond: $34
Las Vegas to Long Beach: $34
Oakland to Long Beach: $39
Long Beach to San Jose: $44
New York (JFK) to Savannah: $49
Nashville to Boston: $49
Baltimore to Orlando: $54
New York (JFK) to Bermuda: $59
Philadelphia to Fort Lauderdale: $64
New York (JFK) to Turks and Caicos: $69
Fort Lauderdale to Cancun: $79
Boston to San Juan: $90
New York (JFK) to Reno: $94
Buffalo to Los Angeles: $99
Boston to Denver: $109
JetBlue isn't the only airline trying to goose winter sales. There are even cheaper fares available on select routes and dates in the coming weeks on ultra-low-fare Frontier Airlines.
How cheap? A bunch of flights are priced at just $20 one way if booked by Wednesday, January 4, for departures from January 7 to February 8.
Before booking, though, remember: With low-fare airlines like Frontier and Spirit, basic transportation is generally the only thing included with the flight price. Extras such as baggage (checked or carry-on), as well as seat reservations and food or beverages on the plane, incur additional costs.
Availability is very limited at the cheapest fares too. But we scanned the options, and were indeed able to find some $20 flights available in the coming days on routes such as these:
Philadelphia to Charlotte: $20
Atlanta to Orlando: $20
Las Vegas to Chicago: $20
Phoenix to Colorado Springs: $20
Chicago to Denver: $20
Finally, it's worth mentioning that Spirit Airlines also has a fresh crop of airfare deals valid during the post-holiday travel lull. All of the routes below are priced from just $34.60 each way for midweek departures from January 11 to February 15, assuming there's availability, and must be booked by January 5.
Akron-Canton to Tampa: $34.60
Baltimore to Fort Myers: $34.60
Buffalo to Fort Lauderdale: $34.60
Cleveland to Orlando: $34.60
Detroit to Houston: $34.60
Kansas City to Las Vegas: $34.60
Las Vegas to Portland (PDX): $34.60
Oakland to Los Angeles: $34.60