Babies 'R' Us Owes These Expecting Mothers Hundreds of Dollars And They Are Furious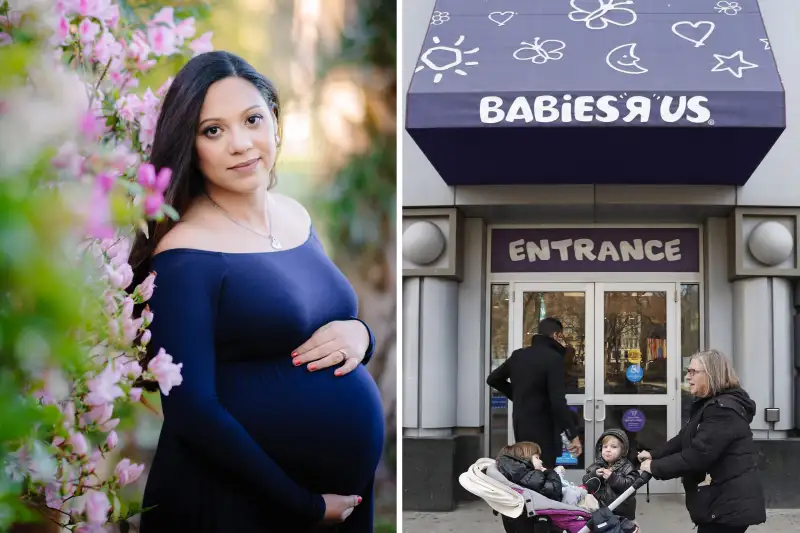 Courtesy of Sona Photography; Kathy Willens—AP/REX/Shutterstock
At about 5 months pregnant, Johanna Santana clutched her growing bump as she serpentined through the aisles of a Babies "R" Us in Florida in mid-January, scanning more than 200 of the best and safest items for her baby registry.
In addition to some smaller items that would help her out when she welcomes her first child in May, the 33-year-old expectant mother had her eye on a few expensive items — specifically a $380 stroller and carseat set. But she wasn't expecting her family or friends to purchase those for her off her registry — instead she was planning on using the "Endless Earnings" rewards program offered by Babies "R" Us.
The "Endless Earnings" rewards program is a cash-back incentive that usually is worth hundreds of dollars — given as a gift card 12 weeks after a child's birth to help ease the financial burden — depending on the total value of the registry. In fact, the rewards program was the whole reason she chose to do her baby registry at Babies "R" Us. But now Santana's financial strategy will no longer be possible — as she is now one of thousands of expecting mothers and families struggling to figure out how Toys "R" Us's liquidation filing will impact their baby registries — and the cash-back benefits they were counting on.
Toys "R" Us and Babies "R" Us are closing the more than 700 U.S. stores that are still open following a tumultuous last year for the toy giant. And in addition to the elimination of the baby registry perks, other Toys "R" Us rewards program benefits and gift cards will only be valid at locations until April 20. That also applies to expecting mothers or those who just welcomed their child in recent weeks — meaning they can no longer expect to save hundreds of dollars on future purchases since their cash-back gift cards would not arrive in time for them to still be valid. Toys "R" Us declined to comment as liquidators determine the next steps for the company.
"We had been holding off to buy our most expensive items with that," Santana, who works full-time as the manager of marketing communications at NASCAR, said of the rewards card. "But it's not going to happen now."
Babies "R" Us has been a popular destination for families creating baby registries for years. According to a recent survey from WeeSpring, a baby product website, Babies "R" Us was among the top three most popular retailers for baby registries in 2018, behind Amazon and Target. The registry program also includes in-store help and options to test out strollers and other big-item purchases — a perk expecting parents could rely on that is, for obvious reasons, unavailable from fast-growing online retailers.
Like Santana, Sarah Maiellano, a 32-year-old living in Philadelphia who is expecting her first child in May, told Money the rewards program was the dominant feature that brought her to Babies "R" Us over other registry options. She registered for more expensive items with the expectation of a $344 gift card coming her way.
While she didn't have specific plans for that card, Maiellano said she could have used it for the constant stream of diapers and other essential products she'll have to buy. Ideally, Maiellano said, getting some kind of gift card of any price would be helpful for expecting mothers who say they weren't warned of the rewards program disappearing before their due date. But "even if you get the gift card, there's not that much left to buy," Maiellano said. "My registry is quickly selling out online."
The same goes for Santana, who before Toys "R" Us's liquidation announcement last week had family and friends contacting her about how her registry items were in low stock or sold out. Her confidence in the store stayed strong thanks to an email she received in February notifying her there were no plans to shut down the rewards program as Toys "R" Us took its first hit of store closures this year. She said she heard nothing from the store about the changed programs and benefits before she called her local location herself.
"It has been stressful, especially as a first-time mom," Santana said. "Before this happened, I could say that I picked everything out carefully and was really happy with the registry."
"Now," she added, "I'm still looking for a pediatrician, daycare and so many other things while working full-time. So when this happens, I can't add something else to my plate."
The fall of the retailer opens the door for other competitors to entice parents-to-be. Santana and Maiellano both started making baby registries elsewhere, like on Amazon, at Target and on Babylist, a universal, online baby registry that shows price comparisons from major retailers. Natalie Gordan, the CEO and founder of Babylist, said she expects thousands of expecting parents with Babies "R" Us registries to come to her website to manage and re-do them. (Santana is one of the expecting mothers who has already moved her registry to Babylist.)
"It feels like it's the end of the era," Natalie Gordon, the CEO and founder of Babylist, told Money. "They were kind of this default option and people always assumed it was going to be part of their journey to parenthood."