How Much Does It REALLY Cost to Be on 'The Bachelor'? 3 Former Contestants Tell All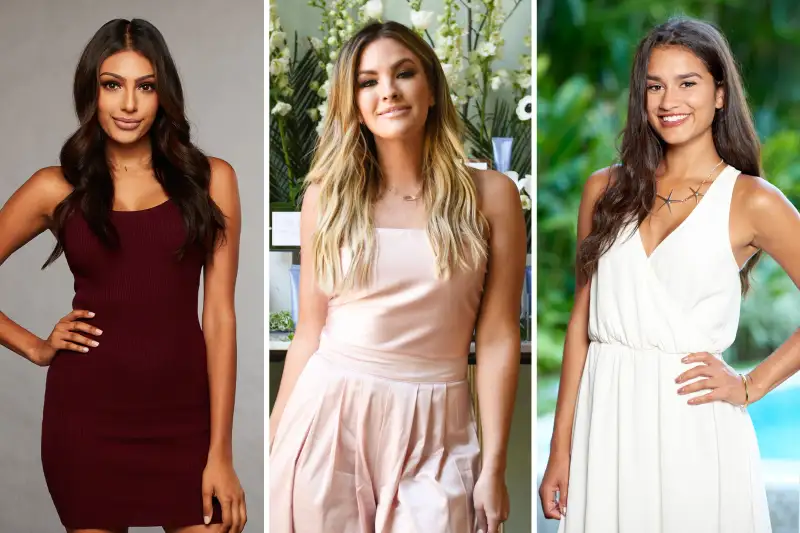 (left and right) courtesy of ABC; (center) Shutterstock
If you want to find love on national TV, it'll require more than a winning personality and an arsenal of soundbite-ready quips.
You're going to need a wardrobe of glittery evening gowns that make you stand out enough to catch your suitor's eye. Plus a few tubes of waterproof mascara, in case things don't go your way. Then add false eyelashes, high heels, self-tanner, casual wear for day dates — and that's just to start.
With a new season of The Bachelorette kicking off Monday, America is in for another two months of watching unusually good-looking young adults battle for roses (and true love!) in exotic locations. But even though the franchise may be blissfully removed from reality, there's very real money involved. The internet is already buzzing about the $6,000 gown Bachelorette star Becca Kufrin is wearing in advertisements for the upcoming episodes.
The contestants aren't so lucky.
They have to cover their own costs, according to Amy Kaufman's new book Bachelor Nation: Inside the World of America's Favorite Guilty Pleasure, and it's not cheap. Participants receive vague instructions, are told to prepare for a variety of climates and must pack as many as 14 formal looks.
So just how much does it cost to get your chance at happily ever after? Here's what we found out.
'How Am I Going to Pack All of This Into Two Bags?'
The Bachelor started in 2002 with a simple concept: 25 women would compete for one man over six weeks in the hopes of landing a marriage proposal. The contestants all live together, taking day trips for various dates, and the star whittles the group down every week. The Bachelorette works the same, but with the genders flipped.
For both shows, there are two instant challenges that come with getting ready for your appearance. You don't know how long you'll be there, and you don't know where you'll end up.
That sense of uncertainty affected how Becca Tilley prepared for her appearances in 2015 and 2016 (yes, she was cast in back-to-back seasons). She tells Money her naiveté saved her wallet because she didn't do much shopping before filming. She simply borrowed a few outfits from friends, picked up some dresses from Forever 21 and headed to the house.
"I kept thinking, 'What if I spend all this money and get sent home the first night?'" Tilley says, referring to the way contestants get eliminated over time. "So I just winged it. When I got there, some of the girls were talking about how much they spent on clothes [and] I was like, 'HAVE I MADE A HUGE MISTAKE HERE?'"
For her second season, Tilley says she spent about $500. It wasn't any easier, though, to select outfits without knowing the destinations. Bachelor shows are famous for staging lavish dates in foreign locations; over Tilley's two seasons, contestants went from California to Iowa to Bali, Mexico and the Bahamas.
"They send a packing list, but it's basically 'clothes for warm weather, clothes for cold weather, athletic clothes, dressy clothes, swimwear, cocktail dresses,'" says the lifestyle blogger and host of podcast Scrubbing in with Becca Tilley. "I remember looking at it, thinking, 'How am I going to pack all of this into two bags?'"
Tilley did the Bachelor on the cheap, but not everyone does. Spending sometimes even becomes a point of contention: In 2016, contestants were recorded gossiping about Olivia Caridi, who they claimed said "she spent, like, $40,000 on clothes." Caridi later had to address the rumor on her website's frequently asked questions page.
"I don't have $40,000 to spend on clothing," she clarified. "I am a journalist who is just starting a career, and my checking account reflects that."
Budget for Eyelashes
Bachelor women have it harder than Bachelorette men when it comes to getting ready. There are statistics to back that up: E! News reported last year that female contestants spent four times more than their male counterparts to get in shape for their debuts on the show.
Marikh Mathias has anecdotal evidence to support that theory. When she found out she'd been selected for the most recent season of The Bachelor, she ran into quite a few expenses that men probably didn't.
"I spent like $70 on eyelashes," she says. "I just bought a bunch because I was like, I don't want to run out and not be able to get them."
Mathias says she was cast closer to the beginning of shooting than a lot of the other women, so she didn't have much time to get ready. She stocked up on makeup like concealer and eyebrow product and got her hair cut and colored. To keep costs down, she says she tried to mix inexpensive dresses with high-end ones, shopping at Nordstrom, ASOS and PrettyLittleThing. Total, she spent about $3,500 — a sum she says she's fine with in retrospect.
"I really wanted to have a distinct style on the show. I wanted people to be like, 'Oh, this is what we're used to seeing her in,'" she says. "That's one of the most fun parts — what other time do you have to wear a gown once a week?"
That's another factor contestants have to consider: They're not there to only find love, but also to set themselves up for social media sponsorships and future casting opportunities.
Jillian Harris, who competed on The Bachelor in 2009 and ended up being The Bachelorette right afterward, said she remortgaged her house and ended up spending "something like $8,000 on clothing" when she went on the first show. The contestants did get goodie bags, but she said the contents weren't useful.
"The girls do have to bring all of their own clothing and of course, they want to be wearing the best clothes EVER to be seen on TV in," Harris wrote on her blog. Meanwhile, the guys probably "don't even notice a difference," she added.
It's Different in Paradise
For the past few years, ABC has also produced a spinoff called Bachelor in Paradise, which is essentially an on-the-beach free-for-all for past competitors. Paradise participants are paid for their appearances, with Bachelor blogger Reality Steve reporting that some people made up to $15,000 in the show's first season.
Taylor Nolan, who competed on The Bachelor in 2017 before joining the Bachelor in Paradise cast last summer, tells Money the latter was easier to justify financially. Fresh out of graduate school and in student loan debt, she'd spent between $1,000 and $2,000 on clothes and makeup for The Bachelor only to get sent home in week five.
But Paradise was a pleasant surprise. As Nolan knew she was beach-bound, packing was much easier. She filled her suitcase with sundresses, sandals and bathing suits, many of them from inexpensive brands like PacSun and Amazon.
"Before going to Paradise, I definitely was wishing I hadn't got as much stuff as I had, because you don't get paid," she adds. "After Paradise, I definitely felt more like there was a balance of how much I put in versus how much I was getting out — not only with my relationship, that was a positive experience, but also being able to make money."
Nolan points out that not everyone is so lucky. Employers are less than thrilled when people who just took leave for The Bachelor or The Bachelorette ask for time off to go to Paradise. She says those who do manage to hold down a job sometimes have trouble juggling their various obligations, because "the experience of the show is all-consuming."
There are also benefits, of course: Former contestants can profit off their 15 minutes with sponsored Instagram deals and other advertisement opportunities. Nolan, who is a mental health counselor, has traded private practice for a podcast she says allows her to reach a wider audience.
And there's one other reason the money she spent on The Bachelor/Paradise was ultimately worth it: She got engaged to ex-Bachelorette contestant Derek Peth at the end of the show.