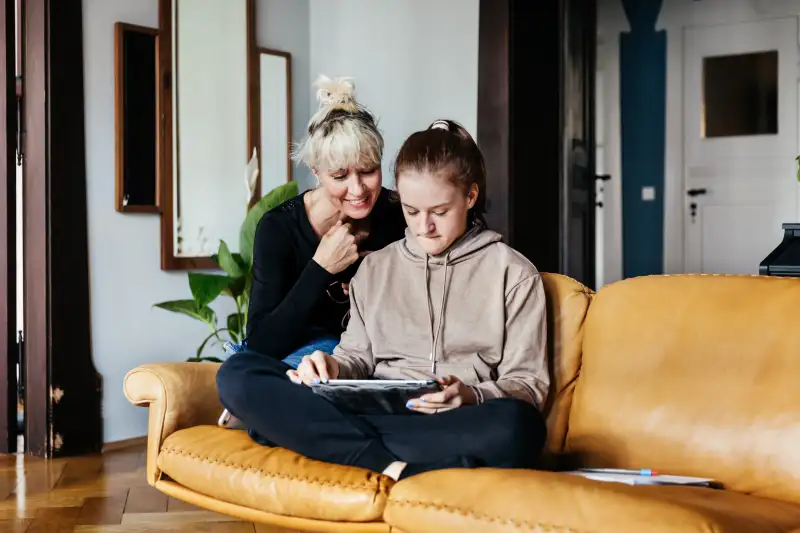 If you are responsible for a child in your life, you may be concerned about how families pay for college. A 529 Plan may be the solution if you want to save for college.
To help you determine the best plan to suit your needs, we've carefully evaluated 529 plans based on critical factors such as investment options, fees, performance, reputation and ease of use. Discover our top picks for the best 529 plans of 2023 and which ones might have the best returns.
Best 529 Plans Reviews
Why We Chose It: We chose the ScholarShare 529 Savings Plan as the best for low contributions due to its combination of low fees and the wide range of low-cost investment options it offers.
Pros
Wide range of investment options
Contribution matching up to $200 on new accounts
No minimum contributions
Cons
Withdrawals for non-educational purposes by California residents subject to an additional 2.5% penalty tax
The ScholarShare 529 College Savings Plan offers a range of investment options, including mutual funds and exchange-traded funds (ETFs). The plan also has low contribution minimums. which allows investors to start saving for higher education expenses with as little as $25. This makes it an attractive option for those who may not have much money to contribute initially but want to start saving for the future.
TIAA-CREF, a well-respected financial services company with a long history of stability and reliability, manages the plan. Regarding fees, the ScholarShare 529 College Savings Plan is very competitive. There are no enrollment or account maintenance fees, and the expense ratios on the plan's investment options are between 0.01% and 0.06%. However, keep in mind that California residents are subject to a 2.5% penalty tax if they withdraw the money for non-education purposes.
The ScholarShare 529 Plan offers a variety of features to make saving for higher education expenses easier. This includes automatic investment plans, online account management tools and the ability to set up a recurring contribution schedule. These features help investors stay on track with their saving goals.
Why We Chose It: The Michigan Education Savings Program (MESP) is an extremely affordable option for college savers because of its economical fees and low contribution minimums.
Pros
Low minimum contribution of just $25
Tax deduction of $5,000 for single filers and $10,000 for joint filers
Roll over funds option without penalty
Cons
Single-fund portfolio options are limited to just one with an aggressive investment strategy
The MESP is administered by the Michigan Department of Treasury and is backed by the full faith and credit of the state of Michigan. This plan has consistently delivered strong returns over the years and offers a range of investment options, including age-based portfolios, individual mutual funds and a stable value fund. However, do be aware that their single-fund portfolio options are higher risk than some might prefer.
MESP has low contribution minimums, making it accessible to those who may not have much extra money to put toward education savings. Its fees are also highly competitive with other education savings plans. It charges an annual account maintenance fee and fees for some of the investment options, but these fees are generally lower than those charged by similar plans and are clearly disclosed.
A feature that makes MESP an attractive option for education savings is its roll-over funds options. Savers can transfer other education savings accounts without penalty into their MESP account. Another beneficial feature includes its tax benefits for both contributors and beneficiaries.
Why We Chose It: The Oregon College Savings Plan is our pick for the best 529 savings plan for high returns because its portfolios have performed well in the last few years despite the difficult investing environment.
Pros
Low fees
Low opening minimum balance
Strong record of positive gain for most portfolios
Cons
No tax benefits for non-Oregon residents
The Oregon College Savings Plan aims for steady, long-term growth rather than volatile and unpredictable returns. As of 2023, all but 1 of its 25 portfolios aimed at students enrolling in college in the next 20 years have had a positive return since their inception. This is despite 2022 being one of the poorest years for global stock markets in decades. Even the ones created in just the last few years have returns of around 5%, even though many other portfolios have shown negative returns.
Contributions to this plan are made with after-tax dollars, but they grow tax-free and can be withdrawn tax-free if used for qualified higher education expenses. You don't have to be an Oregon resident to invest in it, but if you're not, you can't claim the tax benefits for yourself.
Unfortunately, as of 2020, the former tax deduction has been replaced with an Oregon state income tax credit, which is capped at $150 for those filing single and $300 for joint filers. Any Oregon state resident contributing to an Oregon College Savings Plan account can earn a tax credit. If you contribute to a 529 plan but live out of state and can't claim the tax credit, the beneficiary can count those contributions toward their own credit.
Why We Chose It: The CollegeAmerica 529 Plan offers a wide range of investment portfolios that include a mix of different asset classes, such as stocks, bonds and cash.
Pros
Flexible and diverse investment options
Proven investment track record
Low enrollment fees
Cons
Different portfolios have different levels of risk and may require more research before investing
The CollegeAmerica 529 Plan offers a range of investments, including age-based portfolios that automatically adjust their investment mix as the beneficiary gets closer to college age, and individual investment options like mutual funds and ETFs. It offers a choice of four different asset portfolios, each with a different level of risk, to help individuals tailor their investments to their specific financial goals and risk tolerance levels.
With so many options available, you'll have to do some research to get to know each plan. If time is tight, or you aren't interested in learning about investments, you may be better off with a different company.
Capital Group has been in business since 1931, so they have a long history and a lot of experience in investing. They use a multi-manager structure and research-driven strategies to make investment decisions. This provides investors with long-term goals and stability even when there is turnover in the company.
Capital Group's InvestEd Plan also has relatively low fees compared to other 529 plans. It has a low enrollment fee and no annual maintenance fees, making its asset management fees competitive with other plans.
Why We Chose It: The New York State 529 College Savings Program has a stellar reputation according to the high ratings and numerous positive comments from customers on several online review sites.
Pros
Low fees for investment portfolios
No minimum opening balance
High contribution maximum of $520,000
Cons
Self-managed portfolios only
New York State 529 Program plans are managed by Ascensus College Savings, one of the most prestigious investment firms in the 529 investment industry. Unlike with other 529 plans, the program's accounts can be linked to the Upromise rewards service to earn cash rewards on everyday purchases. Plus, the plan has a wide range of portfolios to suit different investment styles and one of the highest contribution maximums in the industry.
One of the key benefits of the Direct Plan offered by this program is low fees and no sales charges. There is no minimum balance, so it's easier to get started, and fees don't start until there is $1000 in the account. This means that more of your money will go towards funding higher education expenses rather than being used to pay for administrative costs or sales commissions.
Because the New York State's 529 program offers fewer plan options, it may not be suitable if you're looking for a plan that is tailored to your specific needs. For example, it only offers self-managed portfolios. While some may think that this is a pro, you may need to make more frequent adjustments to meet your savings goals — even with an age-based plan.
Why We Chose It: The NextGen 529 Savings Plan is available nationwide and has a much wider range of professionally managed investment options and portfolios than other plans.
Pros
Administered by the Finance Authority of Maine
Available to all U.S. citizens
Managed and self-managed portfolio options
Cons
No e-gifting platform for receiving contributions as gifts online
Operated by the state of Maine, the NextGen 529 Savings Plan was created in 1999 and is managed by Vestwell State Savings, a well-respected company focused on helping sponsors manage their savings plans across America. The plan has an expansive range of managed funds and portfolios for all investors of all risk appetites. These include its Principal Plus portfolio, which offers a guaranteed rate of return, and its NextGen Savings Portfolio, a collection of other portfolios with a range of different investment styles.
Their Direct Series Plan allows you to independently manage your own funds whilst their Select Series plan allows you to receive advice from a financial advisor about which investments may be best for you. Having both investment options gives you the best chance to pick the right portfolio for you and maximize your risk/reward trade-off when selecting investments.
Contributions to the NextGen 529 Savings Plan are made on an after-tax basis, but they grow and can be withdrawn tax-free as long as they are used for qualified education expenses. This can help families save more money for college by reducing the impact of taxes on their investments. And unlike many other 529 plans, this one offers matching contributions for Maine residents making automated and initial contributions.
One downside of this plan is the lack of E-gifting. This will add extra steps if anyone else wants to contribute to the child's college savings, as they will have to give the money to the account holder, who then has to add it to the account.
Why We Chose It: Vanguard has four portfolio options sitting at the company's highest level of risk tolerance. One of those is the Vanguard 529 Vanguard Aggressive Growth Portfolio, a blend of stocks that represent the whole stock market.
Pros
Designed for long-term growth
Long history, so you can see the plan's performance over time before you invest.
Actively managed with a goal to outperform the market.
Cons
No investment advisor available.
Minimum investment is $3,000 and a minimum contribution is $50.
Vanguard's Aggressive Risk Portfolio is specifically designed for investors with high risk tolerance, namely those with children who are still young and have a long time to save. Since this portfolio attempts to reflect the market, it will have short-term volatility, which could make some investors anxious.
This is an actively managed portfolio, unlike indexed portfolios, which are designed to mimic the market and are often hands-off. It's designed and maintained by real people to outperform the market, which makes it more high-risk than other savings plans. This portfolio option was opened in 2002. Potential investors can go to Vanguard's site and look at its performance over the portfolio's lifetime.
An investment advisor is not included in this plan. This may not be a big deal for some plans, but a second opinion could be crucial for high-risk portfolios. Moreover, this portfolio is not designed for people with lower incomes as it requires a high minimum investment of $3,000 and a minimum contribution is $50.
Other Companies We Considered
Virginia 529
Pros
Several low-fee portfolio options to choose from including an FDIC-insured savings account
Offers portfolios with passive and actively managed funds
Cons
No financial advisors available, only direct buy.
Virginia 529 is a Virginia-sponsored plan with low fees and a high maximum contribution limit of $500,000. It offers a variety of investment options, including age-based options and a guaranteed minimum rate of return option. Contributions are tax-free, and qualified withdrawals for education expenses are also tax-free.
None of its plan options comes with an advisor, so if you're not confident in your investment decisions, that would be an additional fee.
Edvest
Pros
Existed for a long time
Allows for $10,000 in withdrawals for K-12 tuition
Cons
High management expenses relative to other 529 plans
The Edvest College Savings Plan is a tax-advantaged 529 college savings plan offered by the state of Wisconsin. It's available to any U.S. citizen or taxpayer, and anyone can contribute to it, including grandparents, other family members and friends. It offers a variety of low-cost investment portfolios, and contributions to the plan and qualified withdrawals for education expenses are tax-free.
Edvest didn't make our top list mainly due to its high management expenses.
my529
Pros
A Morningstar top-rated plan for 12 years straight
Online tool to share gift contribution links with others
my529 is a 529 college savings plan offered by the state of Utah. It does not require a financial advisor, can be opened by anyone age 18 or older for any beneficiary with no age, income or residency restrictions, and offers federal tax benefits on earnings and tax-free withdrawals for qualified education expenses. It can also serve as a credit for Utah taxpayers.
my529 didn't make the main list due to the program's lack of contribution matching.
Best 529 Plans Guide
Want to learn more about 529 plans? Our guide can help you make an informed decision and reach your savings goals.
What is a 529 plan?
Every parent wonders how to pay for college for their children. A 529 plan is a tax-advantaged investment vehicle designed to help families save for future education costs and minimize student loans. The plans are named after Section 529 of the Internal Revenue Code, which authorizes them.
529 plans are sponsored by states, state agencies or educational institutions and are authorized by federal law. They offer tax and financial aid benefits, making them one of the most popular ways to save for college.
There are two types of 529 plans: prepaid tuition and college savings plans. Prepaid plans allow you to purchase credits at participating colleges and universities at today's prices, which can then be used to pay for tuition and fees later. College savings plans are investment accounts that allow you to save money in a tax-advantaged way for future education expenses.
How do 529 plans work?
529 plans work by allowing anyone with a social security number to save money tax-free for future education expenses. Contributions to a 529 plan are not tax-deductible, but the earnings on the investment grow tax-free as long as they are used for qualified education expenses. These include tuition, fees, books, supplies and equipment required for enrollment or attendance at an eligible educational institution.
You can open a 529 plan for yourself or a beneficiary, such as a child or a grandchild. The person who opens the account is typically the account owner, and the beneficiary is the person who will use the funds for education expenses.
You can choose from a variety of investment options for a 529 plan, such as mutual funds, exchange-traded funds and age-based portfolios, which are designed to become more conservative as the beneficiary gets closer to college age. Investing in a 529 plan early can help you pay to send your child to one of the best colleges in America.
How to pick a 529 plan?
There are several factors to consider when picking a 529 plan. Here are a few things to keep in mind:
Tax benefits: One of the main benefits of a 529 plan is the tax-free growth of your investment. Consider the tax benefits of the plan you are considering and any state tax deductions or credits that may be available.
Investment options: Look at the investment options available in the plan. Do they align with your investment goals and risk tolerance? Are there enough options to diversify your portfolio?
Fees: 529 plans may have various fees, such as enrollment fees, annual maintenance fees and investment management fees. Compare the fees of different plans to find one that fits your budget.
Flexibility: Consider whether the plan you are considering offers enough flexibility to meet your needs. For example, can you change the beneficiary if necessary? Can you use the funds at any eligible institution?
Reputation: Research the reputation of the plan you are considering. Look for a plan with a strong track record and consider the financial strength of the plan's sponsor.
It's also a good idea to compare multiple plans. Consider working with a financial advisor to help you find the right one.
Research your state's 529 plans
It's a good idea to research the options your state offers before looking at 529 plans elsewhere. Many of the best states for 529 plans, like Oregon, offer tax deductions or credits for contributions that are sponsored by companies in the state.
Look at the total of state direct-sold 529 plans
After reviewing your state's 529 plans, you may want to consider looking at direct-sold 529 plans offered by other states. You can purchase direct-sold plans directly from the plan sponsor. These plans may offer lower fees and more investment options than advisor-sold plans.
Filter all options by investments and contributions
Once you have a list of the best 529 college plans, you can start filtering your options based on your investment goals and contribution preferences. Consider the type of investments the plan offers, such as mutual funds, ETFs or age-based portfolios. Also, consider the minimum and maximum contribution limits and whether the plan has special features, such as automatic investment options or the ability to contribute through payroll deduction.
Determine the one for you from the remaining list
After you have narrowed down your options, consider the fees and investment options of the remaining plans and any state tax benefits or other special features. You may also want to consider the financial strength and reputation of the plan sponsor.
Best 529 Plans FAQ
Who maintains control over the 529 plan?
The account owner of a 529 plan maintains control over the plan. The account owner is typically the person who opened the account and is responsible for making contributions and managing the investments. They can also change the beneficiary of the plan if necessary.
How much can you contribute to a 529 plan?
There is no annual contribution limit for 529 plans, but lifetime limits vary by state. The lifetime contribution limit for most states is between $235,000 and $529,000, although some states have higher limits.
It's important to note that contributions to a 529 plan may be subject to gift tax if they exceed the annual gift tax exclusion amount, which is currently $15,000 per donor per beneficiary. Also, note that not all plans include an e-gifting option.
What are the qualified expenses for a 529 plan?
Qualified education expenses for a 529 plan include tuition, fees, books, supplies and equipment required for enrollment or attendance at an eligible educational institution. Eligible institutions include colleges, universities and vocational schools that are eligible to participate in federal financial aid programs. Some 529 plans also allow you to use the funds for certain K-12 education expenses, such as private school tuition or tutoring.
Who can contribute to a 529 plan?
Anyone — the account owner, the beneficiary and other family members or friends — can contribute to a 529 plan regardless of income level. . However, contributions to a 529 plan may be subject to gift tax if they exceed the annual gift tax exclusion amount, which is currently $15,000 per donor, per beneficiary. It's important to note that the account owner maintains control over the plan and can make continuous contributions and manage the investments.
How We Chose the Best 529 Plans
We considered several factors, including:
The range of investment options offered by the plan
The fees charged by the plan
The performance of the investment options over time
The flexibility of the plan
The ease of use of the plan
The reputation of the plan's provider
We also used online resources, reviews, and wealth manager recommendations to compare the best state 529 savings plans.
Summary of Money's Best 529 Plans of 2023
There are a number of 529 plans available nationwide, and it can be overwhelming to determine which one is the best for you. When evaluating different 529 plans, remember to look at each plan's fees and expenses, the investment options it offers and the potential for tax benefits. Thoroughly research and compare different plans before deciding which one is right for you.