The 10 Best Breweries in the U.S. to Visit, According to Yelp Reviewers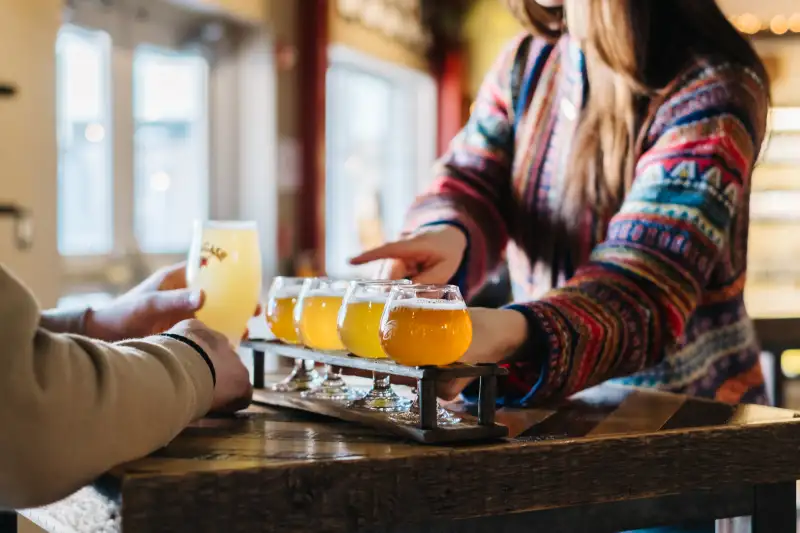 courtesy of Allagash Brewing Company
It's National Beer Day today, and there may be quite few Americans celebrating: More Americans prefer an ice-cold beer to wine or liquor, according to Gallup.
National Beer Day celebrates the Cullen-Harrison Act, which was enacted in April 1933 and got the ball rolling on ending prohibition in the U.S. The law legalized the sale of beer and wine with an alcohol content of 3.2% (by weight). (The 21st Amendment, passed later that year, officially ended Prohibition.)
Today, there are over 6,000 craft breweries operating in the U.S. according to the Brewers Association—and many of them offer tours and tasting rooms for visitors. To help you celebrate your right to drink, Money partnered with Yelp to identify the best breweries to visit in the U.S., and then dug into our Best in Travel database to find the cost of a weekend getaway.
The following breweries land at the top of Yelp's list of best breweries to visit; all offer tours, tastings, or both.
---
courtesy of Broken Compass Brewing Company
1. Broken Compass Brewing
• Location: Breckenridge, Colo.
• Cost of a 3-day trip for two: $1,767
After a long day hitting the ski slopes or hiking the trails around Breckenridge, call for a ride to the tap house at Broken Compass. (The pick-up, drop-off shuttle service around the city is free.) Launched in May 2014, Broken Compass' beers have become a local institution; flavorful varieties like Coconut Porter and the Chili Pale Ale will generally set you $5 or $6, although a few specialty varieties, including barrel-aged brews, are between $8 and $10. You can also call to set up a free tour of the on-site Brew House, as long as there's a brewer available to lead the tour.
---
courtesy of Anchor Brewing
2. Anchor Brewing
• Location: San Francisco
• Cost of a 3-day trip for two: $1,424
Anchor Brewing was one of the first craft breweries in the U.S., with a history dating back to the 1849 California gold rush. Sapporo bought it late last year, but the beer maker continues to use traditional copper brewhouses to make every ale. Public tours of the brewery start at $25, and you can purchase six-packs of its California Lager, Go West! IPA, and other brews for about $9 to $13. Plus, you can grab a bite at local food trucks at the nearby gathering place Anchor Public Taps.
---
courtesy of Allagash Brewing
3. Allagash Brewing
• Location: Portland, Maine
• Cost of a 3-day trip for two: $1,384
Known for its Belgian-style beers, particularly its widely available Allagash White, Allagash Brewing Company started in Portland, Maine over 20 years ago. Today, the company has around eight beers available year-round, and another seven seasonal brews—along with the usual one-offs and keg-only releases. The company's brewing facility is open for tours seven days a week: Basic tours are free, although enthusiasts can splurge on the three-hour Grand Cru tour of the facility ($100 per person, with the proceeds going to charity), where you sample beer directly from the barrels and may even bump into founder Rob Tod or top brewmaster Jason Perkins. In the tasting room, visitors can also partake in a flight of four 3-ounce pours for $4—or grab a larger glass of your favorite for the same price.
---
courtesy of Georgetown Brewing
4. Georgetown Brewing
• Location: Seattle
• Cost of a 3-day trip for two: $1,334
"Darn tasty beer." The truth behind that tagline is just one reason this Seattle-based microbrewery has a booming growler program (they sold almost 100,000 growlers in 2016), with patrons stocking up on Georgetown's six year-round beers plus seasonal favorites. You can stop by for a tour of the Georgetown Brewing Company on Saturdays ($5 per person, with proceeds going to charity), or stop by their tasting room for free samples of all their available beers. If you're local, growler bottles start at $4.56; the cost to fill one, with varieties like Georgetown's Bodhizafa IPA, ranges from just over $7 to $9 (plus tax).
---
Eric W. Pohl—©courtesy of Ranger Creek
5. Ranger Creek Brewing & Distilling
• Location: San Antonio
• Cost of a 3-day trip for two: $1,099
San Antonio's Ranger Creek offers visitors a twofer: a "brewstillery" that produces both craft beer and whiskey. Learn how both are made during on-site tours, which cost $10 and also include three samples and a souvenir glass. Flights of bourbon, rye and whiskey (plus the occasional moonshine) go for $8 in the tasting room, while the brewery's staple beer, the San Antonio Lager, is available for around $5.
---
courtesy of Kohola Brewery
6. Kohola Brewery
• Location: Lahaina, Hawaii
• Cost of a 3-Day Trip: $2,157
Since flights to Hawaii are at an all-time low, now is the perfect time to take a spontaneous trip and visit Maui's Kohola Brewery. Kohola's best-selling beer is the Lokahi Pilsner, a pale yellow lager that has a tropical tang from its sulfate-rich water profile. Another visitor favorite is the Pineapple Pilsner—a limited-release, award-winning beer infused with locally grown fruit.
Tours of the brewery cost $10 per person and are offered Wednesday through Friday at 2 p.m., 3 p.m. and 4 p.m. Or visit the brewery's tasting room, which offers three year-round beers plus limited seasonal releases for $6 to $8 for a 16-ounce pour.
---
7. Florida Keys Brewing
• Location: Islamorada, Fla.
• Cost of a 3-day trip for two: $1,661
Since opening its doors in 2015, the Florida Keys Brewing has gained a reputation for good beer and good times. Its unique beers include a honey hibiscus kolsch dubbed Iguana Bait and an Irish red called Hurricane Hole. The company's taproom has a funky, fun vibe, with thousands of bottle caps from around the world decorating the space and a beer garden out back. There are about 20 beers on tap daily, running around $6 for a glass. Or try a flight of five 5-ounce pours for $10. Florida Keys Brewing also offers free group tours of its brewing facility (located down the street), but you'll need to call ahead for reservations.
---
8. Argus Brewery
• Location: Chicago
• Cost of a 3-day trip for two: $1,160
Though Argus Brewery is less than a decade old, it has a Chicago heritage of its own. A father-son duo founded the brewery in 2009 inside an old horse stable formerly used by Schlitz Brewing, located in the South Side's historic Pullman District.
The brewery's 90-minute tours, which include beer sampling, for $15 per person. Be sure to try the brewer's award-winning namesake Argus Lager. (There's a taproom on site, but it's currently open on a limited basis, by reservation only.)
---
Stefan Yarish—CAPSFOTO International
9. Wren House Brewing
• Location: Phoenix
• Cost of a 3-day trip for two: $1,087
Arizona's craft beer scene has flourished in the last few years, adding over 60 independent brewers since 2013—including Wren House Brewing. While the brewery itself is off limits, Wren's taproom serves its beers for $4 to $7. Try the Wrenovation, the brewery's version of a West Coast-style IPA, or limited-release brews like the Jomax oatmeal stout, made with Ethiopian coffee beans, or the tropical Highway Vacay Triple IPA.
---
10. Samuel Adams Brewery
• Location: Boston
• Cost of a 3-day trip for two: $1,445
Samuel Adams Brewery has grown big enough to have facilities in Ohio and Pennsylvania, but head to Boston to get the full Sam Adams experience—the other locations aren't open to the public. Regular tours of its brewhouse run every 40 minutes (suggested $2 donation, with proceeds going to charity). But get there early, especially on weekends, as tickets are first come, first served, with no reservations accepted.
For true fans, the brewery also hosts Morning Mash-In tours ($10 weekdays/$15 weekends): It includes an early morning tour of the brewhouse, tastings and a souvenir glass. Sam Adams also hosts tours of its exclusive barrel room ($20 to $50), as well as a beer and cheese "experience" on weekends ($30).
---
How We Did It
Money partnered with Yelp to find the best breweries in the United States. All the businesses on this list are in the breweries category on Yelp. "Best" is measured via an algorithm that looks at the number of reviews and star rating for a business. Only one business per state was included to ensure geographic diversity of the list.