6 Amazing Hotel Getaways for Beer Lovers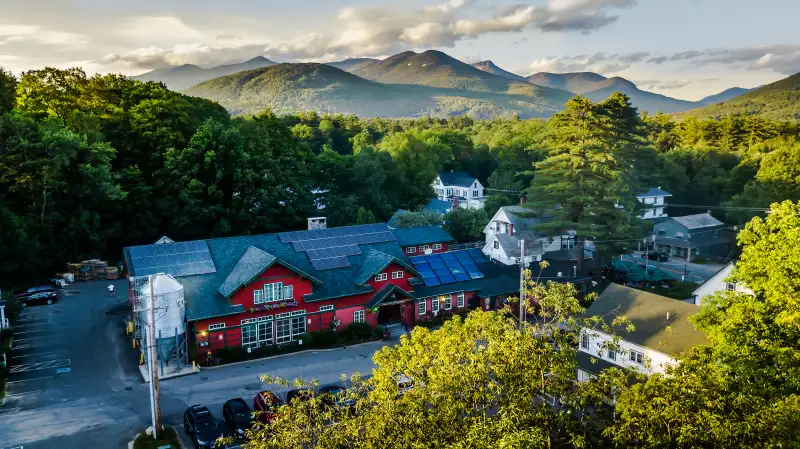 courtesy of Woodstock Inn
If you're a wine drinker, you probably know to head to Napa Valley in California or the Willamette Valley in Oregon for a great winery weekend at a quaint bed and breakfast.
But what if beer is more your speed?
It turns out there are hotels that cater to your tastes as well—and can help you pass a weekend paying tribute to your favorite beverage, and perhaps checking out new craft brews as well.
Travel site TravelPirates put together its list of six hotels around the U.S. that offer not only a comfortable stay, but a chance to drink in the atmosphere of a good beer.
---
Brewhouse Inn and Suites
Location: Milwaukee
Price per night: $201
For fans of Pabst Blue Ribbon, a trip to Milwaukee isn't complete without a stay at the Brewhouse Inn and Suites. The boutique hotel is actually built inside the 1882 factory, now with 90 guest rooms where travelers can still see six old copper brew kettles in the hotel's atrium.
---
courtesy of Calistoga Inn
Calistoga Inn
Location: Calistoga, Calif.
Price per night: $193
This hotel is a hit with both beer and wine lovers. Located in Napa Valley, Calistoga Inn gives you convenient access to some of the best wineries in the U.S. But it also has its own microbrewery, the Napa Valley Brewing Company, on the premises. You can even arrange to tour the facility with a brewmaster Monday through Friday.
---
Dogfish Inn
Location: Lewes, Del.
Price per night: $161
Located on the Lewes Harbor in Delaware, Dogfish Inn is a perfect stay for those visiting the famous Dogfish Head Brewery, located about 20 minutes away. Book the "All-INNclusive Experience" package for a private, behind-the-scenes tour of the craft brewer, a VIP tasting and lunch.
---
Bed & Brew
Location: Fredericksburg, Texas
Price per night: $112
If you're going to stay a bed & breakfast, this is the one to hit. Owned by the Fredericksburg Brewing Company, visitors to the Bed & Brew get a free pint of beer for every night of the stay. Enjoy brews like the Enchanted Rock Red Ale, Pioneer Porter and the Not So Dumb Blonde Ale.
---
McMenamins Kennedy School
Location: Portland, Ore.
Price per night: $179
Once a historic elementary school, this hotel now has 57 guest rooms built from the original classrooms (complete with chalkboards). But this is definitely an adult playground, with a pub installed in the former boiler room and a working brewery in the old girl's restroom.
---
courtesy of Woodstock Inn
Woodstock Inn
Location: Woodstock, N.H.
Price per night: $135
Deep in the heart of New Hampshire's White Mountains lies the Woodstock Inn, where guests can enjoy all of the perks of nature before sitting down for a cold one. The on-site brewery is a 37-barrel production facility these days, featuring signature brews such as Pig's Ear Brown Ale and the Woodstock IPA.