This Is the Best City for Jobs Right Now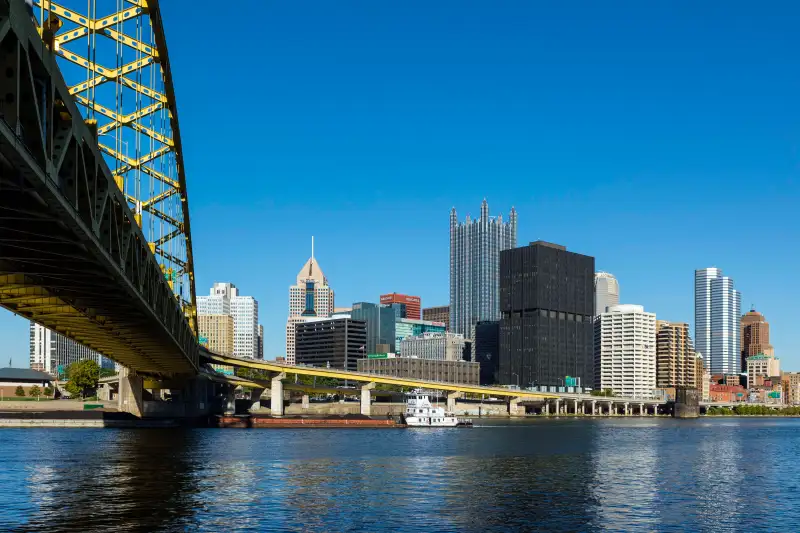 John Greim—LightRocket via Getty Images
This Pennsylvania city is perhaps best known for its stunning bridges, history of steel production, and spirited sports teams. But it now has another eye-catching attribute: jobs.
For the second year in a row, Pittsburgh is the best city for jobs, according to a new study from jobs site Glassdoor. The city built on the Industrial Revolution now has more than 91,000 jobs available, including openings for registered nurses, financial advisors and warehouse associates, among other professions, according to Glassdoor.
But the number of open jobs wasn't the only consideration in Glassdoor's analysis. The jobs website ranked each city in its study on three factors, equally: the cost of living, the likelihood of getting hired there, and how much current employees like their jobs.
The rankings come amid a strong labor market as jobless claims fall and openings outnumber unemployment figures. Over the last several years, Pittsburgh has undergone a transformation in its job market as a burgeoning tech industry has taken shape. As of March 2018, there were more than 40% more jobs in technology companies and research and development sectors than there were in iron and steel mills, according to a recent report from Reuters.
Glassdoor's analysis didn't pinpoint particular business sectors that could be responsible for a city's place on the list, says Amanda Stansell, an economic research analyst at the company. "But we do know that Pittsburgh has reinvented itself from its roots as a blue-collar industrial hub to one with a fast-growing technology sector," she says.
It's not just Pittsburgh. Stansell says a number of the cities that made it in the top 25 list have strong technology presences, as well as a number of healthcare and consulting gigs. Take Boston, which made it on the list this year for the first time and now boasts more than 200,000 openings across those sectors. Tech behemoths San Francisco and Seattle ranked 22nd and 23rd on the list, respectively, as their high number of job openings and employee satisfaction ratings were brought down by the hefty cost of living in each city.
A slew of mid-sized cities like Pittsburgh are among the highest ranks this year, with St. Louis, Indianapolis, Cincinnati, and Hartford rounding out the top five.
Here's the full list of Glassdoor's best cities for jobs in 2018:
1. Pittsburgh, PA
2. St. Louis, MO
3. Indianapolis, IN
4. Cincinnati, OH
5. Hartfod, CT
6. Boston, MA
7. Memphis, TN
8. Raleigh, NC
9. Cleveland, OH
10. Detroit, MI
11. Kansas City, MO
12. Washington, D.C.
13. Birmingham, AL
14. Chicago, IL
15. Columbus, OH
16. Louisville, KY
17. Baltimore, MD
18. Philadelphia, PA
19. Atlanta, GA
20. Oklahoma City, OK
21. Minneapolis-St. Paul, MN
22. San Francisco, CA
23. Seattle, WA
24. Richmond, VA
25. Charlotte, NC