She Was Stuck in a Job That Gave Her Panic Attacks. Now She's the Star of 'Wicked' on Broadway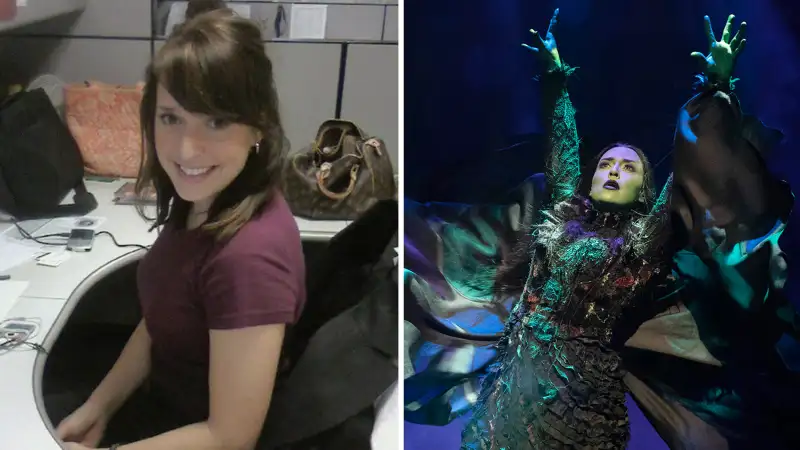 (left) Courtesy of Jessica Vosk; (right) Joan Marcus
Elphaba, the viridescent Wicked Witch of the West, quite literally runs down center stage when she first appears in Wicked.
It's an entrance designed for a star — a thrilling interruption, truncated by a brief pause for the actor and the audience to take it all in.
So when Jessica Vosk arrived on the Broadway stage in one of theater's most iconic roles for the first time last summer, she suddenly felt those years of work and sacrifice accumulate in an overwhelming moment, drenched in applause.
"Rarely am I lost for words," the 35-year-old tells Money, thinking back to that moment. "But that makes me lose words a little bit."
Vosk joined the cast of Wicked in July 2018 months before the historic musical's 15th anniversary and after she toured the country as the green witch for a year. But her unconventional road to Broadway — and the role of a lifetime — began about 70 blocks south on Wall Street.
Before pursuing theater, Vosk worked as an associate for a New York-based investor relations firm with global clients. She took the job six months before graduating college in 2007 and was promoted three times in three years. The job was secure and stable: Vosk earned close to six figures, lived in her own apartment in the affluent Upper West Side, shopped at Ann Taylor "like it was my job," and opened a retirement account.
But, a few years into the job, pangs of anxiety and panic attacks hit her at work. "I don't know where they came from," Vosk says. "Once, I sat in my office and I thought, 'Hm, I wonder if I'm not really doing what it is I love.' And it all came to a head at that point."
Vosk grew up performing in community theater productions; in 2003, as a recent high school graduate, she blasted the Wicked soundtrack in her car as she drove around New Jersey. (Back then, however, she preferred Glinda the Good Witch's tracks over the Elphaba ones.) But her path swerved when she decided to drop her theater pursuits one semester in at The Hartt School performing arts conservatory in Connecticut to instead pursue a degree in communications and public and investor relations at Montclair State University. "It could not have been any more different from singing and musical theater and everything having to do with the arts," Vosk says.
When the panic attacks started at her Wall Street gig, she realized how much she missed performing. She didn't think seriously about leaving her financially stable career for an unpredictable life of an actress until she discovered a note from her late grandmother. "'Jessica, I wish you a lot of luck'," Vosk says the note read. "I don't ever remember getting that note. I don't remember where it came from, but I'm a very big believer in these things from the universe and the universe pointing us where we need to go. I don't think there are any mistakes or any happenstance."
So Vosk called her parents, explained her decision to quit her job, and geared up for early mornings of babysitting, day-long auditions, and late-night open mic nights. It was a risk but, "as my mother will tell you, I'm stubborn. And once I made the decision to do it, I wasn't going to turn back," Vosk says.
Trusting her instincts and taking a leap
Not long after Vosk left her Wall Street gig, she went from living alone to living with roommates. She skimped on shopping and groceries and juggled multiple part-time gigs to make ends meet — from babysitting at 6 in the morning to picking up hours with her investor relations firm. All the while, she auditioned for a variety of shows — from Broadway to tours to regional productions to off-Broadway — six days a week.
It was a quick and drastic lifestyle change. "I really left without a safety net in many ways," Vosk says. "There were times when I didn't know how I was going to make rent," she adds.
Meanwhile, Vosk was auditioning without an agent, without a manager, and without union representation through the Actors' Equity Association. Without the association's Equity card, Vosk could not get into exclusive auditions, better benefits, and better pay.
To put it simply, pursuing musical theater in New York City without any of these accessories can be difficult. "There were times when I didn't know if it was even going to be possible to be seen in a room," Vosk says. "It was extremely frustrating."
On a snowy day in early 2010, however, Vosk seized her opportunity. The production team behind a three-person musical called "Five Course Love" at a theater in Rochester, N.Y., offered Vosk a role. But, despite her eagerness to take the part and run, she had one condition.
"My only requirement of them was: 'I will take this job if you give me my Equity card,'" Vosk says. "So that's another reason why I'm glad I was in business."
Seeing results
Things took off from there. Vosk booked her first Broadway shows in 2014 and 2015, appearing in The Bridges of Madison County and performing in roles in Finding Neverland and the most recent revival of Fiddler on the Roof.
She got the call that she would perform as Elphaba — her first leading role of her professional career — on tour with Wicked while performing in Fiddler. The tour took her around the country, with weeks-long stints in places like Orlando and Washington, D.C. It was exhausting, Vosk says, especially with such a "beast" of a role to undertake. "I'm so happy that I did it," she says. After all, that tour placed Vosk in a position to book the role on Broadway — and build up her finances. ("One of the best things going on a tour with a show is the fact that you get to save a lot more than you could living in Manhattan because you're in South Bend, Indiana," Vosk says. "And what is expensive in South Bend, Indiana?")
The past year, in particular, has been a whirlwind. She began her run as Elphaba on Broadway in July and released a fan-funded album later that summer.
"I never forget the fact that I could've been in a completely different spot, and here I am now. It's a surreal thing to think about. Fifteen years later, you could not have told me as a kid that I'd be playing this role," Vosk says. "I wouldn't have believed you."
In 2018, Vosk also bought her own apartment — a financial and personal feat she feels relieved to have accomplished. "If there's any stigma that comes along with being the bohemian actor, I try to destigmatize that as much as possible," Vosk says. "We understand business. We can own an apartment and not necessarily have that 8 to 5 finance job — I know what that's like."
'You are the CEO of your own company'
There's a guiding philosophy that led Vosk from promotions on Wall Street to a starring role on Broadway: You shouldn't be afraid to be the CEO of your own career.
"If I had given into the fact of being scared, I would never be here," Vosk says. "Half of the triumphs that I've had in my life are because I decided to do the things that made me feel uncomfortable."
In pursuing acting in particular, she found, "You are the CEO of your own company. You are the CFO. You are the human resources. You are the marketing. You're everybody." It's daunting, she says, but leaning into that fear and stepping out of her reliable career steered her down a new path — one without anxiety and panic attacks.
"A lot of us get trapped by things because we're just comfortable," Vosk says. "Going outside of that comfort zone — even though it was something that I loved — I could not have been more scared. But the reason I left was because I knew that I could do it."