These Are the 10 Best Places to Work - And They're Hiring Like Crazy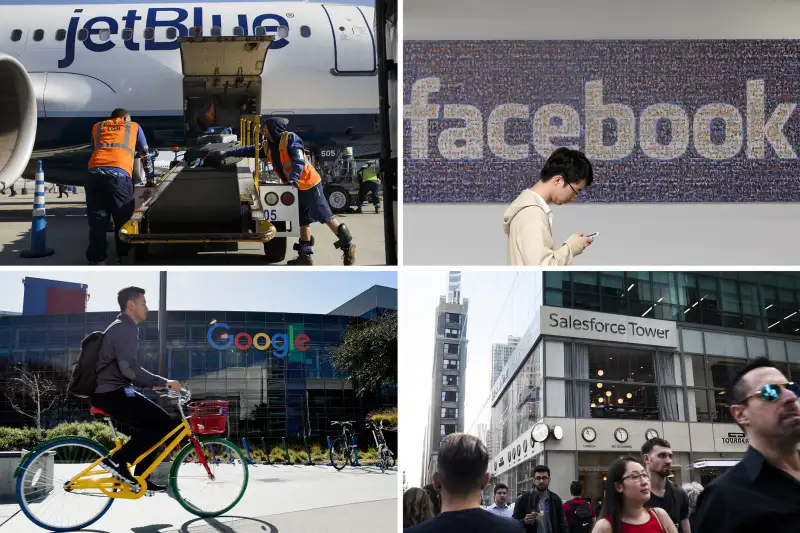 There's a common thread running through Indeed's latest list of the best places to work.
The annual ranking, which nods to big name brands like Southwest Airlines and Starbucks, is chock-full of industry heavy hitters with ambitious growth goals — and working for a good company with benefits can lengthen one's career and help you save. More importantly: they're all hiring like crazy.
Of the 50 companies that made the cut this year, more than half have hundreds of job openings posted on their websites. Some, like Salesforce — which leads the ranking for the second year in a row — have more than a thousand open jobs in the U.S. alone.
To create the ranking, Indeed combed through its database of more than 15 million company reviews from employees, and pulled out Fortune 500 companies with more than 50 reviews apiece. Those with consistently high marks in culture, leadership, and overall work experience top the list.
"For organizations that are growing and evolving, there are a lot of things that wrap together to influence how employees are treated," says Indeed Senior Vice President Paul D'Arcy. "Becoming a destination for talent has allowed many of these companies to enter the market with immense success."
As such, many of the usual suspects in these types of rankings — Facebook, Google, Apple all rank high on Indeed's list. "Solid culture is hard to disrupt," D'Arcy says.
Below, we've outlined the top 10 — with links to a several job openings at each one (you can see the full ranking here).
1. Salesforce
Recruiter (San Francisco)
Marketing Lead (Indianapolis)
Data Architect (San Francisco)
Retail Account Executive (Indianapolis)
Product Manager (New York/ San Francisco/ remote)
2. Southwest Airlines
Operations Agent (Santa Ana, Calif.)
Customer Service Agent (Birmingham, Al).
Software Agent (Dallas, Texas)
Project Manager (Dallas)
Manager of Airport Screenings Operations (Dallas)
3. JetBlue Airlines
Supervisor of Airport Operations (Nashville, Tenn.)
Industrial Engineer (Long Island City, NY)
Technician (Boston, Mass.)
Airport Operations Crew (Washington, D.C.)
Controller Maintenance (Long Island City)
4. Facebook
Product manager (Menlo Park, Calif.)
Administrative assistant (Menlo Park)
Technical recruiter (Menlo Park)
Content strategist (Menlo Park)
Operations analyst (Austin, Texas)
5. Google
Software engineer (Mountain View, Calif.)
Field sales representative (Chicago, IL)
Internal communications manager (Mountain View)
UX Engineer (Mountain View, Calif.)
Privacy Counsel (San Francisco, Calif.)
International benefits manager (Boulder, CO.)
6. CenterPoint Energy
Investor Relations Manager (Houston, Texas)
Accounting supervisor (Houston)
Programmer analyst (Houston)
Survey technician supervisor (Houston)
HVAC technician (Minneapolis, Minn.)
7. DTE Energy
Operations analyst (Morgantown, WV)
Senior buyer (Newport, MI)
Facility manager (Freeport, Texas)
Operating engineer (Detroit, MI)
Technical procedure writer (Newport)
8. Nike *
Market research director (Portland, Oregon)
Senior financial analyst (Beaverton, Oregon).
Business planner (Beaverton)
Apparel designer (Portland)
Retail assistant manager (Newark, NJ)
8. Apple *
Siri Designer (Santa Clara Valley, Calif.)
Corporate Development Analyst (Santa Clara Valley)
Retail senior manager (various)
Display architect (Santa Clara Valley)
Corporate lease manager (Santa Clara Valley)
10. The Walt Disney Company
Financial analyst (New York, NY)
HR Specialist (Glendale, Calif.)
Global mobility immigration specialist (Glendale)
Interaction designer (Seattle, Wa)
Digital sales manager (San Francisco)
*Tied