What's the Best Dog Food? Here's a Super Simple Guideline — and It Will Save You Money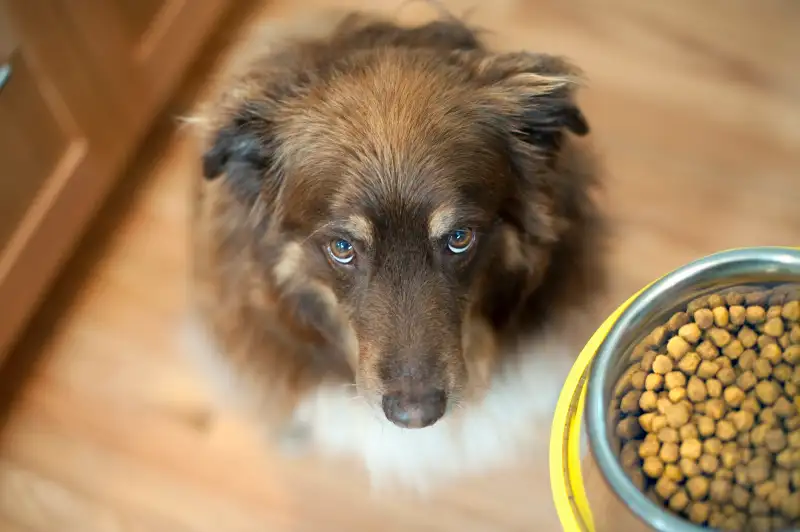 Yellow Dog Productions—Getty Images
Doggone it, trying to figure out what the best dog food is for your pet can feel like chasing your tail. It's even more complicated when you are looking through thousands of varieties in search of the best dog food deals online — and how prices compare to physical retail stores like Petco.
There are more brands and varieties of pet food than ever today, and marketers muddle the waters with so many mixed messages that it seems impossible to figure out the best dog food to buy.
There's fresh dog food that requires refrigeration (and sometimes even looks like something that wouldn't be out of place on your own plate); organic dog food; big name brands; private label and boutique brands like Blue Buffalo; dog food by celebrity chefs; brands that play up a homespun or family-business heritage like Merrick dog food and Fromm dog food — you get the picture.
In addition to big-box stores and national chains like Petco, e-commerce retailers like Amazon and Chewy.com give dog owners an overwhelming number of options. On Chewy, dog food comes in a seemingly endless variety of shapes, textures, flavors and ingredient combinations: There are close to 3,000 different kinds of adult dog food, plus plenty more options for puppy chow and food for senior dogs!
In honor of National Pet Day (April 11), we asked an expert to give us some sound advice on buying the best dog food. Among other things, what we found out is that high prices don't always equate to higher quality.
What's the Best Dog Food for Your Dog? Do Brand Names Matter?
If you're looking for the best dog food, you have no shortage of choices — but it can be tougher to decipher what, if any, difference all those variables make.
"One of the most controversial and common questions is, what should I feed my dog? Really, the bottom line I usually tell people is it's an individual choice," says Dr. Jerry Klein, chief veterinary officer of the American Kennel Club.
"It depends on the type of dog, its activity level, age, and nutrition requirements," he says. (Your vet can clue you in here, and some pet insurance companies may even cover prescription diets.)
The size of the manufacturer isn't necessarily a barometer of quality.
"At one point they cautioned from buying from large brands," Klein says, but that conventional wisdom has shifted as the dog food market has changed. "The larger manufacturers that are well known have more people working for them to do quality control than many of the smaller boutique brands do."
Mixed-protein dog foods are becoming more popular, but they aren't necessarily better — and could even be a detriment if you know your dog has issues with certain foods. "A lot of the variations are because of certain sensitivities some dogs have to certain products," Klein says. "Simpler is better because of the possibility of dogs having certain sensitivities. In any equation, it's always easier to change one variable than two."
The Association of American Feed Control Officials, which develops guidance and standards for what to feed pets and livestock, outlines broad nutritional guidelines for dog food manufacturers to follow. Klein says you'll want to check the manufacturer's website, bag or can to make sure that the food meets AAFCO's nutritional standards.
Is Expensive Dog Food Worth It?
Klein says that you should buy dog food you can afford, and that there is probably no need to feed your dog pricey dog food. "Some of those boutique bags of food can run $80 or $90, and that can be a lot of money for a lot of people," Klein says. "Just because it's more expensive does not mean it's a better dog food."
Above all, you shouldn't be buying dog food simply because it looks like people food. "In the last two decades, there's been much anthropomorphism. As humans, we've changed how we eat," he says, and one consequence of that is we think our dogs need an upgrade to their diets, too. "It's a very noble thought but it doesn't always make common sense," Klein says.
Advertising that evokes Call of the Wild isn't super-helpful either. "A lot of commercials now say dogs are just like wolves," Klein says, but that's not scientifically accurate, technically speaking. "The requirements and the digestive capabilities have changed from living alongside man. Point being — dogs are dogs, not wolves."
Ultimately, he says your top resource for finding the best dog food isn't an online one at all. "A really easy thing to do is take a picture on your phone of the bag and ask your vet if it's an appropriate diet for your dog," he says. "Your vet will know your dog's medical history and any problems, and they can say yay or nay."
We've included affiliate links into this article. Click here to learn what those are.