This Woman Is a Master at Making Money From Gig Economy Apps — and Wants to Teach You Too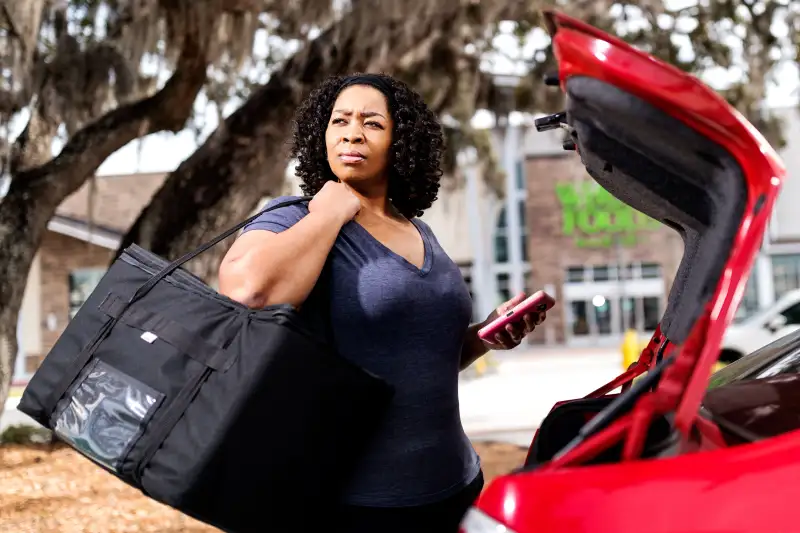 Photograph by Edward Linsmier for Money
Kaylania Chapman spends upwards of 25 hours a week alone in her Ford Focus, but she always has an audience.
That's because she's constantly filming for The Blessed Driver, a YouTube channel where she chronicles her adventures driving for apps like Uber and Postmates. An experienced member of the gig economy, Chapman regularly shares honest reviews, relevant news and career advice with her 5,400 subscribers — and anyone else hoping to earn cash with their cars.
It's no secret there's good money to be made delivering food and packages. About 16.5 million Americans have contingent or alternative-arrangement jobs in the gig economy. But as services like Amazon Flex and Instacart get more popular, they get more competitive and involve more strategy.
That's where 40-year-old Chapman comes in.
"There are a lot of people that are just like me — single mothers out there struggling, or maybe they're in school and they're trying to make ends meet," she says. "These [videos] are actually helping people."
Chapman is on almost every app out there: Uber, Lyft, Uber Eats, DoorDash, Postmates, Handy, Rover, Instacart and Amazon Flex, to be specific. She first joined the gig scene in 2016 after she left her job at an assisted care facility.
The apps initially appealed to her because of her teenager. Chapman liked that she was able to schedule her hours around her son's schedule, and she jumped into grocery delivery service Instacart full-time. Between November 2016 and January 2017, she made nearly $3,300 plus tips.
"Once I saw I was able to make a consistent income, I decided to stick with that," she says.
Chapman was successful in part because she devoted herself to her customers. For first-timers, for example, she'd type out an introductory note letting them the know the policies and telling them to she was there to assist.
Her Instacart profits have since fallen, which she attributes to the fact that more people have signed up to work for them. (The company has also run into legal trouble, in 2017 agreeing to pay out $4.6 million to settle claims by workers that they weren't reimbursed and paid properly. Earlier this month, Instacart announced changes to its tip structure after workers complained.)
In addition, Chapman dabbled in Amazon Flex, a service that relies on contractors to deliver packages, food from restaurants and some store orders. But she preferred to do Whole Foods and restaurant deliveries as opposed to picking up boxes from Amazon warehouses.
"I don't feel like I want to cram my car full of stuff and then be stressed out trying to deliver a package in an hour either way," she says.
The gig apps aren't always sustainable, and Chapman knows that. Right now she's spending between 25 and 40 hours a week delivering for various services, working them "until I'm doing something better," she adds.
Most days, you can find her in her car, listening to NPR, snacking on trail mix and attempting to avoid buying fast food as she delivers for GrubHub, DoorDash and Uber Eats.
She knows her experience isn't everyone's, and that's one point she tries to make in her videos. "My situation may not be like yours. If I'm making this amount, if I'm being shortchanged, you might not be going through the same thing," she says. "I'm stating the facts and talking about my life and what's it like on my end."
Chapman has big plans for her YouTube account, including building out a spinoff channel in which she discusses entrepreneurship and branding. The Successful CEO is set to launch next month.
In the meantime, Chapman isn't exclusive with one app. She tests them all regularly to see which is most profitable, and when her income starts fluctuating or the shifts become too hard to get, she simply moves on to the next one.
"One of the main things I share with subscribers is just know when your season is up on this platform," Chapman says. "If you're starting to notice you're stressed out, it might be time to look at getting a regular job."
Want to Be a (Blessed) Driver? Here Are 3 of Chapman's Tips
1. Set goals.
The gigs aren't meant to last forever. Chapman recommends you set a goal, whether it's a certain amount of money you want to earn or a certain deadline you want to meet, so you don't get caught in a unproductive cycle of deliveries. Re-evaluate regularly: Is the market still good? Are you making progress? Is the pay worth the effort?
2. Know the differences between the apps.
By this point, Chapman knows what she likes (and dislikes) in an app. Comparing the gigs can help maximize profits. For example, Uber and Lyft allow more freedom for a driver to hop on and hop off the apps in quick bursts, so they're better for shorter shifts if you have a busy afternoon packed with plans. Amazon Flex relies on multi-hour blocks which can take longer, so you'll probably need to specifically set aside time.
3. Be careful.
Chapman discourages people from putting "all [their] eggs in one basket." With delivery apps, rates and shift availability can vary widely depending on unpredictable factors like weather and demand. Chapman says "the money's going to be great when they first launch," but things may change later on. You need a backup plan — even if that's applying for a standard 9-to-5.