These Are the Best Jobs for Veterans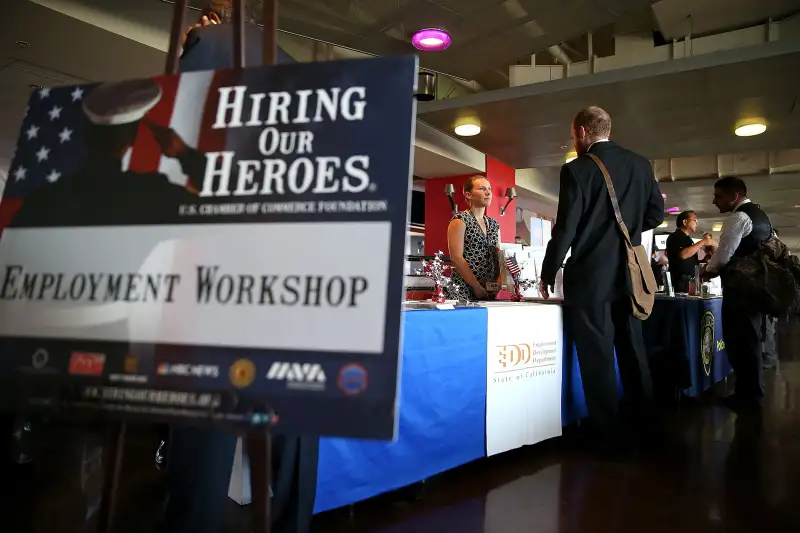 Justin Sullivan—Getty Images
Good jobs for veterans are out there if you know where to look, according to a new roundup from GIJobs.com. The site asked a pool of 228 employers it categorizes as "military-friendly" to go through their job listings and identify the top positions for which they are recruiting veterans.
One top contender is business operations manager, a post that comes with a median salary of $97,270, GIJobs.com said. Aside from a nice paycheck, this job could be a good fit for vets because of the wide variety of companies and industries that have these positions to fill, and because some of the skills needed would dovetail with the organizational and decision-making skills they learned during their time in uniform.
"This job is hot because a lot of different businesses in a lot of different industries rely on these men and women to get things done," the site explained.
Similarly, GIJobs identified logistician and supply chain manager — median salary $73,870 — as a good prospect because military operations bear similarities to this position's core functions. "Few organizations know how to move stuff like the military. That's why military experience in logistics and supply transfer so well to corporate America," the site pointed out.
Some of the jobs on the list are in the booming STEM sector. IT specialist, with a median salary of $61,380, could be especially good for veterans because demand is so high — an estimated 12% growth through 2024, GIJobs pointed out. Some employers might even be OK accepting a candidate's military experience in lieu of a college degree. Demand and salaries are also robust for software and other specialized engineers, electrical and mechanical technicians,
Read next: The Veterans' Guide to Financial Success
While many of the jobs on the list require a college education, there are others in fields like manufacturing and construction where time spent in the military is equally valued by hiring managers. This is obviously good news for vets.
More good news: Demand among employers for veterans is increasing. Veteran unemployment rates are at a seven-year low, new data from the Department of Labor found. This is an encouraging sign, the Wall Street Journal reported, saying the new figures show "a notable turnaround for younger veterans, who experienced particularly high unemployment following the downturn."