4 Best Money Moves for June 2022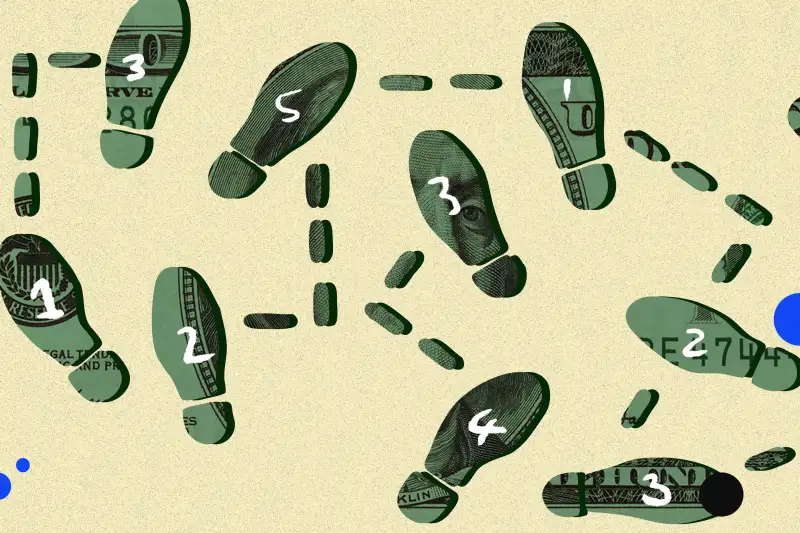 Warmer days are here. School is coming to an end. Hopefully a vacation or two is on the horizon.

There's certainly a spirit of relaxation in the air with the start of summer, which makes it easy to mentally check out on your finances. Just don't let your post-Memorial Day malaise turn into an all-summer-long financial autopilot. Some prudence now can keep the scorching summer months from burning a hole in your budget.
For this month's installment of Money Moves, we'll detail the money-saving magic of off-peak summer travel, what the Federal Reserve has to do with your savings account, an upcoming financial aid deadline for college students, and how to prepare your finances for a rough hurricane season.
Here's how to get your summer off on the right financial footing.
1. Try to travel off-peak this summer
If Memorial Day weekend is any indication, summer travel this year could be returning to pre-pandemic levels, according to the auto club AAA. The thing is, with inflated prices for gas and airfare, the price tag on your summer getaway might come with a heavy dose of sticker shock.
As Money senior writer Sarah Hansen details, traveling during off-peak times is one of several savvy ways to save money during this inflation-marred summer.
For example, people save an average of $75 booking domestic flights on Tuesdays or Wednesdays instead of on weekends, Hansen reports. Larger seasonal trends come into play as well. You can score additional savings by scheduling your vacation for later in August, September or October.
With gas prices at record highs, those who are hitting the roads should mind where they fill up. Due to tax and cost differences, gas prices can range drastically state-to-state and even county-by-county. For example, heading north on Interstate 55, you'll find average prices in Missouri hovering around $4.25, according to AAA. Cross into neighboring Illinois, and the average jumps to about $5.13.
Because demand is picking up, AAA says you should book your travel sooner than later as "finding any last-minute deals is unlikely."
2. Shop around for a new savings account
You probably don't need us to tell you this, but interest on so called high-yield savings accounts lately has been laughably low. According to the FDIC, the national average interest rate for savings accounts is 0.07%.
Thankfully, that's starting to change, and annual percentage yields (APYs) are on the rise.
Why? The Federal Reserve (aka the U.S.'s central bank) is hiking interest rates to tame inflation. Federal Reserve policymakers have already hiked rates twice this year, and they're expected to raise interest rates again later this month.
Before your eyes fully glaze over, let me just say that this high-level, jargon-laden monetary policy can have a real impact on your wallet.
Here's the short of it: When the Fed raises interest rates, borrowing from banks typically gets more expensive for consumers. Interest rates on savings accounts, on the other hand, eventually start to get more attractive.
While banks are quick to hike up interest rates on new loans and mortgages, they usually drag their feet with increasing APYs. So, don't expect the yield on your savings account to shoot up overnight.
Some banks, however, are quicker than others. Online bank Ally, for instance, just raised the rate for its high-yield savings account to 0.75% at the end of May. With another Fed rate hike anticipated later this month, APYs at several banks will be following suit.
That's your cue to do a little shopping around for high-yield savings accounts to ensure you're getting the best rate.
3. Fill out the FAFSA to receive any remaining funds
If you were enrolled in college during the 2021-2022 school year and never filled out this year's FAFSA, June is the last month to do so.
The Free Application for Federal Student Aid is a form the federal government, states and individual colleges use to allocate billions of dollars of need-based and merit-based aid. While state and college scholarships are largely finished for the 2021-2022 academic year, you can still get federal student loans and need-based Pell grants, even for classes you've already completed.
Each year, the FAFSA opens on Oct. 1 for the next academic year. While you should strive to fill it out ASAP because some funding is first-come, first-served, life happens. The good news is that you have until June 30 of the year you enrolled to complete it. In other words, for the 2021-2022 academic year that's coming to an end, the application opened on Oct. 1, 2020, and it closes on June 30. Experts recommend that you fill it out annually, even if you don't think you'll qualify for aid.
If you forgot to complete the FAFSA for the current academic year and are taking more classes in the fall, chances are high that you haven't filled out the 2022-2023 FAFSA, either. While all this financial info is fresh in your mind, you should consider knocking that one out too, if you haven't already.
4. Brace for a rough hurricane season
According to the National Oceanic and Atmospheric Administration (NOAA), this hurricane season is going to be another doozy. The Atlantic hurricane season officially starts June 1, and NOAA predicts as many as 21 named storms, including up to six "major" hurricanes with winds of at least 111 mph. The agency says this season marks the seventh "above-average" hurricane season in a row.
If you live in a state on or near the Atlantic Ocean and/or the Gulf of Mexico, this isn't great news. Many folks are still recovering from last year's hurricane Ida and even 2017's hurricane Irma.

That's not to say you should be panicking — but rather, planning.
First thing's first, you should make a hurricane preparedness kit that includes cash, water, non-perishable foods, flash lights and blankets.
In addition, the U.S. Department of Homeland Security recommends that you compile a "financial first aid kit" as well. This packet should include important financial and legal documents of everyone in your household, such as multiple copies of IDs, birth certificates and social security cards.
You'll also want to compile the contact information for various insurance companies — homeowner's insurance, flood insurance, private mortgage insurance, and health insurance, to name just a few — that you would need to contact if you or a family member was hurt or if your property was damaged. Ideally, your documents should be stored in a water-proof container.
If you're just getting started, this all may sound slightly overwhelming, but your emergency kit becomes easier to maintain over the years once you've got your base kit set up. Ready.gov also has a ton of resources and worksheets to help you get your documents in order.
More from Money:
Bear Market Fears: Here's When Stocks Usually Bounce Back After a Downturn