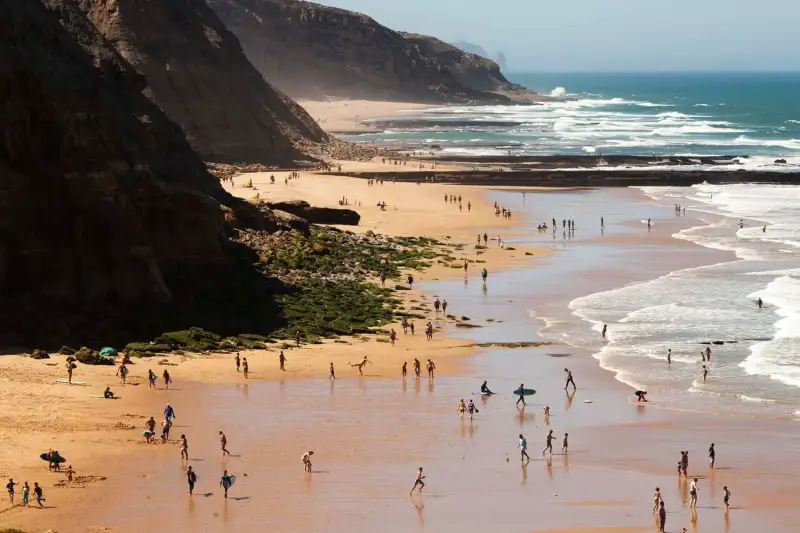 The world has incredible travel destinations, but few pack together rich history, culture, cuisine, weather and entertainment like Portugal.
In this Portugal travel guide, we cover the best places to go and what to expect for your trip along with some excellent travel advice. Read on to learn everything you need about going to Portugal.
Portugal at a glance
Portugal occupies the end of the Iberian Peninsula. It marks the westernmost point of continental Europe, bordering Spain and the Atlantic Ocean. Tourists come from all over to enjoy the weather and see some of Europe's most spectacular landscapes. Its low cost of living, sunny weather and welcoming people put Portugal near the top of any traveler's list of places to visit.
Culture and traditions
With easy access to the Atlantic Ocean, Portugal boasts a proud and extensive history steeped in seafaring tradition. It also has a rich cultural heritage with Phoenician, Celtic, Germanic, Viking, Visigoth, Sephardic, Moorish and Catholic influences.
In recent years, Portugal has become an increasingly multicultural society with influences from its former colonies. If you understand Portuguese, you may hear some Brazilian Portuguese shaping the language.
While traveling around the country, you'll see how the culture shines through in the brilliant Manueline architecture, majestic medieval castles and the hand-painted tiles called azulejos. You'll find soccer fanatics cheering on Cristiano Ronaldo and the local football clubs. In the streets, you'll also hear musicians singing and playing Fado, traditional Portuguese folk music.
Weather
Portugal is one of Europe's top vacation destinations. In the summer, you can expect a scorching sun and hot weather across the country. The extreme heat can cause wildfires in the central areas of mainland Portugal. Despite the warmth, the coast picks up a lot of wind, so you may want to pack a light jacket or sweatshirt just in case.
In the winter, temperatures are mild, but too cold to swim comfortably. While weather can be somewhat unpredictable in Lisbon and central Portugal, it is better than in most of Europe. Northern Portugal cools down quite a bit and receives heavy rainfall, while the south becomes dry with alternating days of sun and clouds.
Portugal's Azores and Madeira archipelagos in the Atlantic Ocean exhibit a more moderate climate than the mainland. The summers there aren't as hot, and the winters feel like spring, with more wind and bouts of rain.
Local cuisine
Food is a significant cultural aspect of Portugal. As a maritime nation, many of Portugal's best cuisines come from the sea. The World Economic Forum reports that Portugal is near the top of the list for fish and seafood consumption, consuming nearly four times the global average.
Portuguese cuisine includes the following types of seafood:
Clams
Oysters
Sardines
Octopus
Tuna
Cuttlefish
Crab
Shrimp
Seabass
Scallops
Mackerel
Lobster
The most popular seafood in Portugal is bacalhau or dry-salted cod. The Portuguese have so many ways to cook it that you can eat a different bacalhau dish every day of the year without eating the same recipe twice. Two of the most notable recipes are bacalhau à Brás and bacalhau à Gomes de Sá, both dishes featuring cod, onions, potatoes and scrambled eggs.
Non-seafood dishes are also abundant in Portugal, including:
Caldo verde: A traditional soup consisting of spiced pork sausage, potatoes and kale or collard greens.
Bifana: This sandwich has sauteed pork cutlets seasoned with garlic and spices inside a bread roll.
Francesinha: This is another sandwich made with ham, pork sausage, steak or roast beef covered with melted cheese and a spicy beer sauce.
Pastéis de nata: A traditional egg custard tart pastry sprinkled with powdered sugar and cinnamon.
Frango assado com piri-piri: This marinated chicken dish is roasted or grilled and served with a sauce made from piri-piri peppers.
The most famous wine to come out of Portugal is its Port wine, named after the city of Porto and originally produced in the Douro Valley. Port wine is a rich, sweet drink often paired with appetizers and desserts. The most common types of ports are ruby or red port, rosé port, white port and tawny port. Other wines and aguardiente, alcohol that originates from the Iberian Peninsula, are also popular alcoholic beverages in Portugal.
There are a few things to remember when you go to a restaurant in Portugal. First, many restaurants will put olives, bread, cheese and prosciutto or chorizo on your table to snack on while you wait for your order. You must pay for this appetizer if you eat it, but you can also politely decline it.
Second, depending on the restaurant, one portion or "dose" can be enough for two people to share, and a half portion or "meia dose" can be enough for one person. Finally, restaurants don't expect tips, and you don't need to tip more than 10% if you do. Many patrons will just round their bill to the nearest Euro, leaving the difference as a tip.
Travelers from the United States may be surprised to learn dinner in Portugal often occurs at 9 p.m. or 10 p.m. Most restaurants open around 7 p.m. but don't fill up until later. Lunchtime usually runs from 12 p.m. to 3 p.m.
Public transportation
If the trip you're planning has more than one stop, you will have multiple options for cross-country transportation. Portugal's train system can be an excellent choice if you're sticking to larger cities, as it connects Lisbon, Porto, Aveiro, Coimbra, Faro and Lagos. Ticket prices are economical, and you can purchase them online. Booking tickets days or weeks in advance can land you discounts of up to 65%.
Intercity buses are another great way to travel, although some routes may have limited schedules. You can buy tickets for the various bus companies that operate throughout Portugal at bus stations or online. Most of these buses provide WiFi with comfortable seating and air conditioning. Overnight buses are also available.
Trains and buses will work for travel between larger cities and towns, but trips to beach towns and rural villages will require more effort. A popular option for tourists who want to travel off the beaten path is to rent a car.
Like the United States, Portuguese drivers also drive on the right side of the road. Many consider Portugal's road system one of the best in Europe, but prepare to pay tolls when traveling between cities. Also, city driving can be tricky as you may need to navigate narrow roads and limited parking.
Most cities have local bus networks that make it easy to get around. Be aware that public transportation services may not operate on normal schedules during national public holidays. In that case, your best bet may be to hail a taxi.
Taxis are common and usually determine the fare by meter, but some popular locations have fixed prices. After 9 p.m., taxi fares increase by 20%. Although taxis are not expensive, a ride-share app can get you from place to place at a slightly cheaper rate.
Metro stations are the cheapest and most convenient modes of transportation available. The two largest cities in Portugal, Lisbon and Porto, have metro stations. The metro in Porto opens at 6 a.m. every day, while Lisbon's metro opens at 6:30 a.m. The final trains of both metros depart at 1 a.m.
Lisbon and Porto also both have tram systems. The shiny yellow trams are equally popular as tourist attractions as they are helpful for getting around.
Natural landscapes
Portugal's geography is divided into continental Portugal and the Azores and Madeira island regions. Continental Portugal takes up about one-sixth of the Iberian Peninsula, sharing it with neighboring Spain. The country as a whole covers a diverse range of landscapes and scenery.
The northern part of mainland Portugal is hilly, featuring the Serra da Estrela mountain range. Its highest point is Torre at 6,539 feet, which is more of a plateau than a peak. To the south, the continent flattens out and becomes lush and green after passing through the dry plains of Alentejo. You'll find cliffs, beaches, unique rock formations and caves along the Portuguese coast.
The Azores and Madeira Islands are volcanic archipelagos in the Atlantic Ocean. These lavish green islands have waterfalls, forests and beaches. The Azores boasts the highest point in all of Portugal, Mount Pico, at 7,713 feet, while Madeira is home to the Laurisilva forest, a UNESCO World Heritage site that dates back millions of years.
Some stunning Portuguese natural landscapes that are worth checking out include:
Peneda-Gerês National Park (mainland)
Pico do Arieiro (Madeira)
Praia da Ursa (mainland)
Lagoa das Sete Cidades (the Azores)
Benagil caves(mainland)
Ponta da Piedade (mainland)
Poço Ribeira do Ferreiro (the Azores)
The best time of year to visit Portugal
The peak tourism season in mainland Portugal falls during July and August. Many European tourists fly in to enjoy the historical sites and beaches under the blazing sun. Visiting Portugal in the summer months will allow you to work on your tan and float comfortably in the Atlantic Ocean, but there are some reasons you may want to reconsider traveling there during this time of year.
Because of the influx of tourists, you can expect large crowds at tourist attractions nationwide. Along with the increase in summer tourists, a quick search on most travel booking sites will also show you an increase in prices. During the spring and fall seasons of May to June and September to October, you can enjoy the same sights with slightly cooler weather, fewer tourists and lower prices.
Traveling to Portugal in its off-season, November to March, can also make for a nice trip. Although it rains more frequently and is cooler during this time, you can find the cheapest flights and accommodations and many of the usually cramped tourist sites are empty. The beach towns along the Algarve coast are also more relaxed while having superior weather to the rest of Europe.
You may also want to consider the events and festivals that take place in Portugal when planning your trip, as these can be truly unique experiences. Some of the major events to consider include:
Carnival (February or March): The Portuguese celebrate this annual festival in cities across the country to mark the beginning of spring. You can expect vibrant parades, loud music, decorated streets and more.
Semana Santa (April): Spanish for Holy Week, Semana Santa encompasses celebrations from Palm Sunday to Easter Sunday. From Braga in the north down to Algarve, you will find processions, parades, flowers and lights throughout the country.
Peregrinação de Fatima (May): Fatima is a famous religious site where the Virgin Mary appeared to three children on May 13, 1917. While pilgrimages take place year-round, thousands gather every year from May 11 to May 13 for masses, candlelit processions and more.
Festa de São João (June): This festival takes place in various cities, including Porto, Braga and Aveiro, on June 23 to honor Saint John the Baptist. Expect to participate in music and celebrations with lanterns, balloons and fireworks into the early morning.
Sintra Festival (June or July): Sintra, a UNESCO world heritage site in central Portugal, has a festival that celebrates music and dance. Here you can take in some of the top orchestras, pianists, ballet dancers and other musicians from around the world.
Peak travel season for the archipelagos of Madeira and Azores spans from July to September, the hottest months. You can plan to travel to the islands at any time of the year, but there are cooler temperatures and more chances of rain during the winter months between November and February.
Portugal is also one of the best locations for surfing on the globe. Thousands flock to Portugal's coastline year-round to ride the waves. The summer is a great time to visit Portugal if you're a beginner or intermediate surfer looking to learn and surf some smaller waves. However, if you're an expert and interested in riding waves like the Guinness World Records' largest wave ever surfed, you'll want to head to the coast of Nazaré in the wintertime.
Best places to visit in Portugal
Most flights into Portugal arrive in its capital city, Lisbon, where the largest airport in the country is located.
Many consider Lisbon one of Europe's best destinations: In 2019 and 2022, it won the World Travel Award for Europe's Leading City Break Destination. As one of the oldest cities in Europe, you can stroll down the narrow cobblestone streets and take in the blend of historical and modern infrastructure. Take a tram or walk up the surrounding hills to snap photos of the city from above.
During the day, you can visit some famous churches like the Lisbon Cathedral or sign up for a walking tour around the city center. A tourist card, called the Lisboa Card, is available for purchase and will give you access to multiple museums, monuments and landmarks around the city. At night, explore Lisbon's craft beer scene or its exciting nightlife options.
Porto, also called Oporto, is the second largest city in Portugal. Located on the coast of Northern Portugal, Porto is an often overlooked city with stunning beauty. The city features colorful architecture, six impressive bridges crossing the Douro River and a historic city center, a UNESCO World Heritage Site. You'll find cafes, bookshops and art galleries with excellent restaurant and nightlife options within the city limits. Porto is also just an hour and a half drive from the vineyards of Douro Valley.
If you're interested in getting out of the cities and heading to the beach, your best bet is to head to Portugal's southern region of Algarve, which advertises having over 300 days of sun each year. Algarve is also Portugal's most visited area. It makes up the entire southern coast of Portugal and has gorgeous attributes like sea caves, sandy beaches, fishing towns, towering cliffs and six small islands. This area is great for all ages, whether you're looking for family-friendly water parks, resorts, beach parties or adventure tourism.
History buffs will have a blast in Portugal. If you're interested in medieval history, you should visit the city of Évora, located in the Alentejo region of Portugal. This UNESCO site has everything from the Cathedral of Évora to the Roman Temple of Évora to the Capela dos Ossos, which translates to the Chapel of Bones.
Famous attractions you shouldn't miss
One of the top tourist attractions in Portugal is the Castelo de Guimarães. This well-preserved castle is located in the city of Guimarães and is the birthplace of Portugal. Constructed in the 10th century, presumably to defend against the Normans, this breathtaking structure is the most significant medieval castle in the city that became the first capital of Portugal.
The Torre de Belém, also called Belém Tower and the Tower of Saint Vincent, can be found in Lisbon in the middle of the Tagus River. This picturesque limestone structure originally protected Lisbon from invaders. The four-story tower has a bastion with enough space for 17 cannons. If you are in Lisbon, it is easy to find and well worth the trip to see.
Less than an hour from Lisbon is Sintra, an almost-mythical town on top of a hill surrounded by forests. There are two must-see attractions here. The first is the Palácio Nacional de Sintra or National Palace of Sintra. This gothic palace is a UNESCO World Heritage site and is the place where the Portuguese Royal Family spent their summers. This charming royal residence, with its two iconic chimneys, is a must-see in the area.
Don't skip seeing the Palácio da Pena or Pena Palace in English. On a clear day, you can see this brightly colored castle from Lisbon. You can reach this location by hiking or taking a taxi from the city of Sintra. Pena Palace is one of Portugal's most popular tourist attractions, so consider going early in the morning or avoiding peak season altogether.
The Moors began building the Castelo de Óbidos overlooking the romantic medieval town of Óbidos in 1148, but the construction continued for hundreds of years. It was built as a military structure and operated as housing for the Portuguese King. Stone walls protect the castle, which tourists can walk along to take in the awe-inspiring scenery. Located on Portugal's Atlantic coast, Óbidos Castle is a highly recommended tourist attraction.
One final must-see site is the Convento de Cristo in Tomar in central Portugal. Taking the Knights Templar over five centuries to complete, this fantastic piece of architecture combines Baroque, Gothic, Romanesque, Manueline, Renaissance and Mannerist characteristics. The Convent of Christ is also a UNESCO World Heritage Site.
If you want to see all of the sites Portugal offers, you'll need to spend a lot of time there. Among the unique attractions in Portugal are a total of 17 UNESCO World Heritage sites. Some other UNESCO sites in Portugal are:
Angra do Heroísmo
Jerónimos Monastery
Monastery of Batalha
Monastery of Alcobaça
Luiz I Bridge
Serra do Pilar
Prehistoric Rock Art Sites in the Côa Valley
Siega Verde
University of Coimbra
Palace of Mafra
Sanctuary of Bom Jesus do Monte
Travel advice for visiting Portugal
Entering Portugal is straightforward. You don't need a visa to travel to Portugal as a U.S. citizen, just a passport valid for three months past the date you plan to leave the country. Upon entering, you can remain in the country for up to 90 days and take in all that Portugal offers. But before you head to the airport, here are some valuable pieces of travel advice to consider.
Avoid carrying large euro notes
It's always a good idea to travel with various payment options like cash, credit cards and traveler's checks, but in Portugal, cash is the most used form of payment. Even if you carry one of the best travel credit cards, local shops, restaurants, cafés and taxis in smaller towns and cities may not accept this form of payment. Places that do accept card payments may require cash for purchases of less than €10.
It is a good idea to bring a wad of €5 and €10 bills along with €1 and €2 coins with you, especially in rural areas. ATMs are easy to find in most cities and dispense €20 bills as the highest denomination, but some shops may not have change for those bills.
In the United States, people often ask a cashier for smaller denominations or buy a cheap item to break a large bill. This practice is rare in Portugal and may not work. Some commercial restaurants, supermarkets or hotels may be able to give you change for €100 and €200 bills, but you will most likely need to visit a bank branch to break €500.
Brush up on your Portuguese
Any time you travel to a non-English speaking country, learning some words and phrases is a good idea. Learning or brushing up on basic Portuguese can enhance your travel experience, and the locals genuinely appreciate your effort.
Some commonly used Portuguese phrases that will assist you are:
Olá (Hello)
Sim (Yes)
Não (No)
Por favor (Please)
Obrigado/a (Thank you)
Saúde (Cheers)
Com licença (Excuse me)
Quanto custa? (How much is this?)
Não sei (I don't know)
En não entendo (I don't understand)
Você fala inglês? (Do you speak English)
Onde fica a casa de banho? (Where is the bathroom?)
If you have these phrases down, you can also practice numbers and the 100 most used words. Basic conversations for situations like ordering food, taking a taxi, checking into a hotel, asking for directions and shopping are also helpful. A translation app will also come in handy and can help prevent misunderstandings when more complicated situations arise.
If you plan to stay in Portugal for an extended period, attending Portuguese language classes there may be worth it. Learning the local language can make your life easier when traveling outside large cities and may even help you make new local and expat friends.
Consider purchasing travel insurance
You don't need travel insurance to visit Portugal, but it could be worth considering in certain situations.
For example, if you're staying in the country for an extended period and have incurred considerable prepaid travel expenses, a cancel-for-any-reason travel insurance policy could help you get reimbursed for a percentage of those expenses if you have to cancel for a reason not covered under a standard travel insurance policy.
Depending on the policy and the insurance company you choose, travel insurance can offer protection in several areas. Some plans come with set offerings, while others allow you to choose coverage options. Common items covered include:
Trip cancellation or delay
Trip interruption
Medical emergencies, including emergency dental work
Medical evacuation
Repatriation of remains
Lost, stolen and delayed baggage
If you plan to surf some of Portugal's enormous waves or participate in adventurous activities like bungee jumping, check out specialized travel insurance options that cover adventure sports.
Our guide on the best travel insurance companies can help you decide which one suits your needs if you think getting travel insurance is a good idea.
How much does a trip to Portugal cost?
A trip to Portugal is much cheaper than traveling to France, Italy, the United Kingdom and parts of Spain. The overall cost of your trip will depend on your choice of accommodations, the season you travel in, the food you eat and the modes of transportation you use.
For budget travel, visiting Portugal in the winter, staying at hostels, using public transportation and dining at local spots can significantly reduce your spending. No matter your budget, using one of the best travel rewards credit cards can also help you save money.
Pack up and prepare for your trip to Portugal
Now that you know about Portugal's food, transportation, attractions and when to visit, it's time to pack and prepare for your trip. Get ready to enjoy this unique destination full of culture, sunshine and diverse landscapes. And before booking your flight, consider getting one of the best airline credit cards to make the most of your travels.