The Best Skin Tag Removers for Your Money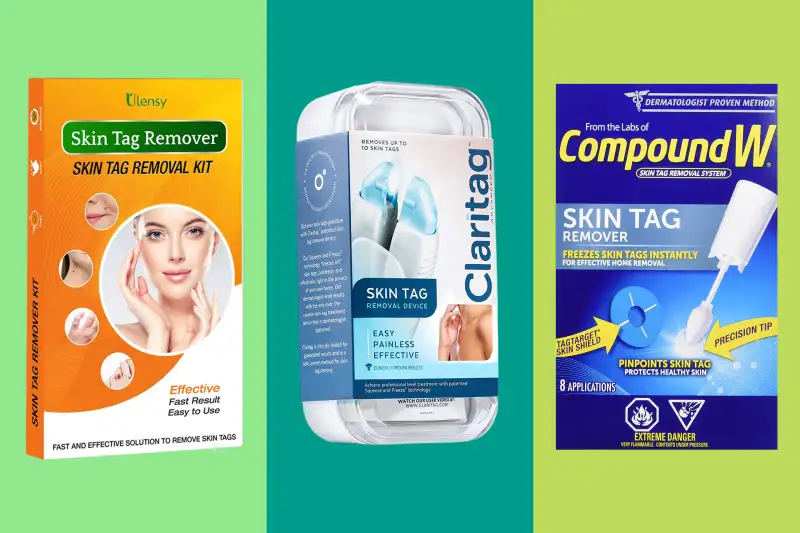 Skin tags — medically known as acrochordons — are soft and fleshy noncancerous pieces of hanging skin. Although skin tags are harmless, many people consider them unsightly and want to get rid of them.
Skin tags are made up of loose collagen fibers, fat, blood vessels and other components. These tiny growths or bumps can appear anywhere on the body, especially in areas where the skin rubs against itself or clothes, such as in armpits, eyelids, neck, groin and under the breasts.
Dermatologists can remove skin tags using procedures such as cryosurgery or cauterization. But these interventions are generally considered cosmetic and not covered by health insurance companies. Patients who want these surgical procedures handled by a doctor can usually expect to somewhere between $100 and $500 out of pocket, with no hope of reimbursement from insurance.
That's not the only option, however. Many over-the-counter skin tag removal remedies are broadly accepted (some even recommended by dermatologists) and cost significantly less — usually under $30. Some remedies are topical products made of natural ingredients or liquid nitrogen substitutes that you apply directly to the skin tag. Others consist of rubber bands or pads used to dry the skin tag to the point it can be removed.
Best overall: Dr. Scholl's Skin Tag Remover
Best freeze skin tag remover: Compound W Skin Tag Remover
Best formula: Gsebr Milia Remover
Easiest application: TOPNaturePlus Skin Tag Remover
Best skin tag removal device: OPHERA Skin Tag Remover
Skin Tag Remover Buying Guide
Purchasing a cheap over-the-counter skin tag remover at a grocery store or pharmacy might sound tempting and convenient. But there are a series of factors to consider before you try to remove any skin growth on your own.
First and foremost, you should consult with a general physician or dermatologist to ensure the growth you want to treat is indeed a skin tag and not something else.
Not all skin growths are skin tags. Even though some growths may seem distinguishable at plain sight, like warts and moles, others may be harder to identify or could even be more serious skin conditions, such as seborrheic keratoses, skin cancer, melanoma or neurofibroma. In all cases, if you're not 100% sure of what you're looking at, or if the growth or blemish on your skin is new, it's best to see a doctor.
Next, always read the warnings section on a skin tag removal product. Most of the time, there are specific circumstances under which some people shouldn't use a skin tag remover. For instance, skin tag removers are generally not recommended for people who have (or have had in the past) any type of skin cancer, poor blood circulation, diabetes, scarring problems or who are pregnant.
Similarly, some removers, especially topical and freezing liquids, can't be used to treat skin tags in sensitive areas, such as the face, eyelids, buttocks, genitals or inside of the nose. This information is typically available in the instructions or in the product's description.
Some skin tag removers, on the other hand, are specifically designed for the facial area. Some other removers work by placing a rubber band around the skin tag causing it to eventually fall off, and are considered safe to use on the face.
Lastly, keep in mind that skin tag removers don't always have the same results for everybody. Depending on the product, the process can take a few days or several weeks. In some cases, customers don't see any results at all.
The Best Skin Tag Removers of 2023
List Price: $13.99
The top choice on our list, Dr. Scholl's Skin Tag Remover is a safe, effective and reliable solution for treating common and plantar warts. The formula contains salicylic acid, which works by destroying the wart tissue in order to cause it to loosen and fall off. This means that warts can be removed quickly and painlessly with minimal effort required from the user. The product also comes with 20 cover-up discs to protect and conceal warts during treatment. This makes the application and monitoring of the wart much more convenient while protecting it from dirt and irritation.
The discs are easy to use and stay in place all day to keep warts hidden. The fast-acting liquid is easy to apply and provides fast, visible results. The solution penetrates into the skin quickly to start working within minutes of application. It's also suitable for use on both adults and children aged 4 years or older, making it a great choice for families who need a dependable way to treat their warts.
Pros
Easy to use
Suitable for adults and children ages 4 and older
Great formula and large quantity of cover-up discs
Cons
Warts could come back
Results may take longer depending on wart size/severity
List Price: $13.39
Compound W, known best for its multiple warts removal treatments, also offers a popular over-the-counter topical skin tag remover. This dermatologist-recommended brand's skin tag remover consists of a freeze-off liquid, formulated with dimethyl ether, a liquid nitrogen substitute that can help remove skin tags. It is specifically designed to treat smaller skin tags, up to 3mm in diameter.
To ensure the safest application, the kit comes with 24 skin shields — self-adhering round pads with a hole in the center. These pads are used to target the application area and protect the healthy skin surrounding the skin tag. The package has small, medium and large pads, which fit skin tags of 1mm, 2mm and 3mm, respectively.
Compound W may not be as effective with larger skin tags. In fact, the brand doesn't recommend its use for skin tags that are larger than 3mm, or if they're so small to be almost imperceptible. Similarly, the liquid should not be applied to healthy skin, as it could damage it.
Pros
Causes warts to fall off within 10-14 days
Starts working instantly
Includes small, medium and large pads
Cons
Shouldn't be applied to healthy skin
May not be as effective on larger skin tags
The Gsebr Milia Remover is gentle on the skin and non-irritating, making it a safe and painless way to remove milia. It has a natural formula that works on all skin types. This pick can be used for various purposes, making it a great choice for anyone looking for a reliable skin care product. With its easy-to-use feature, you won't have any trouble using this product. Its natural formula is specifically designed to target milia without irritating or damaging the surrounding skin, helping you get rid of them fast without hassle.
Plus, it can be used on all skin types so no matter what your skin type may be, it will be effective. This skin tag remover is an excellent addition to any skin care routine as needed. Its gentle formula provides quick and effective results without damaging your skin. It works on all types of skin, making it an ideal option for anyone looking for a reliable milia removal product.
The TOPNaturePlus Skin Tag Remover is an incredibly convenient and user-friendly product that consumers are sure to love. It's easy to apply, with a 20g cream that goes on quickly and easily. It also includes natural ingredients, which work gently yet effectively to clean your skin without causing irritation.
The skin tag remover is suitable for all types of skin, from dry to oily to sensitive. This makes it a great choice for anyone looking for a skin care product that can be used safely and regularly with no worries or concerns. It leaves skin feeling refreshed and clean, providing long-lasting results with no harsh chemicals. This product comes highly recommended for its practicality, easy application, and natural ingredients. With its strong yet gentle formula and the variety of skin types it can be used on, this product is sure to become a regular in any medicine cabinet.
The OPHERA Skin Tag Remover is the perfect solution for removing unwanted tags and moles from the skin. Using advanced Plasma technology, this device provides a safe and effective way to remove surface and internal pigmentation from the skin. It includes nine adjustable speeds that are tailored to meet various skin cleaning needs. The kit also comes with two replaceable needles — a fine needle for small skin blemishes and a coarse needle for larger ones — as well as a digital display with battery level and intensity level indicators.
This device is extremely easy to use because of its six simple steps, allowing you to rejuvenate your skin within 15 minutes. It is rechargeable with a USB cable and provides a full charge of up to three hours. With the portability of this device, you can easily take it anywhere and use it whenever needed.
More From Money:
The Very Best Moisturizers, According to Dermatologists
The Best Electric Toothbrushes for Your Money, According to Dentists
The Best Teeth Whitening Kits and Strips for Your Money, According to Dentists