These Are the 50 Hottest Startups to Work For Right Now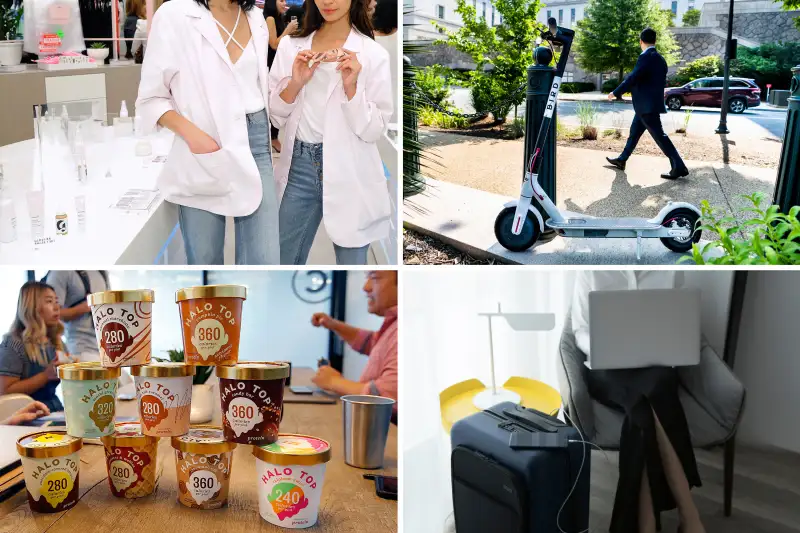 (clockwise from top left) Getty Images; Shutterstock; courtesy of Away; Getty Images
Forget everything you thought you knew about the country's hottest startups. In 2018, you don't have to be in tech — or even live in Silicon Valley — in order to work at one.
On Thursday, LinkedIn released its annual list of the 50 top startups in the U.S. Ride-sharing service Lyft came in first place, much like Uber did last year, but several consumer-focused brands also scored highly. The low-calorie ice cream maker Halo Top Creamery, scooter company Bird and makeup line Glossier landed in the top 10, while luggage startup Away and shoe brand Allbirds cracking the top 30.
"They're hiring fast, they're growing fast," Laura Lorenzetti Soper, a senior news editor at LinkedIn, tells Money. "These are the companies that are really gaining attention."
LinkedIn's list only included privately held companies that were younger than 7 years old and had at least 50 employees. Soper says her team judged the startups based on interest in the company, or how many people are following it on LinkedIn and looking at its profile, as well as interest in its employees and open positions. Startups' ability to land high-profile hires also factored in.
These qualifications meant that some of the most well-known startups, like Uber or Facebook, didn't make the cut (they launched more than 7 years ago). And although the list is still packed with tech companies — see cryptocurrency exchange Coinbase at No. 3, investment app Robinhood at No. 6 and cybersecurity company BlueVoyant at No. 31 — Soper says the "next crop of startups" offer different opportunities.
"It's the evolution of tech, the idea that we have a foundation to reach all these people and now we can create these awesome consumer brands," she says.
Joining a startup can be risky, but it is a good option if you're looking for work. According to the Bureau of Labor Statistics, startups added 1.7 million jobs between March 2016 and March 2017.
Those gigs are also flexible. Soper says many of the top startups offer workers the option to work from home. Just look at Halo Top, where the 75 employees all work remotely or out of shared office spaces like WeWork, according to the Foundation for Economic Education.
"It has to do with these companies wanting to find the top talent, no matter where they are," Soper adds. "It's not just about Silicon Valley anymore."
Check out the 50 hottest startups below: