The Best Water Guns and Super Soakers, According to Toy Experts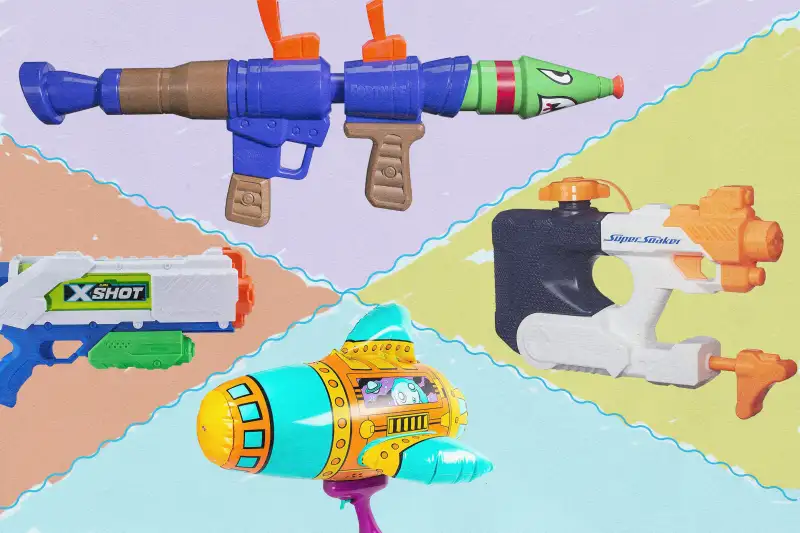 Courtesy of Amazon (3) and WalMart
When the mercury rises in the summer, water guns, water blasters, and super soakers give kids a great excuse to go play outside, burn off some energy — and cool off.
If you're of the generation that grew up with the old-school, translucent plastic water pistols, prepare to be blown away. The water toy category in general has exploded (in case all those wild pool floats all over Instagram didn't tip you off), and the humble water pistol has gotten a Terminator-like makeover, so much so that you don't even need to be (or have!) a kid to enjoy playing with them.
We consulted experts and professional and crowdsourced reviews to find the best water guns and most fun super soakers this summer, whether you're 5 or 65 or anywhere in between.
"Zuru's X-Shot line is full of affordably priced water blasters," says toy industry expert Marissa DiBartolo, editor in chief of TheToyInsider.com. "The Fast-Fill is one of our favorites this year because kids can just dunk it right in the water to fill it with 24 ounces of water in seconds," she says. We spotted the Zuru X-Shot on sale at Amazon and Target for $9.
"Hasbro's Nerf line also features the Fortnite license this year, which is taking things to a new level," DiBartolo says. Get your older kids to put down their screens by reenacting their favorite video game in real life. This water blaster, sold by Walmart and Amazon for just over $16, "looks like a replica of a Fortnite weapon, which is super fun for older kids," DiBartolo says.
This variation from Nerf's Super Soaker line topped review site The Wirecutter's roundup of the best water guns. Its 16-ounce reservoir is generous for prolonged water fights, and Wirecutter staff say the air-pump option is great for giving a blast some extra oomph.
This one isn't actually a water gun, but we're including this super-sized slingshot for launching water balloons because of its 400-plus five-star reviews on Amazon. "This was so much fun," one reviewer says. "There are so many games we thought of making with this." This is a grown-up toy, reviewers note, with some suggesting that it might be best for teens or adults.
If you're still in the shallow end this year, DiBartolo has a good suggestion for kids as young as 5. "The monkey and space blaster themes are so silly and cute, and the blaster isn't too intense," she says of this inflatable-water gun hybrid.
This water gun is not cat-approved: Amusingly, a surprising number of the nearly 400 Amazon reviews mention using this water gun as a training device to deter cats from, well, whatever it is they're not supposed to be doing. The reservoir of this Super Soaker has a wide mouth so you can add ice cubes and give whoever you're battling a seriously cold blast of water.
At last check, Nerf Freezefire Blasters were mostly sold out online and in stores. If that's the case when you go shopping, consider the Super Soaker Freezefire 2.0 a decent substitute — and a cheaper one, at $19.99.
We've included affiliate links into this article. Click here to learn what those are.