Why You're Late for Work All the Time — and How to Fix It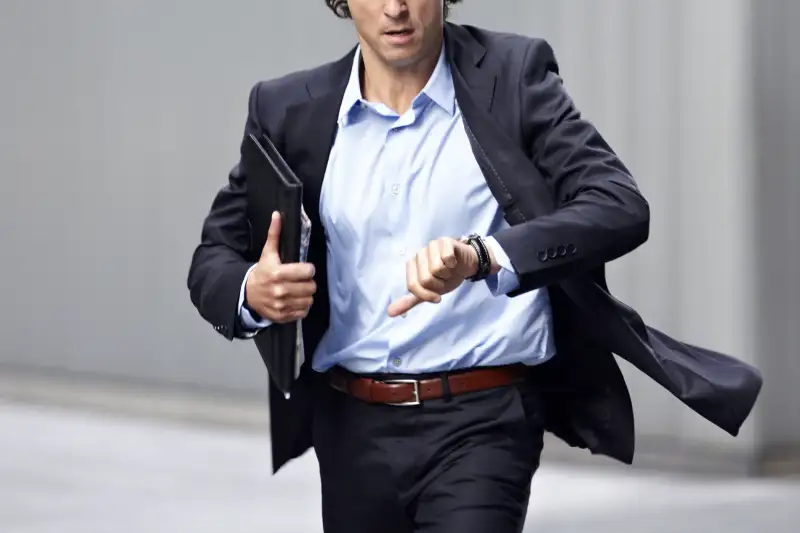 The car accident that snarled your commute, the alarm that didn't go off, the burning need to respond to that one annoying Facebook post — Americans have a million excuses for being late to work (some of them legitimate). And apparently, more and more of us are forced to trot these excuses out on a pretty regular basis.
According to a new CareerBuilder.com survey, 29% of employees say they're late to work at least once a month, up four percentage points from last year, while 16% admit to being late on a weekly basis, a three percentage point increase over a year ago. The top reasons people blame for their tardiness are (in order): traffic, oversleeping, bad weather, being too tired to get out of bed, and plain old procrastination.
If you count yourself among one of those morning dawdlers, it's probably not great news for your career. Although two-thirds of the hiring managers CareerBuilder surveyed agreed that the idea of a 9-to-5 workday is antiquated, more than 40% still said they've fired someone for being late.
The good news is that more bosses seem somewhat lenient about tardiness, realizing that work completed is a better barometer of productivity than how long employees spend warming their desk chairs. "Our survey research shows that nearly 1 in 5 employers — 18% — say they don't need employees to be punctual if they can still get their work done. That's up from 16% last year," says Rosemary Haefner, chief human resources officer at CareerBuilder. "I think we'll see that percentage go up," she adds.
Still, being perpetually late isn't good for either your professional reputation or your stress level. Experts have a few suggestions for how to get a handle on things even before you've grabbed the handle of your coffee mug.
Start by giving yourself more time. When you leave home with just enough of a window to make it to work on time, you're bound to be late with even the slightest delay en route. "If you miss one traffic light or have to run back inside to grab an umbrella, it becomes impossible to make it in on time," Haefner says. So here's her simple suggestion: "If you're chronically late, I'd say plan to be everywhere 15 minutes early." You don't have to commit to it forever; just try it for a week and see if your punctuality improves. Be sure to coordinate with your spouse or others so that everyone is on the same page with you leaving for work a little earlier than usual.
Don't use "best day" math. We live in a world where we're constantly urged to be better, faster, more productive. "Most of us have time estimation issues. We're just trying to do too much in the time we have allotted," says career coach Brenda Abdilla. One consequence of this is that we can start measuring ourselves against unrealistic expectations. Don't fall into the trap of planning your commuting time based on that one day when there was no traffic and you hit all green stoplights on your way there. Add in some wiggle room so the only way you'll be late is if something goes very, very wrong on the commute.
Arriving early doesn't mean you have to work right away. Give yourself an incentive for building in an extra 10- or 15-minute buffer, says career coach Roy Cohen. "If you show up at work with extra time, you can do stuff for yourself that you would've done at home," he says. When you're at the office before your colleagues arrive, feel free to use that time to catch up on personal tasks that are hard to squeeze in otherwise: Schedule that coffee date with a friend, order that baby shower gift, or catch up on your personal email.
Try a flexible schedule to cut out traffic. "It's such a colossal waste of time to be sitting in traffic — that's the worst possible use of your time," Abdilla says. See if your boss is willing to let you come in late with the idea that you'd stay late too. Or find a gym near work so you can drive in early enough to beat traffic, then work out, shower, and dress there. If your company is open to it, another option is working from home one day a week. For people with long commutes, this could save you a couple of hours every week.
Ponder the real reason you're late so often. It's impossible to come up with a solution if you have no idea what's causing the problem. "An important step to conquering the behavior is figuring out exactly what's causing it," Haefner says. "It could be a lack of motivation, a skill deficit, fear of failure, lack of interest, or simply habit." Being able to pinpoint reasons can help you find tactics for thwarting your tendency to drag your feet in the morning.
Get help for an overcrowded schedule. If you're chronically overworked or overbooked, that stress is going to build up over time. "It does bring about resentment," Abdilla says. "If you're feeling very powerless, you're going to find a way to kind of get everybody back by running late or not being present." If you're expected to respond to your boss's email before you leave the house and still be at your desk on time, ask him or her to prioritize which is more important, she suggests. Even the best workers can't be in two places at the same time.