Elizabeth Warren Blasts Bankers. Why Would She Want One Running Education?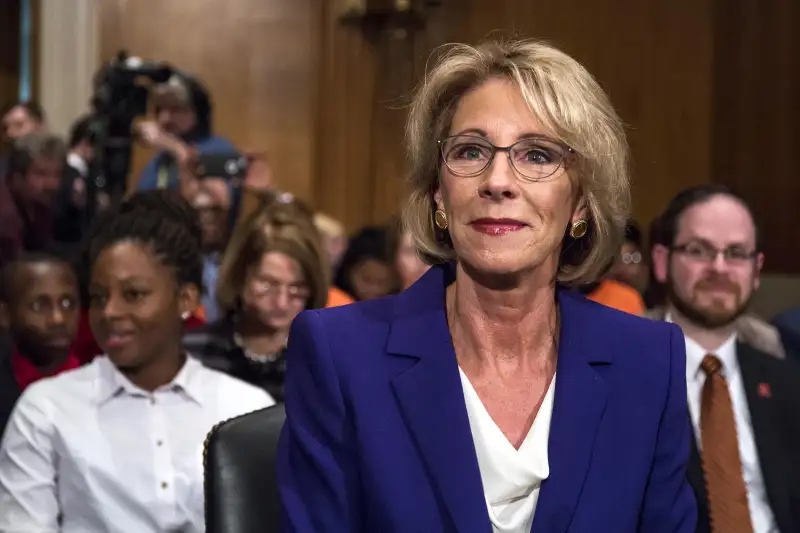 Bloomberg via Getty Images
During Betsy DeVos's confirmation hearing on Tuesday, Senate Democrats highlighted a series of factors that, they say, make the Michigan businesswoman wildly unqualified to run the Education Department. She has no experience attending or working in a public school, or even sending her children to one. She doesn't seem to understand some basic educational concepts. And as Massachusetts Senator Elizabeth Warren prominently pointed out, DeVos has no experience in banking.
You could be forgiven for doing a spit take on that last item. Why would the leader of the country's education system need banking experience? And why would Warren, an outspoken foe of the financial services industry, suddenly be in search of a banker?
As Warren explained in the confirmation hearing, the Department of Education is indeed responsible for managing a $1 trillion loan portfolio and overseeing a grant program that gives out more than $30 billion in aid each year. And there's been criticism recently about how well -- or rather, how poorly -- the education department has managed its loan program.
Yet the current secretary of education has no experience working in a bank or running a loan program. Neither did Arne Duncan, who was secretary for most of Obama's presidency. (Indeed, higher education experts watching the hearing pointed out that Duncan's inexperience managing a loan program or taking out student loans was never questioned.)
The same is true for Margaret Spellings and Rod Paige, who both served under George W. Bush; and Richard Riley, who led the department under Bill Clinton -- although it wasn't until 2010 that the Department of Education switched entirely to the direct lending program that we currently have for student loans.
One might argue that banking experience is more important now than it was before, when student loans were federally guaranteed but were otherwise run largely by private banks. Or you could argue the opposite -- that banking experience was more necessary to understanding the intricacies of the old program, says Jason Delisle, a resident fellow at the conservative American Enterprise Institute who's written extensively on the federal student loan program.
Robert Kelchen, an assistant professor of higher education at Seton Hall University, tweeted that Warren should have asked DeVos who she'd bring on to oversee the federal lending program, rather than asking about her own experience. All student lending and grant programs are run through Federal Student Aid, an office within the Department of Education. The FSA's last two chief operating officers both had MBAs and business or math degrees.
But even so, it seems a stretch to expect Warren to seek more businesslike experience (and practice) at the department.
One of the biggest problems with the federal government's lending program is that it has a terrible record on collecting outstanding debt, Delisle said. Borrowers have to miss nine months of payments before they face any consequences. Private student lenders are far more aggressive in their debt collection practices -- and Warren certainly hasn't been shy about criticizing private lenders for their treatment of borrowers.
"It sort of boggles the mind to think that Senator Warren would want someone from the banking industry running the Education Department," Delisle said.