The Psychology Behind Black Friday Crowds — and Why They'll Never Go Away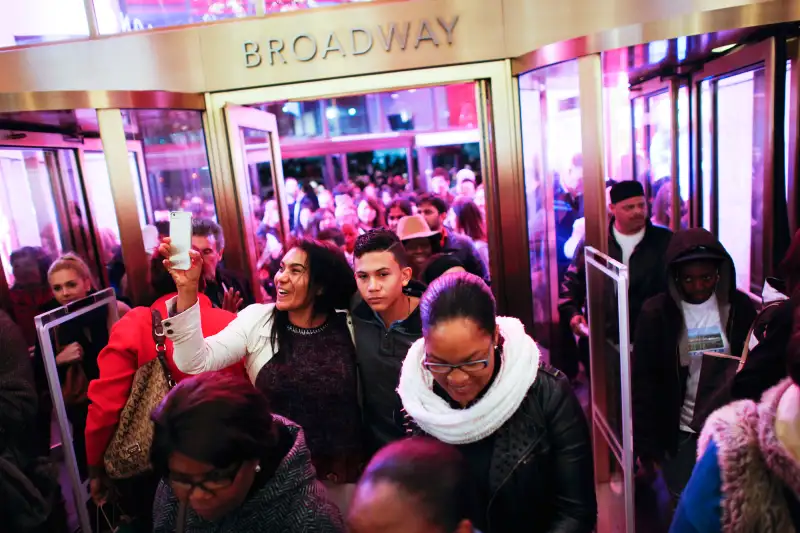 Kena Betancur—Getty Images
It's no coincidence that horror director George Romero's 1978 zombie flick, Dawn of the Dead, culminates in a mall, with legions of zombies drawn to the place to gorge mindlessly. If the undead were craving bargains rather than human brains, it could have been just any old Black Friday—a hellscape like none other, in the minds of many shoppers and nonshoppers alike.
Agitated crowds. Brawls. Trampling. The mayhem supposedly happens in the pursuit of bargains, and in 2017 it's fascinating that this phenomenon—much like a zombie—can't seem to die.
Why is this?
The term "Black Friday" was first used by retail marketers after World War II. But it wasn't until the consumerism-crazed 1980s that it truly became a big deal nationally. As Black Friday became hyped as a standout day when stores were flooded with ultracheap prices and amazing discounts, something of an arms race arose. Retailers began opening earlier and earlier on the Friday morning after Thanksgiving, and crowds waiting outside in the frigid predawn grew bigger and bigger in antsy anticipation of the "doorbuster" deals lying inside.
But for years now, online and physical retailers alike have hosted flash sales and deep markdowns long before and long after. Black "Friday" sales now launch on Thanksgiving Day itself, and the concept of "Christmas creep"—promotions as early as September and October—has significantly expanded the holiday shopping season. Shoppers can often find cheaper prices on days during the holiday shopping season other than Black Friday, including Cyber Monday.
Sales-tracking sites like DealNews.com say that the vast majority of deals on Black Friday itself can be ordered online, negating any reason to hit the store. Retailers seem to be phoning it in on this supposedly special day too: After looking over several seasons' worth of Black Friday ads, consumer-deals tracking site BradsDeals.com has concluded that stores like Target, Walmart, and Macy's repeat the lion's share of Black Friday promotions. Same items, same prices, year after year.
All of this feeds into the theory floated annually by retail analysts that Black Friday is dying, or is perhaps already extinct or at least irrelevant.
Except it's not.
Yes, foot traffic and spending in brick-and-mortar stores have been decreasing on Black Friday, and in surveys there's a steady increase of consumers saying they know Black Friday doesn't necessarily have the lowest prices. Fewer shoppers wake before dawn to hit the stores on Black Friday, and many more shoppers seem content to browse online rather than battle it out with Black Friday crowds in person—assuming they're shopping at all this day.
But the fact is there are still insane numbers of Black Friday crowds. According to a Mintel survey, 23% of American holiday shoppers say they will go shopping in a physical store on Black Friday 2017. Tech-savvy younger consumers, who are presumably most comfortable with online shopping, are particularly likely to partake in the traditional Black Friday experience; 42% of survey participants ages 18 to 22 said they planned on shopping in brick-and-mortar stores on the day.
Jon Garcia—APEbony Gills of Elkhart, Indiana reaches for a piece of pie as she waits for Target to open on Black Friday 2013. "This isn't my first rodeo," she said.
So what's happening? Why don't they just stay home and chill, perhaps do a little no-stress online shopping where the deals are just as compelling? Part of the reason that Black Friday is a phenomenon is simply that, well, Black Friday is a phenomenon and not about low prices.
"They want to experience the excitement of the event firsthand," says DealNews.com's director of content marketing Lindsay Sakraida. The site polled people at Target to see if they were there for anything specific. The answer? Not really. "They just wanted to see what all the fuss was about," she says.
In other words, many people view Black Friday as the shopping equivalent of the Super Bowl: They look forward to it not necessarily for the game itself (which can be underwhelming) but because of the desire to be a part of the action, and to evaluate how this extremely hyped event unfolds—pomp, circumstance, commercials, and all.
Bob Andres—Atlanta Journal-Constitution/AP
Beyond FOMO (fear of missing out), consumer psychologist Kit Yarrow explains that Black Friday is simply an ingrained tradition for families and friends. People typically have the day off work and need something to do with out-of-town visitors. They just spent the previous day mostly indoors, eating too much food and watching too much TV. An outing at the mall is something toddlers, tweens, and grandparents can get behind.
"You might look at the Black Friday crowds and feel bad that they're that desperate for a bargain," says Yarrow. "That's not it at all. They're excited about this day. It's a group activity. This is fun with friends."
Sure, you could shop on Black Friday with your best friend or favorite aunt with a tablet from the comfort of your couch, but it's just not as thrilling as being in the mall, among the gaggles clamoring for deals. There's something about touching the merchandise that gets those competitive juices flowing.
Matt McClain—The Washington Post/Getty Images
"It's an element of instant gratification and satisfaction that comes with toughing it out for a deal," adds Sakraida.
Yarrow also says that in today's retail scene, when shoppers are routinely confronted with 40%-off promotions and it's more impossible than ever to grasp what a decent price is, consumers glom onto Black Friday as a day when they can lower their guard and just buy some stuff. "We are in an era of distrust, when you never know when a deal is a good deal," she says. The arrival of Black Friday "tells them they're at least not going to get ripped off."
So go ahead and walk with the zombies. Don't feel guilty. And remember: You'll never be alone.