Walmart's Black Friday Samsung TV Deal Is Insane — and Sales Are Live Right Now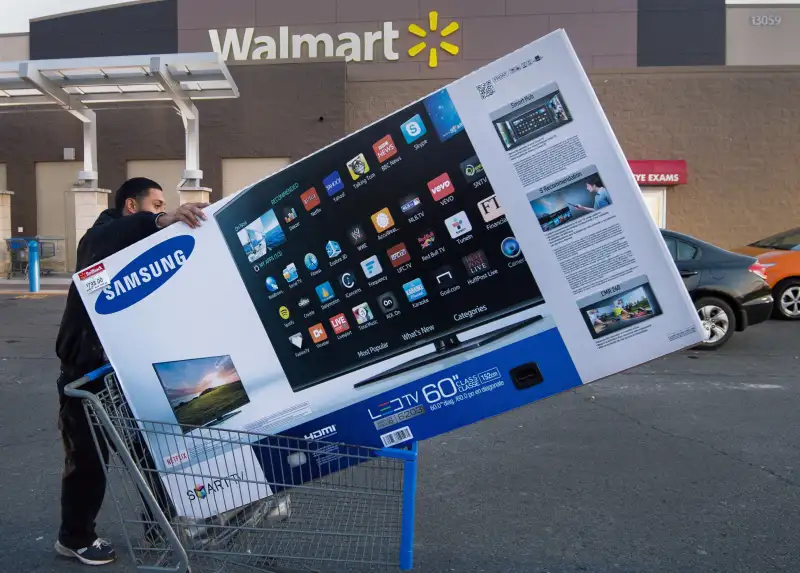 PAUL J. RICHARDS—AFP/Getty Images
Retailers like Amazon, Target, Walmart, and Sears have already published their Black Friday ads. So shoppers know what's coming down the pike in terms of doorbusters and bargains—including all the best Black Friday TV deals.
But you don't have to wait until next week to snag a great deal on a TV. Special promotions for early Black Friday TV deals are already live at some stores. In fact, Walmart just launched a "Samsung Savings Event" with big discounts on most items made by the popular electronics brand—including TVs. The vast majority of electronics on sale come with free two-day shipping or, if you'd prefer, free store pickup.
One of the best TV deals we've seen so far for the holiday season—including deals coming up for Black Friday 2017—is the Walmart sale on a 55-inch Smart LED TV. The list price given by Walmart is $1,199.99, but right now the TV is on sale for only $447.99.
That's a discount of a whopping $752 off the list price.
Granted, the $1,200 list price is probably quite inflated. But after checking around to see the best TV deals from Best Buy, Amazon, Target, and other competitors, as well as the best upcoming Black Friday TV deals, Walmart's sale price for this 55-inch Samsung TV stands out as quite an amazing deal.
Best Buy is advertising a 55-inch Toshiba LED 4K TV for only $279.99 as part of its Black Friday 2017 sale. But it's not a "smart" TV like the one Walmart has on sale right now, and most buyers generally consider Samsung a superior brand. Target is advertising a Samsung 58-inch 4K Ultra HD Smart TV for $649.99 on Black Friday, and while it's larger and a higher-end model than the 55-incher on sale right now at Walmart, the Walmart TV is arguably a better deal with a price under $450.
Here are some other Samsung deals available at Walmart right now:
• Samsung BD-J5700 Blu-ray & DVD Player with Wi-Fi: $47.99 (listed at $99.99)
• Samsung Galaxy Tab E Lite 7-inch 8 GB Tablet: $67.99 (listed at $119.99)
• Samsung 40-inch 4K Smart LED TV: $327.99 (listed at $549.99)
• Samsung 50-inch Smart LED TV: $477.99 (listed at $899)

We've included affiliate links into this article. Click here to learn what those are.