Bluevine Small Business Loans Review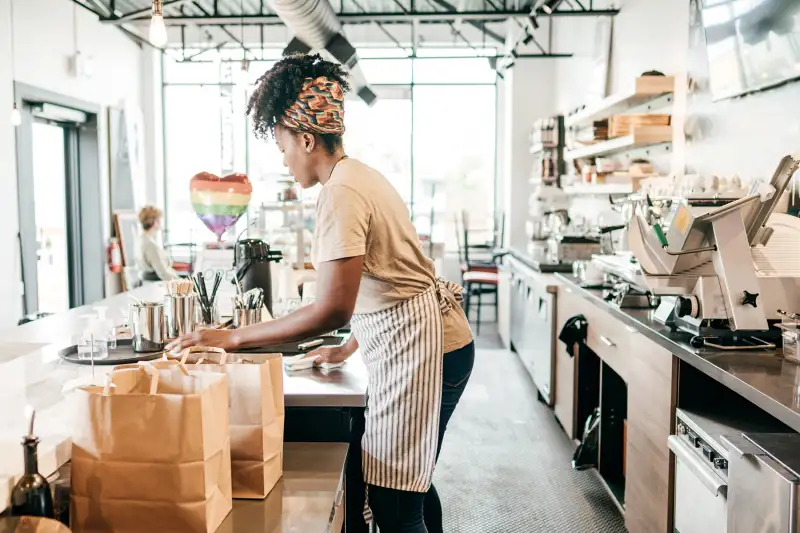 Bluevine is an online-only financial technology firm that specializes in small-business financing. The company started in 2013 and has earned positive reviews from customers. This review explores why this online lender offers one of the best small business loans on the market right now, as well as the potential downsides of this financial product.
Best for lines of credit
Bluevine is suitable for people who want a line of credit opened quickly — usually taking one to three business days — and a higher credit limit. Bluevine customers can get up to $250,000 in revolving credit, and applying for a line of credit with an online lender like Bluevine may be easier and faster than with a traditional bank.
Bluevine small business loans pros and cons
Pros
High borrowing limits for business owners
Funds available in a few business days
24 months in business required
Cons
Not available in all states or U.S. territories (NV, ND, PR or SD)
Repayment terms may require weekly payments
Personal guarantee required
Pros explained
High borrowing limits for business owners
A line of credit can give your business quick funding that you can keep withdrawing from as you repay the loan. Bluevine's maximum line of credit is $250,000 and is available for businesses as new as two years in operation. However, this benefit comes with a price — higher interest rates.
Funds available in a few business days
Once Bluevine reviews and approves your application, you can request funds directly from your account dashboard. The company then deposits funds in your bank account in as little as a few hours if you choose the wire transfer option, which costs $15. The free ACH electronic transfer option will get funds to you within three business days.
24 months in business required
One of Bluevine's minimum requirements for a line of credit is that your business has been in operation for at least 24 months, which is typical for banks. If you don't meet the company's minimum requirements, however, you may be eligible for invoicing factoring — also known as accounts receivable factoring — which lets you get a cash advance based on your outstanding invoices. Bluevine has partnered with a third party, FundThrough, to offer invoicing factoring.
Cons explained
Not available in all states
Bluevine isn't available in Nevada, North Dakota, South Dakota or the U.S. territories, including Puerto Rico.
Repayment terms may require weekly payments
Bluevine lending terms for repayment are either six or 12 months. If you have a six-month term, the company will deduct weekly payments from your bank account for 26 weeks. If you have a 12-month term, it will deduct monthly payments for 12 months.
Bluevine could deny your application if you earn less than $40,000 a month. Occasional downturns in revenue or shortages in cash flow could make it hard for you to pay the same amount every week.
If you take on more debt, Bluevine may put your account on hold or deny your request to withdraw funds, even if they approved you for the line of credit you're trying to draw from. Because of this, the company recommends contacting its support team before applying for another loan elsewhere, so you can find out how another loan would affect your Bluevine line of credit.
That said, if you pay your outstanding draws on time, avoid missed payments on your personal credit profile and maintain consistent financial activity and deposits in your linked business bank account, Bluevine may proactively increase your credit limit. You can also contact the company to request a line of credit increase.
Personal guarantee required
To submit a successful Bluevine application, you'll have to apply with your personal FICO credit score, which must be 625 or higher to qualify. Additionally, you must sign a personal guarantee, and if you default, Bluevine can seize your personal assets to recuperate the loss.
Bluevine small business loans policy plans/offerings
Bluevine offers two options for business lines of credit, which we cover below. Neither loan type is available for the following industries:
Pornography and paraphernalia
Controlled substances — including medicinal marijuana, marijuana, cannabis and hemp — and paraphernalia
Financial institutions and lenders, including insurance, penny auction companies and cryptocurrency
Donation-based nonprofits
Bluevine operates solely online, so its applications are streamlined and easy to complete from a computer or smartphone. These are the steps to apply for a line of credit with Bluevine:
Go to the Bluevine website: Click on "Get Started" to begin the application. Then, choose "Start application" under "Business Line of Credit." Borrowers who have QuickBooks Online accounts can log in using those existing login credentials.
Fill in the required information: Use the online application wizard to input basic information about yourself and your business. The company requires that applicants include up-to-date bank statements or connect to their business bank account through the platform.
Wait for approval. After submitting the required documentation, wait for approval, which can take anywhere from a few minutes to three business days.
Request funds. Once you are ready to withdraw cash from the line of credit, go to the borrower dashboard to request the required cash amount. Borrowers who choose the bank wire option might receive funds within a few hours of Bluevine approving the request. However, most ACH electronic funds transfers arrive within one business day. Funding can take up to three business days.
Once a borrower has drawn on the credit line, Bluevine starts to deduct automatic debits from the borrower's business bank account to make payments.
Flex6 business lines of credit
Borrowers can qualify for a Flex6 line of credit in amounts ranging from $6,000 to $250,000 and can request a line of credit increase after 45 days of payments. Borrowers must make payments on the loan weekly over 26 weeks, with the first payment withdrawn from the borrower's bank account one week after the funding of the loan.
To qualify for a Flex6 business line of credit, borrowers need a personal credit score of at least 625 and no bankruptcies within three years of their application to Bluevine. Also, their business must have been in operation for at least 24 months and generate at least $40,000 in monthly revenues — $480,000 in annual revenue.
The business must be registered as a corporation or LLC. To apply, borrowers need to provide bank statements or a direct link to their business checking account so that Bluevine can verify their information.
Flex12 business lines of credit
The Flex12 small business line of credit is available to businesses that have been in operation for at least 36 months. As with the Flex6 option, businesses can borrow between $6,000 and $250,000, but borrowers have to wait 90 days to be able to request a line of credit increase.
The business must be an LLC or corporation and make $80,000 per month in revenue — $960,000 annually. Borrowers' personal credit scores must be over 650, and they can't have had any bankruptcies in the past three years.
Bluevine small business loans pricing
Bluevine's APR ranges from 20% to 50%, which is much higher than other companies in the business lending industry. The company will also charge a 1.6% to 2.5% draw fee every time borrowers draw from their lines of credit. Bluevine doesn't charge early repayment fees, monthly maintenance fees or account closure fees.
Bluevine small business loans financial stability
Bluevine has received $769 million in funding from investors, including the venture capital arms of Citigroup and Microsoft. The lender's bank partner for business checking is Coastal Community Bank, through which Bluevine is FDIC insured. Bluevine's business lines of credit are issued by Celtic Bank, a Utah-chartered industrial bank, a member of FDIC.
Bluevine small business loans accessibility
Bluevine is widely available, and customer support is simple to reach via phone, online or live chat.
Availability
Bluevine is available in every state except for Nevada, North Dakota and South Dakota. Borrowers must have a minimum personal credit score of 625 and no bankruptcies in the past three years.
Contact information
Bluevine's support is available Monday through Friday from 8 a.m. to 8 p.m. EST. The customer service number is 1-888-216-9619, and you can submit a support ticket on the company's website.
User experience
Bluevine offers a quick, straightforward user experience, allowing potential borrowers to apply for a line of credit in minutes and receive a decision within three business days and possibly the same day.
Bluevine small business loans customer satisfaction
On one online review website, Bluevine has a rating of 4.3 out of five from customers. Users appreciate getting a loan with Bluevine after other lenders rejected them, having a representative walk them through the setup process and getting the whole application process done much more quickly than with big banks.
The Better Business Bureau has accredited Bluevine and given it an A+ rating. The Better Business Bureau considers customer interaction when rating companies, so an A+ rating shows that Bluevine takes responding to customers and resolving complaints seriously.
However, Bluevine has a 1.72 rating out of 5 in Better Business Bureau customer reviews. That said, most of the Better Business Bureau customer feedback doesn't appear to review Bluevine line-of-credit offerings but rather the company's business checking product.
Bluevine small business loans FAQ
Is Bluevine legit?
Yes, Bluevine has been operating for 10 years and it's a profitable, legitimate business. The company also joined the U.S. Small Business Administration in administering COVID-19 Paycheck Protection Program loans and partners with FDIC member banks to offer its financial products.
Does Bluevine run a credit check?
Bluevine will run a soft check on your personal credit, which won't affect your credit score. You'll need to provide the following personal details: full legal name, address, phone number, date of birth, Social Security number, percentage of the business that you own, and information about any beneficial owners of your business.
What bank owns Bluevine?
Bluevine has bank partners, but no bank owns Bluevine. Bluevine has partnered with Coastal Community Bank for its business checking accounts and Celtic Bank for its business lines of credit.
How we evaluated Bluevine small business loans insurance
To evaluate Bluevine's small business lines of credit, we considered the following:
Fast funding times, allowing business owners to get working capital quickly
Easy application process with a simple online application and possible same-day approval
Financial stability and the company's ability to meet its financial obligations
Eligibility requirements that make it possible for more small businesses to qualify than is typical with traditional banks
High loan amounts available
Summary of Money's Bluevine small business loans review
We chose Bluevine as the best option for lines of credit due to its high credit limit and fast application processing and funding times. Newer small businesses tend to find it easy to access Bluevine lines of credit, and the company has high borrowing limits. Additionally, Bluevine funds its loans extremely quickly, making it useful for small businesses that need access to working capital quickly.
Blueline is a good option if you're a small business owner who needs cash within days, you don't meet other lenders' eligibility requirements and prefer a short repayment period of six or 12 months.