BMW's New M2 Is the Power-Mad Little Brother of the Beemer Family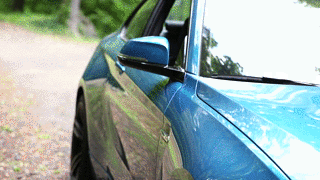 While there are plenty of reasons to look forward to autonomous cars, the BMW M2 turns out to be a small but boisterous argument against ever giving up the wheel.
With this wheel in your hands, why would you? The M2—the M stands for "Motorsport," as in BMW's racing division—is Beemer's entry-level performance model. But at a base price of $52,000, you might call that a limited-entry-level.
The M2 isn't so much a new car as it is a blast from the past. A low-end sportster has been missing from the lineup for a couple of years, and Beemer lovers have been clamoring for the company to fill the gap. Last year BMW introduced new models of the M3 and M4—bigger, faster, and way more expensive and luxurious high-performance cars. But the littler sibling M2 was able to crib some of that pricey technology, including an active differential—computer technology that, as you drive, is constantly adjusting the ride to your chosen setting. The suspension and electronically assisted steering have also been handed down. Sometimes it's good to be the runt of the litter.
Perhaps owing to its bottom-rung status, the interior of the M2 is not going to blow you away. Instead, you get a no-nonsense dashboard where the analog speedometer and tachometer are as modern as a tube television. Worse, shaded by the dash, they're hard to see in daylight. There's an 8.8-inch non-touch screen that is run from BMW's center console control, which will take you a while to get used to. I'm used to it—and I still think it's silly.
The rest of the dash-mounted controls are straight-ahead simple. The 10-way power seat is firm and comfortable, the steering wheel padded, ample in your mitts, and highly responsive. One real downer: Safety equipment that's standard on luxury cars is an option on the M2. The $1,250 "Executive Package" includes frontal collision warning, rearview camera, parking distance control, a lane departure warning system, and pedestrian protection. You'd be crazy not to buy it unless you plan to nothing but race this thing.
The M2's power plant is going to blow you away. The M2 is attached to a three-liter, 360-horsepower, turbocharged 6-cylinder engine and, in Money's test model, a nearly seamless 6-speed manual transmission. This stick itself could slow the movement away from manuals to the dual-clutch automatics that are now becoming prevalent even in performance cars. Although the manual is a couple of ticks slower to 60 miles per hour than the automatic (which BMW rates at 4.1 seconds), getting there is way more fun. On the downshifts, there's a rev matching feature that turns you into a flawless driver. If the stick isn't your thing, the dual-clutch, seven-speed automatic (for an extra $2,900) comes with paddle shifters, so you can fake it. In either setup, the acceleration is a thrill.
Less thrilling for some drivers may be the M2's driving environment: the ride is hardly quiet and the car communicates the road vibrations quite well for such an expensive car. This is a fast ride that you can really feel. But that's the whole point, isn't it?