5 'Boutique' Hostels That Are Better Than a Hotel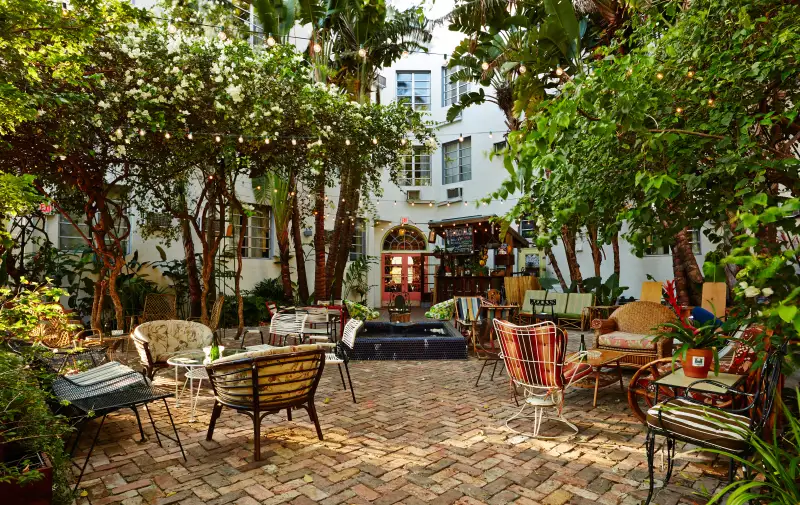 We get it: You're not interested in sharing a bunk bed with a roomful of party-hearty 20-somethings. Who can blame you? But blanch every time you see the word "hostel" and you'll miss some of the county's coolest lodging options—not to mention some major bargains.
Europeans are way ahead of us on this front. The Continent has roughly 4,500 hostels, according to booking site Hostelworld.com, ranging from spartan, dorm-style accommodations to hip, unique properties that attract older, more sophisticated travelers. In the U.S., the number of hostels is small but growing (about 350), and many of the latest additions are modeling themselves on boutique hotels, with meticulously decorated rooms, cool on-site bars and restaurants, pools, and more. The Freehand Miami, for one, a Miami Beach hostel opened in 2012, "appeals to guests looking for an accessible price point, who still want to experience thoughtful design and a food and beverage destination," says Roy Alpert, director of the Freehand brand. The company plans to open additional locations in Chicago next year and Los Angeles in 2016.
If you've never stayed in a hostel, you might not realize that, along with dorm-style lodging, most offer private rooms (with private bathrooms). Often, these properties will have doubles that are essentially no different from a typical hotel room, as well as private quads with four smaller beds, which can be a good solution for families or groups of friends traveling together.
Budget travelers will find plenty of other things to love. Hostels typically have free wi-fi and breakfast, plus other affordable food and drink options and a dialed-in staff who know the area's best affordable restaurants, bars, and activities. Many also have a shared kitchen, meaning you can snack or even cook, shaving a chunk off your dining-out bills.
Hostels are more social and less private than hotels, so if you don't like chatting up your neighbor at the communal breakfast table, it may not be for you. Also, while hostels are starting to draw a more diverse crowd, travelers on the far side of 30 are still likely to be outnumbered by younger folks. At Chicago's Holiday Jones, for instance, 20-somethings typically make up between half and a third of guests, says manager Madeline Rawski. In some cases, that can mean a loud, rowdy crowd. If that's a concern, look for properties without a bar or restaurant on site (or at least one that closes early). One other note: some hostels have age restrictions, so check before you book if you're traveling with young children.
Ready to give high-end hosteling a shot? Here are five to check out:
Holiday Jones, Chicago, Ill. This former SRO in the city's hip Wicker Park neighborhood, opened in 2013, is especially great for solo travelers, since it offers private single rooms. It's notable for its high percentage of private rooms: about 85%. Doubles start as low as $38, but are typically priced closer to $65 (you'll pay an extra $10 or so for a private bathroom). A cool perk: On request, Holiday Jones will deduct your train fare from the airport from your bill.
The Wayfarer, Santa Barbara, Calif. This SoCal property just opened in August and is celebrating by offering travelers 20% off their first stay. Private doubles start at $159—not as affordable as most hostels, but still a decent rate for downtown Santa Barbara. The 4- or 5-bed shared rooms start at a more accessible $59 per person. The hotel also has pool and a shared kitchen with private food lockers.
The Crash Pad, Chattanooga, Tenn. Located in a great foliage town, this eco-friendly, LEED platinum certified hostel offers a fridge stocked for make-your-own breakfasts. Several local businesses, including restaurants and outdoor outfitters, offer discounts to Crash Pad guests. Private doubles are $75 to $95.
The Freehand Miami, Miami, Fla. Private doubles start at $150 a night, private quads at $140. The Freehand steps up the usual social hostel vibe with its own trendy bar, pool, and patio lounge area. Double rooms have cable TV, iPod docks, and all the usual boutique hotel amenities.
The Bivvi Hostel, Breckenridge, Colo. This mountain lodge-type hotel is closed for the fall but reopens November 7, when a private double start at $169. The Bivvi caters to adventure travelers and can connect guests with local outfits that do everything from mountain biking and skiing and to yoga and mountain climbing. Afterward, relax in the 10-person outdoor hot tub. Note: The hostel does not allow kids under the age of 12.