Why an Iconic Snowboard Company Put Playboy Centerfolds on its Boards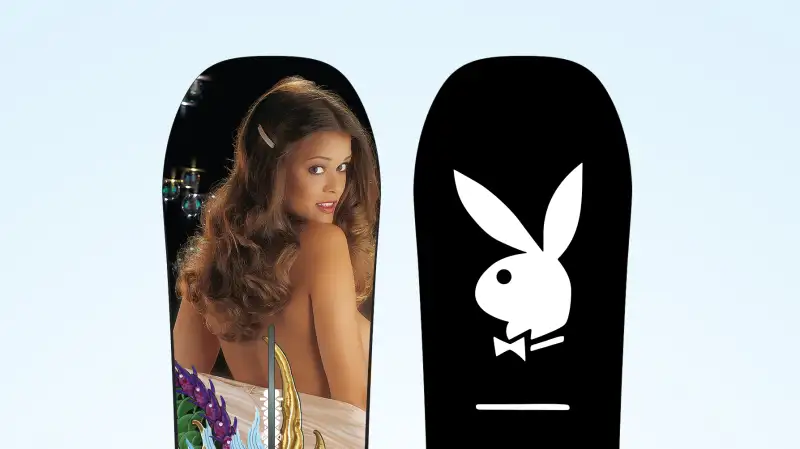 Burton, the Vermont-based company widely acclaimed for making snowboarding mainstream, partners with many other brands with its merchandise. A Disney Frozen Collection, for instance, offers backpacks, goggles, and girls' snowsuits and hoodies featuring Elsa, Anna, and Olaf. Other Burton gear features artwork from the Marvel and Peanuts universes—Snoopy snowboards, Spider-Man socks, Iron Man helmets, and so on.
Another new collection isn't quite so family-friendly. With the Playboy Centerfold line, Burton offers three different snowboards in which the topside shows a mashup of vintage Playboy models and the work of tattoo artist Chris Nunez. The tattoo art—funky dragons, vipers, and such—is placed strategically on each model's otherwise nude body in order to give the overall image the equivalent of a PG rating, rating than R.
"Make 'em drool with the latest in pinup-worthy freestyle performance," the Burton website states in regards to the new Playboy boards, which retail for $480, bindings not included. "Built upon the playful versatility of our critically acclaimed Process snowboard, the Centerfold exposes the best in lightweight performance and action-packed pop."
As the Burlington Free Press reported, this isn't the first time that Burton has collaborated with Playboy. In 2008, Burton put Playboy bunnies on its boards, and predictably, outrage ensued. In addition to protests and loads of angry letters upset about the product line that many found offensive, ski resorts such as Killington, Stowe, Sugarbush, and the many mountains owned by Vail Resorts wound up banning employees from using the snowboards while on the job.
So why would Burton essentially redo an idea that was the focus of so much controversy in the past? Company founder and chairman Jake Burton explained to the Burlington Free Press that Burton has "supported freedom of artistic expression" during its 40 years in business. "Board graphics are artwork, and we understand that art can be offensive to some and inspiring to others," he wrote in an email. ""Playboy is one of the most iconic brands in the world, and we're proud to have worked with them on a number of projects for over a decade."
Obviously, another factor is that with controversy comes extra attention—and that can be good for sales. "The end result is a beautiful board that looks as good as it rides," Burton said. "And just like all of our past collaborations with Playboy, I'm sure it will be a collector's item."