This Cadillac Zooms From Zero to 60 In Absolute Comfort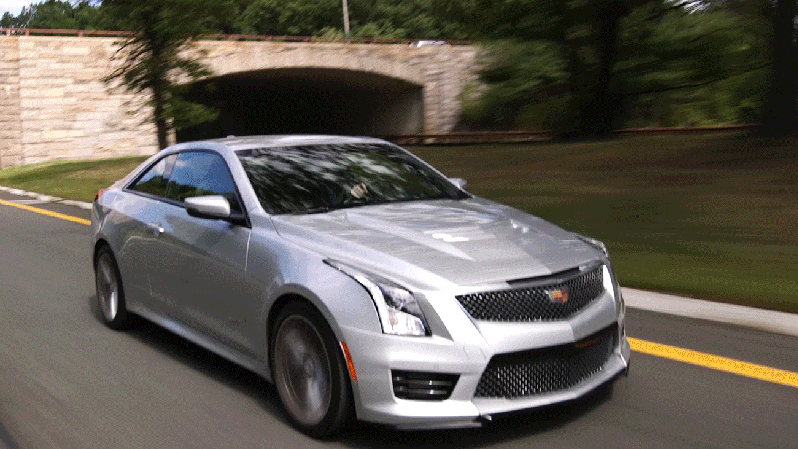 Fun Cadillac.
These are not words I could have ever imagined parking anywhere near each other. Cadillacs are big. They're luxurious. They're couch cruisers. They're pricey.
But when did you ever look at one and say, "Man does that thing look like it could rip!"
So here comes the 2016 ATS-V to rewrite all those sad old memories of Cadillac. Fire the launch control and you are up to 60 miles per hour in 3.8 seconds. My grandfather's Cadillac—one of those classic Fleetwoods that seemed as big as a house—went from 0 to 60 in 3.8 minutes. What's gotten into the ATS-V?
How about a 464-horsepower V-6 twin turbo? That makes it worth using the paddle shifters on the 8-speed automatic transmission, but you even have the option of a six-speed manual. This Caddy has a little Corvette in it, and has gone a little power mad.
This is the machine Cadillac almost had to make, to prove that it can hang with the Germans in performance cars like the BMW M3 and M4, Audi R4, or Mercedes AMG—cars that not only are elegant but also don't have to make any excuses cornering or accelerating or taking to the track.
Cadillac has gained some relevance with the hip-hop set with its Escalade—which remains a solid choice for limo services and federal policing agencies—but if the company wanted to attract younger buyers across the spectrum it needed something hotter. And after a few earlier flops, it's got one.
The ATS-V doesn't even try to mimic the curviness of the Audis and Beemers—there's none of that downward sloping hood that seems to slide into the pavement. The ATS-V is all sharp elbows and angles in the front, a look that practically scowls with the promise of acceleration. Bang the gas pedal and you know this Caddy is serious, but it handles with surprising agility. The passing power is what really makes it enjoyable.
Not that the plush interior does the ATS-V any harm. Inside, we're more traditional plush, not as hard-edged, with lots of hand-sewn leather and—look at this!—racing seats with inflatable side bollards to hold you in place. In the rear of the coupe there are two seats for passengers, as if trying to stuff a third body back there would be an insult. True, it's not as roomy as some of its competitors, but none of my passengers was complaining about comfort.
This step up for Cadillac—which along with a headquarters move to New York City is supposed to represent a hipper brand—has the requisite price of entry. The ATS-V's basic sticker is about $62,000. But if you add the automatic transmission, the racing seats and the excellent safety package—the blind spot warning indicators are particularly good—you've got yourself a $72,000 vehicle.
And you've also got, at the very least, an argument to choose a Caddy over a Beemer or a Benz. But the very fact that Cadillac can be in this conversation is a victory of sorts, although Cadillac is going to need a few more like it to thrive.
Read Next: Fire Your Chauffeur and Drive This Rolls-Royce Yourself