Fire Your Chauffeur and Drive This Rolls-Royce Yourself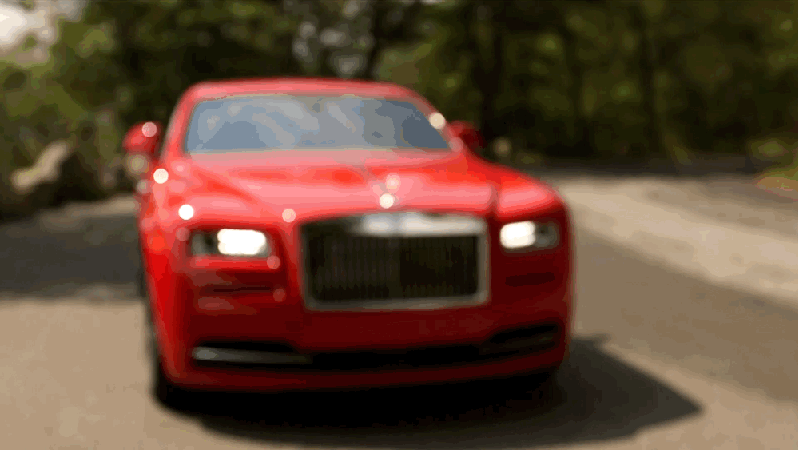 When you think of Rolls-Royce, you think of two people in the car: a rich guy in the back seat and a chauffeur with a British accent up front.
But you've got Rolls all wrong. The company has been owned by BMW for years, while the English company called Rolls-Royce makes jet engines these days. Second, Rolls-Royce automobiles—okay, motor cars—are as much about driving as being driven. And when you are driving the German-owned, English-built, Rolls-Royce Wraith, you may feel as though the jet engine maker had supplied the power plant. The Wraith is Rolls' "sporty" vehicle, although hardly in the way a Triumph Spitfire was sporty.
You climb into the Wraith via its backward opening door, touch a button that closes it firmly, and you are on your way. The Wraith is 5,400 pounds of grace and elegance powered by a monster V-12 engine that looks like it was taken out of a 737. It's a combination of beauty and brawn that arrived with a $377,000 price tag on our tester.
Yes, you can get into the Wraith for a mere $300K, but once you start making it your own, the sticker will expand accordingly. On our model, the paint job alone cost $10,000—a red like you've never seen before and a finish so clear you could shave in it. There are 43,999 other paint colors available, according to the company. It's a bespoke car with options limited to your unlimited pocketbook—even a gold-plated Spirit of Ecstasy hood ornament that dives below for safety when you turn the car off .
Then there's the Wraith's optional (of course) navigation system, which is tied directly to the transmission. It looks at the road ahead to determine precisely which of the transmission's eight gears should be engaged as you approach the next curve and ushers you along with total fluidity.
See Next: This BMW SUV Is Faster Than A Porsche
The twin-turbo, 6.6-liter engine can raise 624 horsepower out from under that shiny bonnet, enough to get to 60 miles per hour in about 4.5 seconds. But these ponies don't shout. Instead, the Wraith responds wraith-like, the front lifting effortlessly as the rear wheels respond to the massive amount of torque at your command. You pass without making a loud engine remark to the poor fellow in the nearby Benz. In the center column, your can select a choice of driving modes, and raise and lower the suspension to suit.
Is the interior over the top, as you would expect? It can be. But our model had the understated elegance—okay, understated opulence if that's possible—of a refined piece of work. Alas, as stylish as it is getting into the front seats, getting into the rear of the Wraith is not a regal experience. "This back seat isn't made for fat old ladies," noted one of my favorite relatives during a test ride. But once you're there, it's all comfy-cozy. The dash reflects the same dedication to serious materials without serious fuss. No extra buttons or functions. If you want to adjust the AC louvers, there's a simple silver knob to do so. Even the gear shift is refined.
There's one clever gadget, though. An umbrella built into the doorframe that pops out at the touch of a button. Perfectly English as tea, given the weather in the UK. Yes, there is a little silliness built in: an optional Starlight Headliner roof that glows overhead with LED lighting. Or maybe the lambswool floor mats might seem a bit much. But then again, at this price, what could possibly pass for too much?
Read Next: You Can Buy an 'Entry Level' Maserati For $78,000