Canned Wine Is the Drink of Summer 2017. Here Are Our Top Picks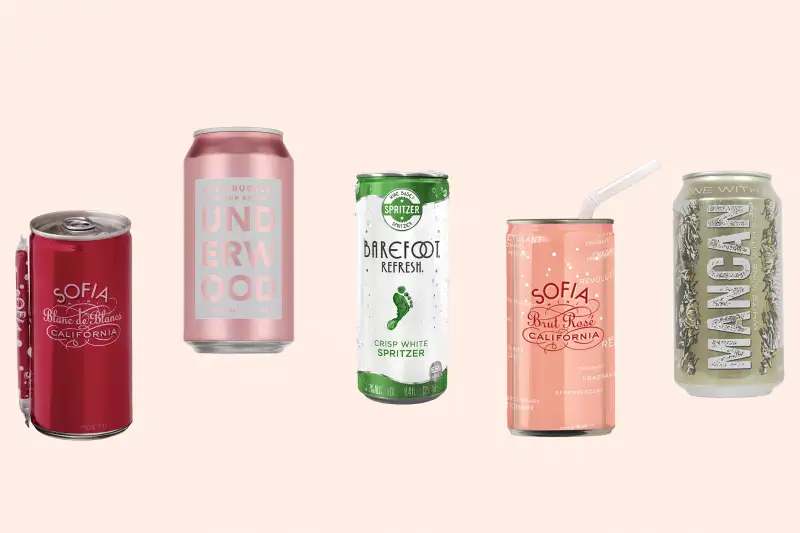 Courtesy of Francis Ford Coppola Winery, Union Wine Co., and Mancan.
Craft brewers jumped on the canned-beer bandwagon a few years back, and now their counterparts in the wine industry are fully on board as well.
Interest in canned wine has surged. Nielsen reports that canned wine today is a $28 million business, up from sales of $14.5 million in 2016 and just $6.4 million the year before. The styles and brands of wine available in a can keep expanding, and they're increasingly available from online sellers like Wine.com and Amazon.
In general, canned wine is a good option for places and activities where bottles would be too heavy, impractical, or unsafe. (Pool-float party? Glamping brunch? The possibilities are endless.) That's why many brands that play up their affinity for summertime activities with beach-appropriate names like Barefoot and Flipflop, or seashore-inspired graphics (waves, sandals, you get the idea), are big on canned wines.
Courtesy of Barefoot Cellars
Perhaps no wine is hotter than the summertime favorite, rosé. Although it's a small piece of the overall wine spectrum, pink is now in; Nielsen says it's been growing recently at a 70% rate.
Winemakers like Union Wine Company — whose Underwood brand pioneered the canned-wine trend — and House Wine (yes, that's the brand name) both serve up decently drinkable rosés in 375ml cans.
Courtesy of Union Wine Company
And while champagne might be the go-to for luxurious celebrations, it's also proving to be surprisingly popular on the other end of the spectrum, with sparkling wines of various provenances turning up in cans left and right. Canned champ might sound like a punch line, but the idea has practical merit: Sparkling wine doesn't really keep its bubbles unless you invest in one of those fancy pressure-preserving stoppers.
While there are a slew of them out there, Francis Ford Coppola Winery's Sofia Mini Blanc de Blancs 4-pack wins for its festive looks and individual, teeny bendy straws.
Courtesy of Francis Ford Coppola Winery
Meanwhile, Mancan's "Fizz" sparkling wine is interesting because the marketing is focused on a surprising demographic: men. And you have to give the brand props for making the effort to get dudes knocking back bubbles sans bottle.
Courtesy of MANCAN Wine, LLC
One cautionary note: The wines from Underwood, Mancan, and some other brands might look like ordinary beer or soda cans, but each one holds half a bottle of wine. Proceed with caution accordingly, and if you're not a person who downs a bottle of wine at a clip, stick to just one. Or perhaps even split one can with a friend. On the bright side, it's nice to have the option of opening a can rather than popping open an entire bottle of wine—some of which may go to waste, or which you could feel compelled to finish.
If you're one of those people who has to have everything, White Girl's Babe wine hits all the hipster check marks: It's pink, sparkling, and has a cheeky name and um, a claim to fame as "The Fat Jew" of Instagram's wine brand. If you're not a fan of Mr. Josh Ostrovsky (TFJ's real name), Coppola's winery rolled out a canned Brut rosé with "spiced berry accents" and hints of tea, peaches and pomegranates.
Courtesy of Francis Ford Coppola Winery
Finally, it's worth noting that cans are not the only fun way to bring wine on the go without worrying about glass containers. Wine in a juice box is also a thing.
We've included affiliate links into this article. Click here to learn what those are.