18 Highly Successful People on the One Song That Gets Them Hyped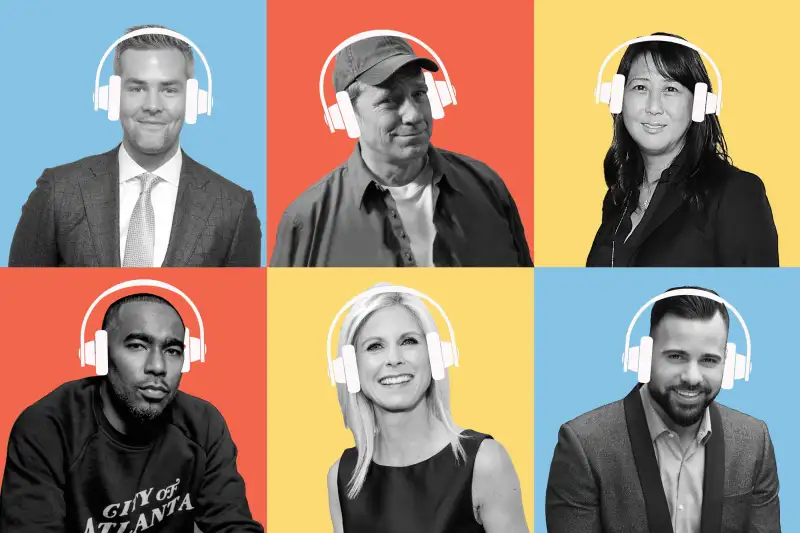 Photo illustration by Sarina Finkelstein for Money; Getty Images (4); Michael Segal (1); Ousman Sahko (1)
There's something oddly intoxicating about a good pump up jam.
All those Prince hits, those Hall and Oates tunes, those Beyonce tracks we blast at full volume to remind us that we are, in fact, irreplaceable, deliver the sweet serotonin blasts that get us through the day. With the right amount of mojo (or caffeine) the songs we rock out to when we need to feel to excited, or inspired, or uplifted, can motivate better than any Ted Talk out there.
That goes for people at the top of their game, too, who are not immune to a solid fist pump/head-bang/YAS QUEEN every now and then. We know -- we asked them.
Here are the songs that some of our favorite people use to gas themselves up.
"Lose Yourself," Eminem
"I listen to music during my workouts mostly. When I want to get motivated it's usually harder rock, pop or dance music with a faster beat. One song that always gets me fired up 'Lose Yourself.'"- Ken McBride, CEO, Stamps.com
"Still Standing," Goodie Mob
"I got to promote this record 20 years ago when it released; anytime I feel uninspired or need additional motivation, like before a pitch meeting, I listen to this to remind myself how far I've come and that I'm still standing." -Donald Albright, Cofounder of Tenderfoot TV; producer of true-crime podcast "Atlanta Monster"
"Feelin' Stronger Every Day," Chicago
"I was eighteen years old when I first heard this song, behind the wheel of a Pontiac firebird, and exceeding the posted speed by 40mph. I blamed the song, and the officer let me off with a warning." - Mike Rowe, Host of Facebook Watch series "Returning the Favor" and Dirty Jobs
"Ain't Got it Like That," Earl St. Clair
"I listen to "Aint Got It Like That" as I sit down to organize my inbox in the morning. Archive. Star. Delete. I'm grooving with Earl til I hit Inbox 0." - J. LaLonde, Vice President of Content, Head of Studio at Whistle Sports
"Shake it Off," Taylor Swift
"My kids tease me about Taylor Swift being my guilty pleasure. If this song doesn't put a smile on your face and inspire you to get back at it then you need to check your pulse. This was my final jam song before I ran this year's Boston Marathon." - Jeff Somers, President of Insureon
"Volare (I Will Fly)," Gipsy Kings
"Sometimes I need to clear my head before a product development meeting so I listen to [Gipsy Kings.] It reminds me of living in Madrid when I was in my twenties. The days were creative and carefree - wandering through the Prado museum, marveling over Picasso's Guernica, staying out all night dancing, and going to Gipsy Kings concerts!" - Marla Beck, CEO and Cofounder of Bluemercury

"On to the Next One,"Jay-Z
"It's the entrepreneur's anthem. It's about expansion, moving up, and never settling. And the beat is sick." - Ryan Serhant, star of Bravo's Sell it Like Serhant and Million Dollar Listing: NY
"Nessun Dorma," Puccini
"When your dad is from Vienna and your mom is from Rome, you grow up with opera and learn to love it." - Rod Hochman, CEO of Providence St. Joseph Health
"DNA," Kendrick Lamar
"The message of the song reminds me of where I've come from and my journey to who I am today, which gives me the motivation I need to walk with grace and be my best self in any situation." - Suemyra Shah, General Counsel at Whistle Sports; Co-Producer, Festival Batuque (Brazil)
"Thunder," Imagine Dragons
"To get in the right mindset before addressing an audience on stage or TV." - John Tabis, Founder and CEO, The Bouqs Company
"A Million Dreams," The Greatest Showman Soundtrack
"I'm a cheesy father of four young kids, so, our family's anthem is currently "A Million Dreams," which we literally listen to every morning before school. The lyrics remind us that each new day is full of possibilities and 'a million dreams is all it's gonna take, a million dreams for the world we're gonna make.'" - Chris Chuang, CEO, Republic Wireless
"Long Time," Boston
"I listen to it in my car because it reminds me of my high school days." - Howard Eirinberg, CEO, Kronos Foods Corp.
"Giant Steps," John Coltrane
"I listen to this before a big meeting to clear my head and psych myself up." - Trip Adler, CEO and Co-founder, Scribd
"1979," The Smashing Pumpkins
"When I'm alone in the car and want something loud." - Gerun Riley, President, Eli and Edythe Broad Foundation
"Home," Marc Broussard
"It's a great song that build up momentum and keeps you focused on [my] workouts." - Ben Midgley, CEO and Co-Founder, Crunch Franchising
"The Marriage of Figaro," Mozart
"When I have a big day that includes rehearsal, meetings, and performance, I know I'm going to need a lot of inspiration to carry me through. Nothing focuses my mind like Mozart. I'll put on Renée Fleming singing Marriage of Figaro arias, and I will know I'm ready for anything the day brings." - Monica Yunus, Co-founder and Co-executive director, Sing for Hope
"Speed of Sound," Coldplay
"I listen to this song to get motivated before meetings with scientists and corporate donors, because it's about being creative, imaginative and bold." - Sung Poblete, President and CEO, Stand Up To Cancer (SU2C)
"Taking Care of Business," Bachman-Turner Overdrive
"This has become my team's rally cry. We "TCB" before big pitches to prospective partners and after we close deals." - Kyle Bailey, CEO, NuVinAir