Money's 2023 Changemakers: Meet the Educators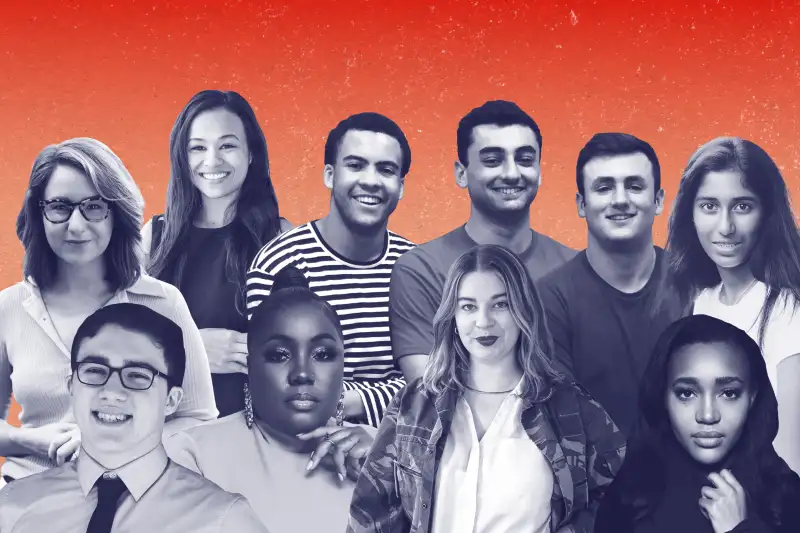 Money recently published its inaugural list of Changemakers, the 50 people impacting Americans' wallets. Our 2023 Changemakers include a wide variety of innovators making meaningful, positive change in personal finance. They fall into six categories: advocates, creators, educators, experts, leaders and trailblazers.
Meet the educators below, and check out the entire Changemakers project here.
Fagan is founder and CEO of The Financial Diet, a multi-platform media brand targeted at millennial women. TFD started as a blog in 2014 but has expanded into a small empire that provides clear, relatable financial advice through articles, events and YouTube videos. Fagan is leading it all — and focusing heavily on financial transparency as she helps her ever-growing audience navigate tricky money situations with honesty, knowledge and discipline.
"It's very uncommon for people in a lot of situations to say, 'That's not in my budget,'" she says. "The more transparent you can be, the more you can get out ahead of it."
As The Broke Black Girl, Kennedy provides a huge online community with what she calls "culturally relevant financial education." That means not only breaking down personal finance norms but also dissecting issues at the intersection of money, politics, and racial and gender equity. She uses her background as a woman of color to inform her approach, which includes a heavy dose of understanding that every person's financial life will be different because of their background and history. Kennedy also crucially frames many of her tips for women of color, giving them space to learn and be heard.
"Being a Black woman growing up in a Black community, being born to Black teenage parents — I can't ignore that, because it's shaped my whole experience with money," she says.
This young trio founded First Generation Investors, a mentorship program that teams up college-aged volunteers with students in Title I high schools to learn the ins and outs of economics and investing. After completing a course on investing (and committing to graduating), participants receive $100 to invest in certain exchange-traded funds (ETFs) or mutual funds. The Ingerman brothers and Mattox know all too well that a lot of financial knowledge is passed down through generations, and not everyone gets the chance to access it. Through FGI, they're aiming to democratize investing.
"A lot of people are just not aware of these opportunities to grow wealth for the long term," Dylan Ingerman says.
Kullberg, an attorney-turned-social-media-star, is a master of consumer protection. Whether you've got a delayed flight or ripped pair of Nikes, Kullberg has the secrets to help you come out on top financially. Armed with legal know-how and secrets from the fine print, she teaches millions of viewers across TikTok and YouTube how to better themselves financially. Sometimes, that means getting a voucher for a free cup of coffee; other times, it means detailing the differences between a 401(k) and a Roth IRA.
"My goal is to help others get smarter with their finances," she said.
Politano left his day job at the U.S. Bureau of Labor Statistics to write his newsletter, Apricitas Economics, full time. With charts, tweets and memes, he explains complicated economic trends with a passion that turns even the most snooze-worthy discussion of the Federal Reserve's monetary policies into a fascinating read. Politano pulls off the perfect combination of internet culture and economics, influencing as he shares his insights with thousands of subscribers.
"A lot of the success of the newsletter is being able to say, 'Hey, I am very weirdly interested in niche plant utilization surveys from the Census Bureau, and I'm gonna make you interested, too,'" he says.
During the pandemic, this Chicago high schooler created her own podcast, called WhyFI Matter$, to help teenagers like her master the basics of personal finance. Sarav interviews experts for each episode, tackling various topics — like student debt, crypto and the power of nostalgia as a Hollywood marketing tool — with ease and voice. She also hosts online workshops aimed at giving teens a solid financial foundation.
"The important part is starting young so that when you do have to manage your money when you're older, you'll have the tools to do that," Sarav says.
At age 22, Simmons became the youngest person to trade on the New York Stock Exchange, as well as the second Black woman to work there full time. Since then, she's left Wall Street, but she's still forging her own path. Simmons has become a financial wellness expert with a major goal to close the gap in generational wealth. It's a busy life: She preaches economic empowerment all over the internet, appearing on podcasts, contributing to CNBC and preparing to publish her first book (Mind, Body, Wealth, via HarperCollins). But she's committed to inspiring and supporting others, especially women and people of color.
"Sometimes we don't realize what our dreams are or what we want to do until we see someone else do it," Simmons says. "And then the idea comes into our mind, and we think, 'I could do that. I could be that.'"
Dunlap is the founder and CEO of Her First $100K, a company with the express goal of "fighting the patriarchy by making you rich." Through funny TikToks, an investing education platform, a newly released book and more online resources than you could imagine, she walks folks — especially women — through how to manage their money in an intentional, inclusive way. Dunlap wants to enable others to build wealth and be in control of their financial lives.
"When you have money you have choice, and for women or any marginalized group, that choice is so important," she says.
More from Money:
Money's 2023 Changemakers: Meet the Advocates
Money's 2023 Changemakers: Meet the Trailblazers