Money's 2023 Changemakers: Meet the Leaders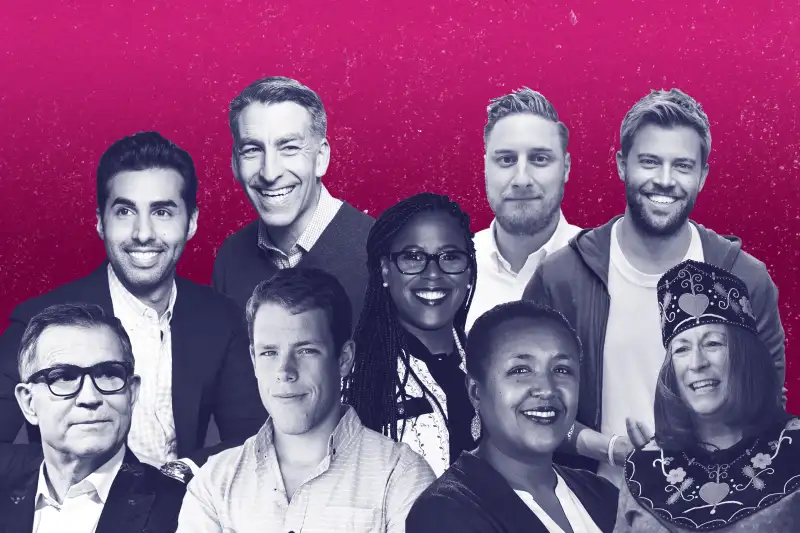 Money recently published its inaugural list of Changemakers, the 50 people impacting Americans' wallets. Our 2023 Changemakers include a wide variety of innovators making meaningful, positive change in personal finance. They fall into six categories: advocates, creators, educators, experts, leaders and trailblazers.
Meet the leaders below, and check out the entire Changemakers project here.
The next time you have cash, take a close look at the signatures printed on the bill. For the first time in history, you'll see the names of two women: Janet Yellen, treasury secretary, and Chief Mutáwi Mutáhash (Many Hearts) Marilynn "Lynn" Malerba, the U.S. treasurer. And that's not the only ceiling she's shattered. A lifetime chief of the Mohegan Tribe, Malerba is the first Native American to serve as the nation's treasurer. In addition to leading the U.S. Mint and liaising with the Federal Reserve, she oversees the Office of Tribal and Native Affairs with the goal of helping tribes navigate the challenges of operating on reservation lands.
"When tribes succeed, everyone succeeds," she said.
As the CEO of Roblox, Baszucki is one of the architects of the metaverse — and, by extension, one of the most influential people in the world. Nearly 60 million players log on daily to Roblox, many of them young creators who build immersive games on the platform. It mixes fun and business. These developers are able to earn real-life money and use Roblox as a springboard for later lucrative careers: As big brand names like Walmart and Gucci realize the opportunity in the metaverse, they're increasingly looking to these developers for tips.
"Our developer community now earns more than half a billion dollars annually, helping our members start their own businesses, expand their teams, pay college tuition, invest and much more," Baszucki said.
Handshake, a networking and recruiting website, was inspired by Lord and his friends' own experiences as college students struggling to find opportunities. Now it's a fully fledged service that works with some 1,400 schools and 12 million students. Lord, Handshake's CEO, aims to link companies that need workers with eager candidates, reducing costs for the former and friction for the latter. In this sense, the pandemic has been a boon: No longer restricted by geography, virtual recruiting makes it easier to form connections and fairer for those involved. Handshake is focused less on where you've been and more on where you're going.
"It's clear that the world of recruiting has changed forever — and in such a beautiful way," Lord says.
An estimated 24 million retirement accounts containing $1.35 trillion have been abandoned — or lost — by people who changed jobs. Sharma wants to make sure you don't lose track of your savings. That's why Capitalize, the firm he heads, walks workers through the process of locating their old 401(k)s, transferring the funds and opening individual retirement accounts (IRAs). Sharma is making rollovers efficient and quick with the goal of improving retirement as a whole.
"We change jobs every three to four years," he says. "Every three to four years, people have to ask themselves, 'What do I do with the money I have saved?'"
Kelman, the CEO of real estate brokerage Redfin, has a background in software. So when he took over at Redfin, he applied that experience to create a service-centric approach that would prioritize customer needs. Redfin was the first housing site to roll out map-based searches for available properties; it also strives to have a transparent fee structure and hires agents as salaried employees rather than contractors. To Kelman, it's crucial that agents and customers alike know that Redfin is on their side — especially when the housing market is as wild as it's been lately.
"You should give people a good deal where, at the end of it, the homebuyer or seller feels like it was worth it: 'I got good value for my money,'" he says.
These co-CEOs of Public.com — which sponsored Money's Changemakers project — are all about democratizing investing. Millions of Americans have picked up investing in recent years, just in time to get a piece of the meme stock action and crypto boom. Public.com lets users buy stocks and other assets in its app, but it stands out because it also hosts a huge community of analysts, investors and content creators who can learn, debate and explore different strategies. Malling and Abraham are constantly rethinking their approach to keep up with the ever-evolving world of investing, but their core mission remains the same.
"By giving people the ability to manage their entire portfolio with all assets in one place, it tends to lead to more healthy investing decisions because you have a holistic view on your portfolio," Abraham says.
Demmissie is setting an example in more ways than one: She's a Black woman, a member of the LGBTQ+ community and an immigrant who serves as the U.S. CEO of eToro, a multi-asset investment platform. But ultimately, she's hoping her unique perspective becomes positively commonplace. As she pushes to break down barriers on Wall Street, Demmissie is also working to bring social investing to a wider population. She wants eToro to responsibly engage with, educate and support users from all backgrounds so they can make responsible investing choices — and set themselves up for success.
"I'm tired of the victimization of outsiders, as though they don't know what the heck they're doing," she says.
The president and CEO of TIAA, a financial services firm, Duckett oversees 15,000 employees and $1.2 trillion in assets under management. And she still makes time to advocate for inclusivity and diversity. She's spoken in the past about her devastating realization that her father had missed chances to save for retirement; she uses this as motivation to make sure that the financial services industry reaches people like her parents. Duckett also talks about the importance of creating a diversified life portfolio in which she knows her limits and allocates her time — and energy — intentionally between her work and family life.
"Build a diversified life portfolio, and you'll reap the dividends called joy," she said.
More from Money:
Money's 2023 Changemakers: Meet the Advocates
Money's 2023 Changemakers: Meet the Creators