Money's 2023 Changemakers: Meet the Experts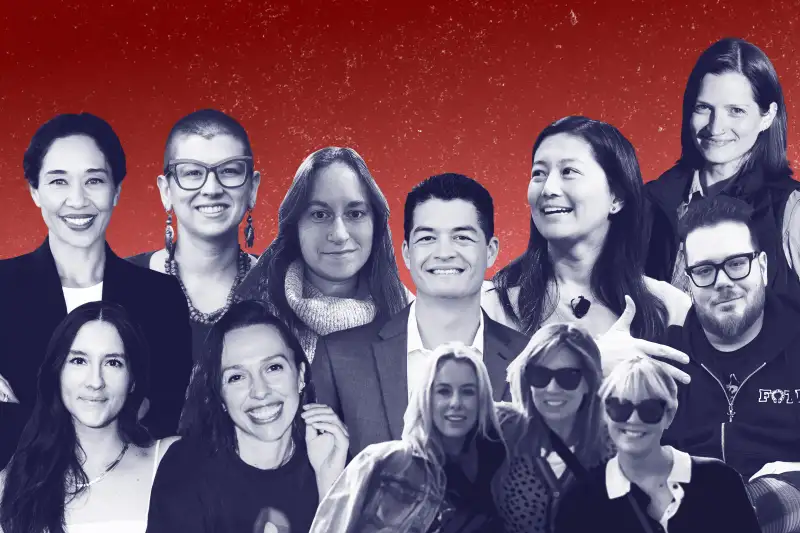 Money recently published its inaugural list of Changemakers, the 50 people impacting Americans' wallets. Our 2023 Changemakers include a wide variety of innovators making meaningful, positive change in personal finance. They fall into six categories: advocates, creators, educators, experts, leaders and trailblazers.
Meet the experts below, and check out the entire Changemakers project here.
These three women are the masterminds behind The Buy Guide, a popular Instagram account and lifestyle website focused on honest product recommendations. Fed up with picture-perfect influencers, the trio only shares items they personally have tried and loved (think: coats, lip oils and the famous Stanley 40oz Adventure Quencher). LeSueur, Cannon and Hutchinson get about 60,000 visits a day and have more than 165,000 followers on Instagram — all of whom love their authentic approach to shopping.
"If we can save people the stress, time and money from going through 200 choices and having a great option the first time, we've made people's lives easier," LeSueur says.
It's not easy to raise funds for a startup, especially if you don't have an Ivy League resume or Silicon Valley connections. Yin's Hustle Fund — an early-stage venture capital firm — aims to make the process a lot fairer. Founders can apply on Hustle Fund's website; once accepted, they usually get a check for about $50,000, which helps them get their business off the ground as Hustle Fund weighs further investments. Yin says it's a better way to funnel money to budding entrepreneurs with good ideas, as opposed to only supporting the already well-off.
"We're like the rich uncle you never knew you had," she says.
Battling bots and scalpers on Ticketmaster gets old fast for fans of big musicians. Luckily, there's another way to score seats to major shows: Handwritten Tickets, a Twitter account that connects legit sellers and buyers on social media. In order to have a ticket posted for sale, the ticketholder must be asking for face value or less, provide proof and accept PayPal Goods and Services, which has a reputation as a safe way to exchange money with strangers online. Run by Canadian government employee Cindy Nguyen, Handwritten Tickets is a quiet powerhouse helping some 36,000 followers see their faves without breaking the bank.
"I want to approach ticketing in a way that is affordable for fans," Nguyen says.
Better known as The Rideshare Guy, Campbell is dedicated to demystifying the gig economy for its quickly growing population of workers. Whether you're a driver for Uber or shopper for Instacart, Campbell has compiled tips for how to make the most of your side hustle, from posts about maximizing profits to dealing with weird smells. A former rideshare driver who then took his blog full-time, Campbell aims to educate and ultimately improve the gig-work labor force.
"Many don't really understand how much they'll get paid and how they shouldn't necessarily accept every ride," he says.
Just a few years ago, Americans on SNAP (or food stamps) couldn't use those benefits to purchase groceries online. Herrmann is part of the push to change that. Now the the chief business officer at Forage, a payments startup, she has spent much of her career working to destigmatize and expand online EBT shopping to companies across the U.S. Her ultimate goal? For every online grocery store to accept food assistance benefits. That way, everyone can have the same purchasing options.
"In the coming years, we hope that customers won't have to ask or search on a website to determine whether EBT is accepted," Herrmann says. "Instead, we want online EBT to be ubiquitous so that it's just assumed."
Schneider is the CEO and founder of Secret Sauce, a cook group on Discord centered around reselling sneakers and streetwear. Secret Sauce members pay $60 a month to access tips, tricks, tutorials and tools — including bots and browser extensions — that amount to a crash course in flipping sneakers. It turns amateurs sellers into entrepreneurs and, eventually, can lead to serious profits. Schneider has an intentional emphasis on education and connection, which means there's nothing he loves more than a success story.
"You've got somebody who's got the drive, they've got the hustle, they just needed the help," he says.
These two friends came up with the idea for Boys Club, a safe space for women and nonbinary people to explore the emerging technologies around crypto, while sitting poolside in Las Vegas. It's now a full-blown community with thousands of members, sold-out events and a thriving Discord presence. Participants with a variety of experience levels are able to learn, network and swap ideas — while forming relationships along the way. Hoskins and Burke hope the supportive, nonjudgmental environment makes the often-intimidating world of crypto more accessible.
"We see a lot of very smart, capable women sitting on the sidelines of what's happening in this space, and we want that to change," Hoskins says.
Hester, the author of Wallet Activism: How to Use Every Dollar You Spend, Earn, and Save as a Force for Change, provides a guide for people who want to maximize the impact of their money. But she doesn't sweat the small stuff. Rather than scold folks for, say, spending on fast fashion or grabbing a meal at McDonald's, Hester encourages them to consider the weight of big decisions like what home appliances to buy or which companies they invest in. The takeaway? You have a lot power — you just have to figure out the best way to use it.
"You don't have to be perfect to make a difference," she says.
More from Money:
Money's 2023 Changemakers: Meet the Educators
Money's 2023 Changemakers: Meet the Trailblazers