Thanksgiving Flights Are Cheapest Right Now. Here's How to Get the Best Deals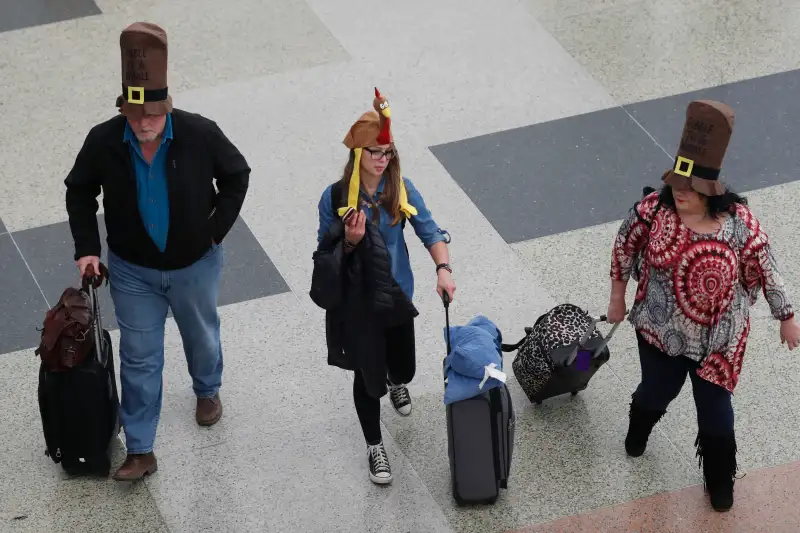 If you haven't already purchased airline tickets for the Thanksgiving holidays, it's time to act quickly—or be prepared to pay a steep price. It's best to book flights for the Christmas period sooner than later as well.
Data from the travel search engine and research site Hipmunk.com indicates that travelers will save 27%, on average, by booking Thanksgiving flights this week compared to the week before the holiday. The average round-trip flight price for a domestic route during the holidays costs $374 if the ticket is purchased this week, versus $476 in the days before Thanksgiving.
If you're not ready to book flights now, it's really in your best interest to at least get your act together by around Halloween. The average Thanksgiving flight costs $385 if booked by the end of October, according to Hipmunk. After that, flight prices increase dramatically.
Research from Expedia also recommends booking Thanksgiving flights at least 60 days in advance—so, right about now—to get the lowest prices.
Meanwhile, a new report from Hopper.com stresses the importance of booking Thanksgiving flights no later than Halloween. "Thanksgiving airfare tends to be very stable during the month of October so prices won't vary much, but make sure you book before the week of Halloween," Hopper chief data scientist Patrick Surrey writes. "If you wait until early November to book your flight, it will cost you about $1 per day you wait. Then prices begin spiking by $10 per day during the final two weeks leading up to Thanksgiving."
If possible, you should try to nail down plans and book tickets for Christmas travel far in advance as well. The Hipmunk study shows that the average Christmastime flight costs $365 if booked the week of September 25, rising to $384 for bookings made at the end of October. Either price point is way better than tickets purchased the week before Christmas. By then, the average flight costs over $500.
Even though holiday period flights are generally cheaper if you book now, the precise days you flight can still make a big difference in how much you pay. Availability of the cheapest seats on any given plane is always limited, and the lowest-price tickets for peak-demand days like the Wednesday before Thanksgiving and the Sunday after Thanksgiving are often already sold out.
We checked flight prices on a few sample routes to get an idea for how much travelers would pay right now for Thanksgiving airfare—and how much they could save by being flexible with departure dates.
Nashville to Fort Lauderdale, from $60
Right now, Southwest Airlines has flights from Nashville to Fort Lauderdale starting at $60 if you fly on the Monday or Tuesday before Thanksgiving. We also found some $60 seats for return flights on the Tuesday after Thanksgiving. Nearly all of the flights on the Wednesday before Thanksgiving were $160 and up one way, and return flights on Sunday were exceptionally pricey, running around $400.
New York to Chicago, from $78
Traveling on Thanksgiving itself is an easy way to save compared to traveling on the day before. We found Thanksgiving Day flights available on Spirit Airlines from LaGuardia in New York City to Chicago O'Hare from only $78. With a return on Monday morning, a round trip could be had for only $186. For the sake of comparison, the lowest-price round trip for a departure on Wednesday with a Sunday return was over $350.
Oakland to Salt Lake City, from $71
The least expensive tickets from Oakland to Salt Lake City were for departures on Thanksgiving Day itself, with flights from $71 on Southwest. Travelers wouldn't have to pay that much more to fly in the day before, however, with direct flights available from $99. As for the return, you'll pay at least $300 to fly on Sunday, compared to only $80 on Tuesday.
Boston to Dublin, from $174
Travelers will generally also save on Thanksgiving period international flights by avoiding peak days—the Sunday after Thanksgiving in particular. For flights from Boston to Dublin on Aer Lingus, tickets started at only $174 for departures on Wednesday or Thanksgiving itself. The cheapest return ticket we found for Sunday would cost a whopping $817, compared to $222 if you flew back on the Tuesday or Wednesday after Thanksgiving weekend.
In light of travel search data and our own findings in gathering sample airfares, here are the key takeaways for finding the least expensive Thanksgiving flights possible:
Book ASAP. Airfare is only going to get more expensive between now and Thanksgiving.
Act by Halloween at the latest. Experts say that Thanksgiving flight prices are likely to increase slightly over the next few weeks, and then will begin spiking in early November.
Avoid Sunday flights. Being flexible with travel dates can help you save significantly. While traveling on Monday or Thursday of Thanksgiving week will save you money compared to flying on Wednesday, it's even more important to try to avoid Sunday of Thanksgiving weekend. That's the absolute peak day of this peak period. The Hopper study shows that the average domestic flight costs $420 one way on Sunday, November 26, compared to about $275 on Tuesday and $259 on Wednesday.