Cheap Seats! 10 Best Deals for Pro Baseball Fans This Summer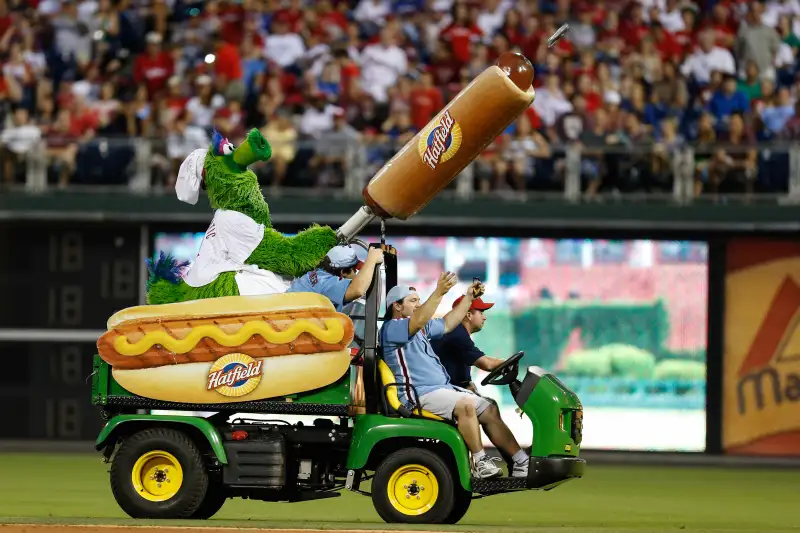 Brian Garfinkel—Getty Images
It costs a family of four an average of $212 to attend a Major League Baseball game, and that doesn't include premium seating or a single $25 corn dog. But with 81 home games apiece, a team can't expect fans to happily pack the house and empty their wallets for every outing. To fill the seats, baseball franchises push a wide range of promotions and discounts on tickets and concessions, to sell fans and families on the idea that they can enjoy America's pastime in person without spending an arm and a leg. With summer officially arriving this weekend, here's a top 10 list of great pro baseball deals.
$1 Hot Dogs
Fans can feel free to arrive at Minute Maid Park hungry on Thursdays when the Houston Astros are playing in town: That's when hot dogs are $1 apiece. Many other clubs, including the Texas Rangers, Philadelphia Phillies, and Washington Nationals, also host a few $1 hot dog nights this season. They're especially good deals compared to the prices faced by New York Mets fans, who pay $6.25 for a hot dog.
$4 Beers
The Cleveland Indians are repeating a 4-3-2-1 concessions pricing deal launched last season, in which 12-oz. domestic (non-craft) beers always cost $4, hot dogs are $3, soda refills go for $2, and, on 13 promotional nights, hot dogs are $1. The Arizona Diamondbacks also sell $4 beers for all home games, more than $2 less than the average in Major League Baseball, and nearly half the price of a beer at Boston's Fenway Park ($7.75). And the D-Backs special is 14 ounces rather than the usual 12.
$5 Yankees Tickets
During select few games in 2014, a promotion with MasterCard brings New York Yankees seats in the Bleachers, Grandstand, or Terrace levels down to only $5 a pop. Only if you buy with a MasterCard, as you might imagine. If the $5 seats are sold out, another group of games features half-price seats for fans making the purchase with a MasterCard.
$6 Student Tickets
Students ages 18 and under or with valid ID can take advantage of a Washington Nationals discount that makes upper outfield seats just $7. The Baltimore Orioles student ticket deal is even better: $6 seats for Friday home games. (Upper Reserve tickets on Tuesdays are always $9 in Baltimore, as well, and there's no requirement to be a student.) Plenty of other teams have student discounts—even in New York, where admission to the Mets "Student Rush" games starts at $10 for students (plus a $2 order fee).
$6.10 Saturday Seats
One of the cheapest ticket deals available for all fans, the Kansas City Royals offer tickets starting at just $6.10 on special "610 Saturdays" this season. To score, fans must listen to the local station 610 Sports Radio, get a coupon code, and purchase online before the limited number of tickets is sold out.
$27 All You Can Eat
If you're going to blow a decent amount of cash at the ballpark, you at least shouldn't be going home hungry. That's the pitch behind the many "all you can eat" promotions offered around Major League Baseball. The $30 Astros deal scores you a Mezzanine level ticket and unlimited hot dogs, nachos, popcorn, peanuts, and soda. The Royals host a similar promo for $40 per person. Cheapest of all, the Miami Marlins' all-you-can-eat special starts at $27, which includes a ticket for certain Saturday games, as well as all the usual concessions you can stomach.
Family Packs
Virtually every Major League squad runs value-laden promotions aimed at families, with baseball owners hoping that doing so will turn your kids into lifelong fans, or at least fill what otherwise would be empty seats. The offers might be free or half-price tickets for kids with the purchase of a full-price adult ticket, or $1 ice cream for fans ages 13 and under, or a wide range of family packages. Called "family packs" or "fun packs," they might include, say, four tickets, four hot dogs, and four soft drinks for $59 (the Los Angeles Angels), or four tickets, four hot dogs, four bags of peanuts, and four drinks for $50 (Oakland Athletics).
Dynamic Pricing Deals
After seeing fans flock to secondary market, dynamic-priced ticket sites like StubHub and TiqIQ, many Major League operations have rolled out dynamic pricing systems of their own. Basically, the way they work is that tickets are priced based on supply and demand. The result is that prices can bottom out when a game day is approaching and thousands of seats have yet to sell. Thanks to dynamic pricing, Kansas City Royals tickets have sold for $10 and under this year, and Cincinnati Reds' tickets have gone as low as $5. And don't forget about the bargains on the secondary sites themselves, where tickets in the past have sold for the absurd price of 1¢ (before fees are tacked on).
Any Minor League Game, Anywhere
The simplest way to enjoy a pro baseball game without paying a fortune is by skipping the major leagues and heading to the nearest minor league ballpark, where it's rare to spend more than $20 for a ticket and the concessions of your choice. And the promotions minor league clubs run are true bargains—$1 beer nights, for instance, and family packages with four tickets and four hot dogs for a total of $20. The minor league Louisville Bats, meanwhile, host occasional wine tastings, with sponsor Barefoot Refresh pouring free samples over ice for guests 21 and up. The (Florida) Fort Myers Miracle packs its season with all sorts of gluttonous deals, including "Sink or Swim Saturdays," when fans 21 and up can pay $12 for a wrist band that grants unlimited domestic beers through the sixth inning.
Totally Free MLB Tickets
With age comes privilege. Seniors ages 55 and up have plenty of "mature" ticket deals at their disposal around the country. For instance, the Yankees offer game-day deals for seniors (and a guest) starting at just $5, while the Nationals' senior tickets are $7. Seniors in South Florida get the best treatment of all, with fans "55 years young and above" entitled to totally free tickets on Thursday home games for the Miami Marlins. No advanced reservations; just show up on game day within two hour of the first pitch. Considering the Marlins' popularity (or lack thereof) in Florida, plenty of seats should be available.