10 Best Budget-Friendly Vacations to Take in 2018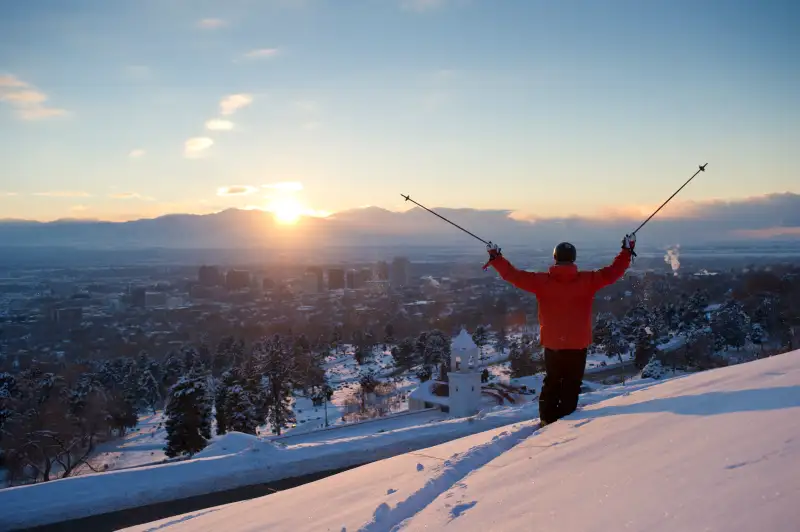 Scott Markewitz—Getty Images
What happens when you want to get away, but your New Year's resolution is to spend less? No problem. There are plenty of destinations—both in the U.S. and internationally—where you can go to enjoy a break while still keeping within budget.
Travel site Kayak has put together a list of the 10 most wallet-friendly destinations for 2018—looking at the 100 most-searched vacation spots and identifying those with the lowest overall median trip cost (about $900 for a flight and a three-night hotel stay, Kayak notes).
While sunny Florida dominates the list (and may certainly be attractive during the cold months of January and February), there are destinations that will work for any type of traveler.
---
1. Guadalajara, Mexico
Kobby Dagan/VW Pics—UIG via Getty Images
Situated between Oblatos Canyon and the foothills of the Sierra Madre Occidental mountain range, the city of Guadalajara has both the traditional and the avant-garde. Home to time-honored Mexican pastimes such as the rodeo and the Mexican hat dance, the city also plays host to the International Mariachi Festival each September. Meanwhile Guadalajara's food and art scene is far more trend-setting. Check out Anita-Li, a fun eatery on the West side of town featuring an eclectic menu.
A trip here costs about 41% less than the median vacation, in part because of the historically weak level of the Mexican peso. The average cost of a flight from the U.S. is about $386, according to Kayak, while a hotel will set you back about $67 a night.
---
2. Calgary, Canada
Alamy Stock Photo—Alamy Stock Photo
This Canadian outpost is a great destination for a budget traveler, playing host to a number of wallet-friendly activities. Get in some hiking at Fish Creek Provincial Park, which offers almost 50 miles of trails—or if that's too intense for your tastes, try a picnic at beautiful Prince's Island Park or check out the graffiti murals on display at Kensington Village. After dinner, check out the Loose Moose Theater, which offers improvised comedy shows ($12 for adults).
The average economy-class ticket from the U.S. only will set you back about $350, helping make a vacation here roughly less than 32% less than the median international trip, according to Kayak.
---
3. Orlando, Florida
Kevin Kolczynski—UNIVERSAL ORLANDO
Thinking about taking that Disney vacation? Or perhaps you're planning to visit the Wizarding World of Harry Potter at Universal Studios. Tickets to the major theme parks don't fluctuate seasonally, but flight and hotel prices do, according to Kayak. Plus, a trip to Orlando is 32% less than the median vacation.
To get the best flight price, go in January, when the median airfare is about $178. If hotel prices are a bigger concern (especially for those planning to drive to Orlando), plan your trip in November, when the median cost of a room is $104 a night. Save even more by staying at an off-site hotel like the Las Palmeras by Hilton Grand Vacations, just 8 miles from Walt Disney World.
---
4. Raleigh, North Carolina
Travis Dove—The New York Times/Redux Pictures
With a ton of free attractions and a surprisingly walkable downtown, Raleigh is a great, affordable destination for a long weekend. Soak in the Southern charm with visits to the area's historic buildings, like the Haywood Hall House and Gardens and the Cary Heritage Museum (both free admission)—or simply stroll through the Historic Oakwood neighborhood, which features beautifully restored Victorians and early 20th-century homes.
Once you've worked up an appetite, head to the Warehouse District for some Carolina-style BBQ at The Pit. Trips to Raleigh are 31% less than the median vacation, according to Kayak.
---
5. Denver, Colorado
RJ Sangosti—Denver Post via Getty Images
Plan a trip to Denver to take advantage of the growing culinary and arts scenes, as well as its good number of brewpubs. A vacation here is 28% less than the median vacation, according to Kayak.
Start with the breweries: Colorado stands out with six breweries for every 100,000 residents. Check out gold standards like Breckenridge, in the suburb of Littleton, or smaller shops such as Renegade Brewing, where they've removed all televisions to eliminate distractions—just good friends and good beer.
Denver also offers a great art scene. Time your visit to hit one of the city's First Fridays, when art galleries along Sante Fe Drive stay open late. You can browse the art while grabbing some munchies from the food trucks that park nearby.
---
6. Fort Myers, Florida
Stephen Saks—Getty Images/Lonely Planet Images
This Florida getaway offers more calm than its northern neighbor, Orlando—but there's still a lot to do. Located on the Gulf side of the state, Fort Myers is 27% cheaper for visitors than the median vacation spot. Swing by during spring training season to catch a game, or learn about two of America's most famous inventors at the Edison & Ford Winter Estates.
If you really want to chill out, drive south to Sanibel Island. It has about 15 miles of beaches, but no traffic lights—which speaks to its chill vibes and lack of crowds. The J.N. "Ding" Darling National Wildlife Refuge complex ($5 per vehicle)—which takes up almost the entire northern side of the island—offers 6,400 acres where you can explore a number of outdoor activities from birdwatching to hiking to paddle boarding.
---
7. Tampa, Florida
Tampa has it all—great beaches, hopping nightlife and cool activities—for a low price. Travelers to Tampa pay 26% less than the median vacation.
The beaches alone are worth the trip, whether you're headed for family-friendly Fort De Soto Park or the renowned Clearwater Beach. Once you've had enough of the sun and sand, grab a bite to eat or do a little shopping at the revitalized Riverwalk, which stretches almost 3 miles along the shores of Tampa Bay
Once the sun goes down, check out Ybor City—a historic neighborhood founded by Cuban and Spanish families at the turn of the 20th century. Now the area is a booming dining and nightlife hotspot.
---
8. Salt Lake City, Utah
Scott Markewitz—Getty Images
More than just the headquarters of the Mormon Church, Salt Lake City is a great year-round destination for outdoor lovers. The nearby Wasatch mountain range provides both skiing and hiking options—and a trip here costs 25% less than the median vacation spot.
If you are planning to take advantage of the almost dozen ski resorts in the area, check out sites like Liftopia for deals on lift tickets. Passes for Sundance and Snowbird were more than half-off during the first week of January. Meanwhile airfares to Salt Lake City between November and February from the U.S. and Canada are also modestly priced, averaging $314 roundtrip, according to Kayak.
---
9. Minneapolis, Minnesota
Roberto Marossi © Jason Moran; Courtesy the artist and Luhring Augustine; New York
Minneapolis is a hip city, especially for for the Midwest, with swanky art museums and ethnic restaurants dotting the downtown scene. Spring for a long weekend in Minneapolis—or even extend your stay to explore Minneapolis' twin across the Mississippi river, St. Paul. A trip to the area will cost about 23% less than the median getaway, and hotels are only about $132 a night on average.
Within Minneapolis, make sure you leave time to visit the Walker Art Center ($15). It's a must-see and one of the leading modern art museums in the country. But don't worry, you won't break your budget on art museum admissions. The Minneapolis Institute of Art is free and has a particularly strong Asian art collection. Meanwhile the Frederick R. Weisman Art Museum—also free and located on the University of Minnesota's campus—is housed in a stunning steel and brick building designed by architect Frank Gehry.
---
10. Baltimore, Maryland
The so-called Charm City certainly has held onto its nautical past, but visitors will also find a variety of hip restaurants and neighborhoods. Take Fells Point, for example: One of the oldest sections of Baltimore, its 18th- and 19th-century homes and storefronts are now trendy pubs and watering holes serving up handcrafted cocktails.
Beyond reinvention, the city has plenty to keep visitors entertained. For baseball fans, no trip is complete without a visit to the Babe Ruth Birthplace Museum (adults $7). And fans of baker Duff Goldman (featured on the Ace of Cakes show) can visit the Charm City Cakes shop, located just south of Johns Hopkins University campus. You can purchase a cake, or take a class to learn all of the best techniques (classes start at $65 per person).
As with Minneapolis, people spend about 23% less on vacations in Baltimore than the median. If you're really looking to score a deal on a hotel, visit in December, when a room goes for about $120 a night, according to Kayak.