10 Popular Travel Destinations You Can Actually Skip This Year—and Where to Go Instead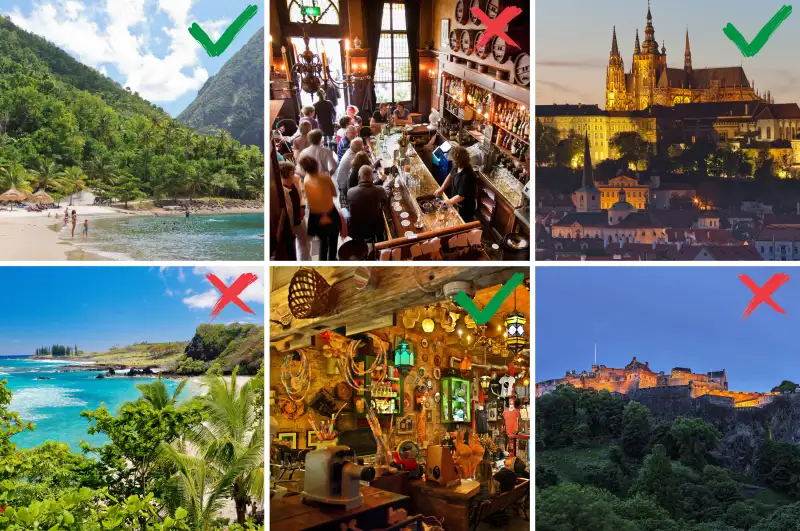 (clockwise from top left) Getty Images (3); Shutterstock (1); Alamy (1); Getty Images (1)
Travel trends can sometimes seem inexplicable: A destination may get a boost from a hot movie, or a currency shift; or it may simply seem that everyone you know is heading to the same spot at the same time.
Yet trendy vacation spots often come with big crowds and expensive price tags. To help you avoid both, Money looked at the 10 hottest travel cities and found alternative destinations that provided similar atmosphere and activities for far less.
Using Money's Best in Travel database, we've estimated the weekly cost to visit each of these places—a tab that covers average airfare for two, a week's worth of hotel rooms, plus local transportation, meals, and activities.
Read on to discover affordable alternatives that don't skimp on the experience.
---
(Maui) Getty Images; (St. Lucia) Getty Images; (photo) Shutterstock
1. Instead of Maui, visit ST. LUCIA
Maui, Hawaii: $4,259 per week
St. Lucia: $3,650
If you want your vacation to include stunning volcanic beaches, coral reefs, rainforest hikes to waterfalls, and mountain scenery, you could go to Maui, which topped Kayak's list of hottest travel searches. But if you trade the waters of the Pacific for the Caribbean, you can enjoy a less expensive island getaway in Saint Lucia.
Visit the colonial-era buildings in the town of Soufriere, a gateway point for the pair of pointed mountains known as the Pitons. Nearby, you can hike to Toraille Waterfall, which spills 50 feet over a cliff. In the pool below, you can bathe under the waterfall and even get a back and shoulder massage. Visit the Millet Bird Sanctuary or the Edmund Forest Reserve to see orchids, giant ferns, and dozens of the country's more than 180 bird species. You might even spot the rare St. Lucia parrot.
For lounging in the sun, try Anse de Pitons beach. Snorkel the coral reef just off shore to see moray eels, parrotfish, and squid. Scuba divers have other options, including the wreck of freighter Lesleen M or Turtle Reef, home to sea grass-grazing hawksbill and green turtles.
---
(Barcelona) Getty Images; (Mexico City) Alamy; (photo) Shutterstock
2. Instead of Barcelona, visit MEXICO CITY
Barcelona, Spain: $3,819
Mexico City, Mexico: $2,319
Both Mexico City and Barcelona offer visitors historic streets, world-class museums and enough culinary delights to easily stack on 10 pounds—but Mexico City delivers for considerably less than the Catalan capital.
The Palacio de Bellas Artes stuns with its Art Nouveau influences and colorful gradient roofing (itself reminiscent of Barcelona's buildings). Inside you'll find impressive murals painted by some of the county's best-known artists: Diego Rivera, José Clemente Orozco, and David Alfaro Siqueiros. To catch up with Rivera's other half, visits the Frida Kahlo Museum, also known as "Casa Azul," which delivers a voyeuristic peek into the life of the artist couple.
Head to Chapultepec Park to visit the National Anthropology Museum. This massive concrete building, built in the 1960s, is as impressive as the world's largest collection of ancient Mexican artifacts housed inside it. Explore the Franz Mayer Museum, a once-private collection of Mexican silver, ceramics, textiles and furniture, in an 18th-century monastery and hospital.
Relax after taking in these visual spectacles with a classic Mexican snack of churros and hot chocolate at Churreria El Moro. Or tour the Mercado la Merced, a public market with a dense constellation of stalls to choose from (including one serving cocktails made from fresh sugar cane juice).
For dinner, book a table at Biko for experimental dishes like burnt corn soup and foie gras topped with cotton candy, or at Sud777 to sample modern spins on Mexican staples such as duck in mole negro.
---
(Bali) Getty Images; (Cebu) Alamy; (photo) Shutterstock
3. Instead of Bali, visit CEBU
Bali, Indonesia: $3,464
Cebu, Philippines: $2,921
Bali is famed as a tropical paradise, but it's certainly not the only island dreamland in Southeast Asia. In and around Cebu, in the Philippines, you'll also find white sand beaches, warm clear waters, and natural beauty.
Explore Cebu's many towns and surrounding islets, each offering their own attractions. Just off Cebu's northern tip, you'll find Malapascua, home to perfect spots for snorkeling and diving. Many seek it out for the chance to dive with thresher sharks, which are present year round. If staying above the water is more your scene, rent a kayak and paddle around the sandy bays.
Easily accessible Mactan City is a great spot for sunset seekers. It offers lots of diving opportunities with dense coral reefs and protected marine sanctuaries, where you're likely to encounter sea snakes and tiny seahorses. Daredevils can even take free-diving lessons here.
See the area's more rugged beauty with a visit to the most famous waterfall in the region, Kawasan Falls,; you can cool off with a dip in the lagoons at its base. Or trek up Cebu's highest mountain, Osmena Peak, where the jagged green peaks are often enveloped in mist.
---
(Amsterdam) Getty Images (1); (Budapest) Alamy (1); (photo frame) Shutterstock (1)
4. Instead of Amsterdam, visit BUDAPEST
Amsterdam, the Netherlands: $4,270
Budapest, Hungary: $3,415
Like Amsterdam, whose history as a trading and colonial power is never far from mind, Budapest has long been an epicenter for converging cultures—and this European capital charges travelers far less for its historic pleasures.
Like Amsterdam's Red Light District, Budapest's Erzsébetváros—the historic Jewish neighborhood in its Seventh District—is a densely packed area whose historic lanes brim with restaurants, bars and clubs. In fact, when the sun sets, Budapest's ruin pubs are an excellent substitute for Amsterdam's cafes: Check out the best--known, Szimpla Kert.
Budapest also offers visitors a taste of its royal past. The hilltop palace district is now home to the National Gallery ($7 for adults) and the Budapest History Museum ($8 for adults) The nearby lookout point called the Fisherman's Bastion, complete with lookout towers and turrets, gives visitors spectacular views of the Danube river and the iconic Hungarian Parliament Building.
---
5. Instead of Lisbon, visit PUEBLA
Lisbon, Portugal: $3,708
Puebla, Mexico: $2,182
Like Lisbon, Puebla remains dominated by the stunning architecture of years past but also now embraces a burgeoning art scene. Both cities provide dozens of historic churches to wander into and buildings covered in painted ceramic tiles—with the talavera versions in Puebla an alternative to the azulejo tile in Lisbon.
Puebla's city center is a UNESCO World Heritage site. Stop at the Church of Santo Domingo to see the over-the-top gold décor that's typical of the city's baroque-style churches. The Templo de San Francisco's bright yellow exterior combines stone work, brick and tile in such a way that you'll want to stop and study each part. And don't skip the black limestone facade at Puebla Cathedral, the second-tallest in the country.
The International Museum of the Baroque, opened in 2016, features an ultra-modern, swooping silver and white frame; it showcases some of the city's best examples of the design style.
---
6. Instead of Athens, visit CUZCO
Cuzco, Peru: $3,042
• Athens, Greece: $3,910
Looking for ancient ruins, mountainous vistas and warm hospitality? Greece may come to mind, but Peru checks all of those boxes and more. Like the Acropolis, the ancient Inca citadel of Machu Picchu draws over a million of visitors each year. You'll need to plan in advance to see its mystical peaks: Daily tickets (starting at $50) are limited and tend to sell out, particularly during high season (July and August).
You can launch your trip to Machu Picchu, perhaps an Inca Trail trek, from the city of Cuzco, which sits 11,000 feet above sea level. Even if you're not planning on hiking, it's worth spending a few days here to acclimate to the high altitude. And there's plenty to do. Visit San Blas, an artisan neighborhood filled with shops specializing in pottery, sculpture and textiles. Or stop by the Museo de Arte Precolombino ($6), which is housed in a colonial mansion and contains an Inca ceremonial courtyard. Wrap up evenings with a meal at one of Cuzco's growing number of top-notch restaurants such as Chicha or Limo to try the local cuisine and, of course, a pisco sour.
---
(Paris) Alamy; (Washington, D.C.) Alamy; (photo) Shutterstock
7. Instead of Paris, visit WASHINGTON
Paris, France: $3,951
Washington, D.C.: $2,984
Washington, D.C. may not exude the fashionable elegance and sophistication many associate with the French capital, but hear us out: The American capital shares more with the City of Lights than you may first imagine.
Designed by a French-born architect, Washington, D.C. offers a parallel to Paris' wide avenues, public green spaces, and world-class museums. (It doesn't hurt the comparison that both cities' skylines are dominated by tall, pointed public monuments.)
The new Smithsonian National Museum of African American History & Culture is constantly packed but well worth waiting for; just be sure to book your (free) tickets in advance. Its layout leads you forward in time from the depths of slave ships to Obama's election, on a journey of both sorrow and triumph.
Art lovers should check out the National Gallery of Art, whose two buildings house a broad range of works, dating as far back as the Middle Ages: The major artists in the collection range from Leonardo da Vinci, Rembrandt van Rijn, and Johannes Vermeer to Kara Walker, Sally Mann, and Alexander Calder. Visit the National Museum of Women in the Arts, the only major space in the world exclusively dedicated to showcasing female-created works, holding more than 4,500 works by 1,000 women.
And don't assume that trading Paris for D.C. means giving up gourmet creations for chain steak joints. Try Himitsu, a Japanese-inspired restaurant serving a rotating menu of inventive dishes such as sliced Kobe steak with furikake-sprinkled rice. Another great stop is Maydan, whose menu reflects Middle Eastern and North African cuisines. Clay ovens bake fresh bread, which pairs well with dishes like shredded cabbage tossed with mint and lemon, or a whole chicken rubbed with turmeric and coriander. For more casual bites, wander the city's popular Union Market to score goodies from D.C. Empanadas and Panorama Bakery.
---
(Rome) Alamy; (Istanbul) Shutterstock; (photo) Shutterstock
8. Instead of Rome, visit ISTANBUL
Rome, Italy: $4,046
Istanbul, Turkey: $3,223
Yes, Rome landed a spot on Money's Best in Travel rankings this year. Yet you can trade in the Colosseum for the Hagia Sophia and you won't be disappointed. Both Rome and Istanbul have served as imperial hubs, and deliver equally impressive remnants of their past glories—and you'll like save hundreds of dollars with a trip to Turkey.
Walk the streets of Istanbul to allow history unfold before you. Dominating Istanbul's skyline, the Blue Mosque is free to visit when prayer is not in session; just remember to dress appropriately. Other architectural treasures include Topkapı Palace ($10), where you can tread where Ottoman sultans once lived, and the Basilica Cistern ($5), an eerie underground reservoir that is the largest surviving Byzantine cistern in the city. The space just underwent extensive renovations; visitors can walk on elevated platforms to view Medusa-headed statues and ancient columns that bear the weight of the buildings above.
Both cities specialize in mouth-watering street food, but Istanbul's go-to snack is the doner kebab. Find some of the city's best at eateries like Bereket Döner ($3.50) and Dürümzade (starting at $2).
---
(Zurich) Alamy; (Victoria) Alamy; (photo) Shutterstock
9. Instead of Zurich, visit VICTORIA
Zurich, Switzerland: $4,985
Victoria, British Columbia: $3,041
If you're looking for a picturesque city set on the water, the provincial capital of Victoria delivers. Like Zurich, Victoria offers up grand buildings and a burgeoning urban center with a multicultural flavor, surrounded by areas of natural beauty.
Mix it up by visiting both old and new. Victoria boasts top-notch imperial English architecture like Craigdarroch Castle ($11 for adults) and the Parliament Buildings (free guided tours). But many of the 1800s buildings have been repurposed, especially in the LoJo district downtown, where trendy boutiques, cafes and restaurants have taken over the historic buildings. And check out the Art Gallery of Greater Victoria ($10 for adults), where seven newer buildings surround the 1889 mansion that once served as the original museum.
Victoria also abounds with green spaces. Check out the formal plantings at Butchart Gardens (adults start at $30 in spring and summer) and the Abkhazi Garden (suggest $10 donation), or simply hang out in parks like Topaz and Beacon Hill. For winter getaways, Victoria—like Zurich— has smaller ski resorts within easy driving distance, including Mt. Washington Alpine Resort.
---
(Edinburgh) Shutterstock; (Prague) Getty Images; (photo) Shutterstock
10. Instead of Edinburgh, visit PRAGUE
Edinburgh, Scotland: $4,353
Prague, Czech Republic: $3,622
The Gothic atmosphere permeating the craggy coastal capital of Scotland can also be found some 1,000 miles to the southeast, in the heart of central Europe. Prague's spellbinding medieval and baroque architecture is reminiscent of the 14th-century buildings and churches in Edinburgh's Old Town.
Referred to as the "City of a Hundred Spires," Prague is a great destination that's big on culture, not on price. Many of the city's best attractions—Charles Bridge, the Vyšehrad fort and gate, and Old Town Square—are totally free, while even those that do charge admission are relatively inexpensive. One ticket option for the historic Prague Castle, for instance, includes access to two cathedrals, two palaces, and several exhibitions, at $17 for adults.
Like the Scots, the Czechs love their libations. In fact, Prague is famous as a beer destination and even has a beer museum with 30 varieties on tap. Or if you're looking to grab some dinner with your drinks, stop by Lokal, which serves up a hearty beef goulash with bread dumplings along with pilsner and kozel on draft.
---
Methodology
Money started off by asking Kayak to provide the top 10 trending travel destination for 2018—those cities where searches increased the most year over year. We further limited the trending cities list to one place per country.
Then Money used its Best in Travel database to find alternate vacation spots. Price estimates took into account round-trip flight prices provided by Hopper and Kayak, as well as the average cost of a six-night hotel stay, with prices largely from Hotels.com, along with Booking.com, Hipmunk, and Trip by Skyscanner. We also calculated what travelers should expect to spend on meals, beverages, and local transport, with pricing from Numbeo.
We've included affiliate links in this article. Click here to learn what those are. This article has been updated to include a closer ski resort near Victoria.