How Much It Would Cost You Now to Book a Last-Minute Mardi Gras Getaway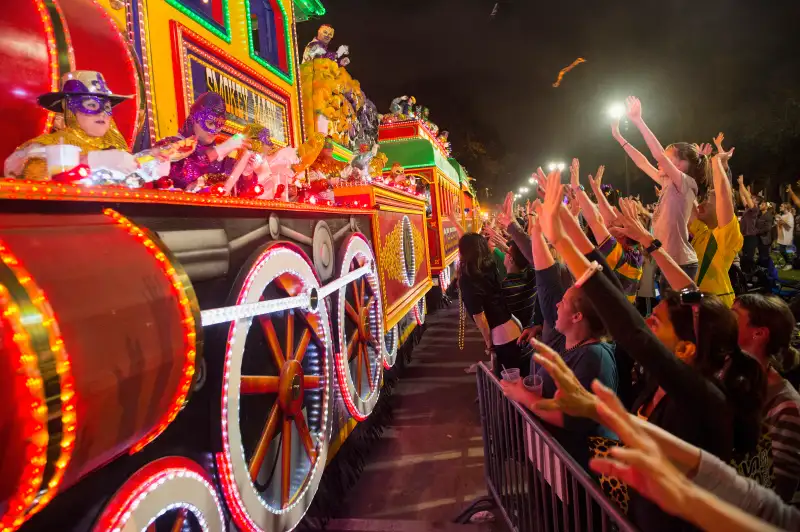 Erika Goldring—Getty Images
New Orleans is the place to be on Mardi Gras, which falls this year on Feb. 13 this year. The Louisiana city has been celebrating "Fat Tuesday," the last day before the Christian Lent season, since the mid-18th century. And New Orleans knows how to celebrate right.
Mardi Gras owes its popularity to the city's many social clubs and societies, called krewes. These organizations actually put on the events and parades you see all over Instagram. Some of these, like the Krewe of Rex, have been around for almost 150 years.
The annual celebration covers much more than just Fat Tuesday. Mardi Gras events and parades actually start in early January. But there's no doubt the biggest weekend—and the one with the biggest price tag—is the one leading up to Feb. 13, when many of the krewes have balls, parades and music festivals.
If you're traveling to New Orleans this weekend to experience Mardi Gras, expect to spend $2,600 per person for a flight, hotel, food, transportation and entertainment over the course of five days. If you're looking to splurge—luxury hotel, riding in a float, krewe parties—you can easily tack on an additional $5,000.
Here's the breakdown:
Rosa Irene Betancourt—Alamy
Airfare to New Orleans
New Orleans is known for Mardi Gras, so understandably, flights this week are at a premium. Round-trip airfare from U.S. cities to New Orleans for flights through Sunday, Feb. 18, are running about $453, according to flight prediction app Hopper. Flights from Los Angles are a bit cheaper, $373, while New York flights are about $445. Flights departing from Washington, D.C., are among the most expensive among the most-searched origins, running travelers about $541.
New Orleans Hotels
If you're looking to book a last-minute hotel for Mardi Gras, it's not too late. In fact, the average hotel price is still under $300 (about $260 a night), although that's up 36% from the city's six-month average, according to travel booking site Hipmunk.
Travelers looking to score a deal may do even better looking for a vacation rental; the average property is about $198 per night. Hipmunk finds. Airbnb still has several available places in the French Quarter for this weekend, including one for just $176 a night.
If you want something more upscale, 4-star and 5-star hotels will set you back about $529 per night, on average, Hipmunk reports. Even if you're spending big for a luxury hotel in the French Quarter, however, you're unlikely to get a room with a balcony on a parade route (such as St. Charles Avenue). Those rooms are typically rented years in advance by companies.
Erika Goldring—Getty Images
Mardi Gras Parades
The parades are generally free to attend. But be prepared to get there early and camp out, as prime spots disappear days in advance. If you're looking for a specific krewe's parade, check out the comprehensive calendar on MardiGrasNewOrleans.com. And be sure to download the parade tracker app developed by local news station WDSU, as posted routes are subject to change.
If camping out on the streets isn't your style, you can buy grandstand tickets on St. Charles Avenue in advance, to get out of the melee. They're already sold out for Tuesday's parade, but bleacher seating for Sunday's Bacchus parade, which features some of the most extravagant floats, starts at $65.
If you envisioned spending Mardi Gras on one of the iconic French Quarter balconies, the Best Western Plus St. Christopher Hotel is offering up a "balcony experience" on the corner of St. Charles Avenue. Day passes for Friday (Feb. 9) through Mardi Gras start at $300 per person and include an open bar, food and restrooms.
Erika Goldring—Getty Images.
Krewe Floats
Want to ride in a parade? Most of the floats are manned by members of the individual krewes, but you can pay for a spot on board. The price is hefty, though. Riding on a float will set you back $2,400 to $3,700, depending on the krewe you select and the parade day, says Matthew Tusch, who owns Mardi Gras Made EZ and provides VIP packages. The experience includes everything—transportation to and from the parade meet-up, costumes, drinks, food, and a post-parade event.
"We basically make guests members of the krewe for the day," Tusch says, adding that the company also provides guests a huge "throw" bag, complete with the typical beads, footballs, and goodies to pass out to the crowds. For Mardi Gras weekend, the price to ride a float is on the higher end, because it's when the so-called "Super Krewe" parades—popular and pricey events such as Bacchus, Endymion, and Orpheus—are held.
If that's a bit out of the price range, you can always stalk Craigslist. Some krewe members will sell their spots if they can't make the event. Money found a ride on a Zulu float, including costumes and breakfast, going for $800.
Pacific Coast News—Newscom
Mardi Gras Parties
Many of the parties leading up to Tuesday are free, such as the Zulu Lundi Gras festival. The festival, which features three stages, is an all-day event that takes place in Woldenberg Park in the French Quarter.
If you'd rather avoid the hoi polloi, Zulu hosts its annual Coronation Ball on Friday, Feb. 9. Tables start at $1,700 and usually sell out fast.
Perhaps the most exclusive of the parties is the Rex Ball, but the event is invitation-only. (The official ceremonies—presentation of the King, Queen and the Court—are typically televised, however.)
Many of the other big parties are essentially music festivals. The Krewe of Endymion hosts its annual Endymion Extravaganza on Saturday, Feb. 10 at the Superdome. This year, Rod Stewart is headlining and Money found floor tickets for $225. The Krewe of Orpheus hosts the NOLA 300 Jam Fest on Monday, Feb. 12; tickets are $199 at the door.
Food
You'll need to fuel up between the parades and parties. Fortunately, New Orleans has some of the best food on the planet. You could, of course, survive simply on beignets (stop at Cafe du Monde at least once for their fluffy doughnuts doused in powdered sugar)—but you'd be missing out if you skipped classics like gumbo and jambalaya. The OG eatery, of course, is the 176-year-old Antoine's. They're booked up for dinner through Mardi Gras, but go for lunch.
Alamy Stock Photo—Alamy Stock Photo
Drinks
Let's be honest: This is a weekend where a drink is never far from your hand. While the locals may give Bourbon Street a wide berth during "carnival season" (aka the Mardi Gras time period), there will be plenty of activity. Plan to spend about $9 per drink, although the ever-popular hurricanes at Pat O'Brien's will set you back about $12; return the souvenir cup to the bar for a $3 refund. To find a watering hole that suits you, check out Thrillist.com's guide, which rates every bar on Bourbon Street.