This Is the Best Week to Get a Deal on Summer Flights. Here's How to Find the Lowest Fares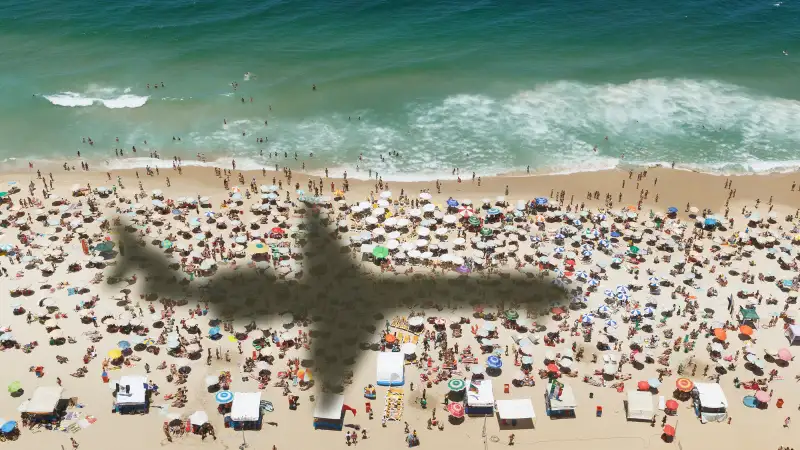 Buena Vista Images—Getty Images
Planning your summer vacation? To save money, it's important to know the best time to book your trip so you get the cheapest fare. Now some new research offers help: This week is the best time to book flights, no matter where in the U.S. you're planning to go this summer—whether you're looking to hit the beach, visit the national parks out west, or take a big-city excursion while school is out.
New data from travel booking site Hipmunk shows the cheapest week to book flights for summer travel is April 23-29, 2018. By booking flights this week, Hipmunk finds, travelers can save around 12%—nabbing airfares for an average cost of $279, depending on the route.
Timing is key, says Adam Goldstein, co-founder and CEO of Hipmunk. "The week of April 23 is six weeks before Memorial Day, the unofficial start of the summer season," he tells Money. After this week, he adds, you'll likely start to see fares increase.
Within the week, what's the best day to book your flight? There are no guarantees, Goldstein says: "We haven't found a particular day of the week to be reliably cheaper to purchase flights."
To make sure you're booking the best flight, Goldstein recommends setting a fare alert to ensure you don't miss out. To find the cheapest airfares, many popular airfare sites—including Hipmunk as well as Kayak and Hopper—allow you to set up alerts so you're notified via email or push notification of any price drops.
If you can't afford to book a flight this week, Hipmunk recommends following the general rule of thumb and booking three weeks in advance for U.S. destinations this summer. This generally saves travelers up to 14% throughout the year, Hipmunk reports, although the savings on summer fares are probably lower.
There are other ways to save money when booking flights for summer vacation.
Avoid flying on the busiest days—a category that includes holiday weekends. For example, June 29—which is the Friday before the July Fourth holiday—is on track to be the most expensive day to depart for a trip, Hipmunk predicts, with airfares averaging $617 per person.
Also expand your searches by looking at the prices for nearby airports, Goldstein says. On most sites, you can do that easily by simply adding multiple airport codes to the search box, with a comma between them. For big cities, use metro-area airport codes—like NYC (New York City), CHI (Chicago), or QLA (Los Angeles)—to search all of the area's major airports in one fell swoop and find the cheapest fares.
Finally, Hipmunk advises, you may be able to save money by looking for routes with new service from low-cost airlines. That currently includes itineraries from the West Coast to Hawaii, Goldstein says, as well as routes that include Boston, Detroit, Oakland, Orlando, Seattle, and Tampa.