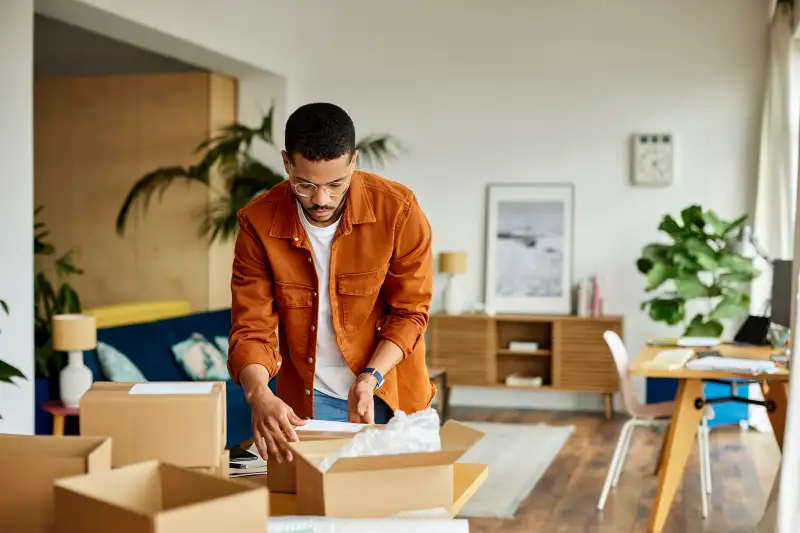 The average person moves more than 10 times in their life, and — depending on how far they go and how many belongings they have — it can cost anywhere from $500 to over $10,000 each time. Moving doesn't have to be an exceedingly expensive process, though. With the right methods, like recruiting friends or family to help and finding free packing supplies, you can find ways to cut costs and stay on budget. Use this guide to find the cheapest way to move.
Seven ways to move for cheap
To save money while moving, you must have a plan and apply the right cost-saving strategies for your unique situation. Consider these ways to move for cheap and choose the ones that work best for you.
1. Find free packing supplies
Packing supplies like moving boxes, bags, bubble wrap, packing tape and plastic wrap add anywhere from $270 to $2,200 to your moving budget, on average, according to HomeAdvisor — a marketplace that connects homeowners with local home service professionals.
The more rooms and square footage you have in your home, the more you should expect to pay for packing supplies when moving. Finding free packing supplies instead of purchasing them is one way to cut down on your moving costs.
To find moving boxes for cheap or free of charge, try these strategies:
Ask friends, family, neighbors or coworkers who moved recently if they'll give you their packing supplies.
Check online community groups on Facebook, Craigslist, "buy nothing" online communities and other social media sites for people giving away moving supplies.
Go to local businesses like furniture and grocery stores to ask for their used boxes.
Head to a local recycling center to check for free cardboard boxes.
Even if you can't find all of the packing materials you need for free, you can often find affordable moving supplies on resale sites like eBay and Facebook Marketplace. Shop for cheap moving boxes online to save money on your packing supplies.
You can also repurpose things that are already in your home as packing supplies. Suitcases can be used to transport books or other heavy items, while towels, blankets, socks and even a stack of newspapers can all act as substitutes for traditional wrapping and cushioning materials. Don't forget to save the packing materials from previous mail deliveries such as cardboard boxes, packing peanuts or bubble wrap.
2. Declutter your home
Every additional item you want to take with you during your move will add to the overall cost of moving. Declutter your home before you move to reduce the amount of stuff you need to pack and bring down your moving costs.
Amid all the stress of moving, decluttering can feel like an overwhelming task, so be sure to start early and get motivated. Remind yourself how nice it will be to get rid of things that aren't useful anymore, and to save money and start fresh in your new home.
To ease into the process, begin decluttering a room or area in your house that you don't use very often like your attic or garage. These areas are more likely to have things you can get rid of without extensive deliberation, helping you get the ball rolling. Sort items into piles depending on what you plan to do with them — trash/recycle, donate, sell and keep. If you pack up the items you plan on keeping as you go, you'll be able to tackle two tasks at once.
Items you no longer plan to keep can be taken to the following places:
Local "buy nothing" groups
Recycling centers (for cardboard, glass, metal and fabrics)
Thrift stores that accept donations
Electronics retailers like Verizon and BestBuy (for used electronics)
Animal shelters (for old towels and linens)
3. See if friends and family are willing to help
If you have friends or family members who are willing to help you move, that can save you hundreds or even thousands of dollars overpaying for professional movers. You should expect to pay around $50 per hour per professional mover, so even a few friends working together for half a day to help you move would make a big difference to your moving costs.
Make sure that you give your friends or family plenty of notice ahead of your move. They will appreciate the notice and be much more likely to help compared to asking a day or two before you're moving. It's a nice gesture to have refreshments ready for your helpers and to let them know how much you appreciate their help.
4. Hire day laborers
Anyone who doesn't have family members or friends available to help them move can turn to day laborers to save money while moving. Hiring day laborers is cheaper than using full-service movers and lets you do most of your move yourself.
When you hire day laborers, you still have to pack up your items, rent a truck and drive it to your new home — just like in a do-it-yourself move. The day laborers will help with the heavy lifting of loading and unloading the truck, cutting down the time and effort it takes to move for a relatively low price. Generally, you pay day laborers by the hour, so ask about their hourly rates and the estimated time they will need to move your heavy items.
Keep in mind that not all day laborers are professional movers. Many moving companies allow you to hire their workers for labor-only moving jobs, in which case the day laborers should be licensed and insured. If you hire day laborers who aren't professional movers, such as local college students, you will likely pay less but you won't have the peace of mind of working with an insured professional.
To find day laborers to help you move, check third-party online marketplaces like Craigslist and Facebook or a day laborer center — an organization that connects homeowners and small business owners with local skilled day laborers.
5. Compare quotes from several truck rental companies
To save money, you can rent a moving truck that you drive yourself instead of hiring full-service movers to transport your items. Choosing the first truck rental company you find may sound convenient, but it will probably lead you to spend more than necessary on your truck rental.
The best moving companies are ones with affordable prices and strong customer ratings — read testimonials and online reviews to get an idea. You should shop around for several rental truck companies and request quotes from at least three or four of them. You don't have to choose the cheapest company, but by comparing quotes, you're much more likely to find an affordable moving truck rental company that suits your needs.
Be aware of moving scams in your search. Most legitimate truck rental companies won't ask for large deposits or full payment upfront. If a company has no reviews or many negative reviews, you're better off looking elsewhere.
6. Consider renting a moving container
If you aren't willing to drive a rental truck yourself, another option is renting a moving container. Moving container companies drop off the moving container at your home, give you time to pack all your belongings and move them into the container, and then transport the container to your new address for you.
While renting a moving container is typically more expensive than renting a moving truck, it's still more affordable than using a full-service mover even after gas and mileage fees. Expect to pay around $700 on average for a local move and about $3,500 for a long-distance move using moving containers, according to data from HireAHelper — a site that helps you search for local moving services.
Some moving container companies also provide storage, which may be useful if you can't move all your belongings into your new home immediately.
7. Use your own vehicle for most of the move
For someone moving from a smaller home such as a one-bedroom or two-bedroom home, using your own vehicle for the majority of the move is a great cost-saving option. Transporting all or most of your belongings in your vehicle can help cut down the amount of time you need to rent a moving truck, saving you money.
Unless you already have a truck, however, you'll probably need to make several trips to get all your things to your new home. If your vehicle has towing capabilities, attaching a trailer to the back of your car and loading it up with your stuff can help reduce the number of trips you have to make.
What is the average cost of moving?
The average cost of moving is highly dependent on how far you're moving. According to data from HomeAdvisor, the national average cost of a local move — a move within 100 miles — is just over $1,700. An interstate or long-distance move is generally more expensive, averaging about $4,800. The most costly type of move is an overseas international move. These moves can cost $20,000 or more, largely due to the high price of shipping items via plane or cargo ship.
Beyond the distance of your move, many other factors affect how much you'll pay for moving. The volume of belongings you're moving, the timing of your move and the locations of your previous and new homes will all play a role in determining your moving costs.
Tips to help you afford the move
You don't have to wait until the week of your move to start preparing and finding ways to save money. Beyond finding free packing supplies and using cheap moving services, try these tips in the months leading up to your move to make it as affordable as possible.
Start saving ahead of time
It's a good idea to start saving money to help you pay for your move as soon as you learn that you'll be moving shortly. Saving even a small amount every week can go a long way by the time you're ready to move. In most cases, you will know months ahead of time that you're going to move, so don't wait until the last minute to start saving. Put your moving fund in a safe place like a savings account so it's ready when it's time for you to move.
Know how much you expect to spend
Knowing how much you will likely have to spend to move will help you set your savings goals and prepare. Keep in mind all the factors that affect the cost of moving and estimate your total moving costs ahead of time. You can use an online moving cost calculator to help you get an idea of what you'll have to spend.
Don't forget about stray moving expenses like gas and lodging that aren't directly included in your moving costs. Plus, if you have specialty items like pianos or plants that are difficult to transport without damage, expect to pay more to move them. Keeping your plants safe during a move isn't easy, so it generally costs more to package and ship them.
Sell unwanted items and use the money to move
When you're decluttering to make your move cheaper, setting aside unwanted items to resell can help boost your moving savings. You can sell new and used items online on marketplaces like eBay, Facebook Marketplace, Craigslist and Poshmark. All you'll need is a camera (such as the one on your smartphone) and a description of each item to start listing your unwanted items for sale online.
Research similar items that have already sold to get an idea of how you should price your listings. You might be surprised how much money you can make off items, and those funds can go toward paying for your move.
Bear in mind that selling your unwanted items is an additional time investment beyond the time you'll spend preparing for your move. If you're pressed for time, this may not be the best option for you.
Check if your employer offers relocation assistance
If you're moving to a new location for work, check to see if your employer offers relocation assistance. An employee relocation package is a financial benefit your employer may provide to help employees pay for their moving expenses when they have to move to a new location for work.
These packages can be worth anywhere between $2,000 and $100,000 depending on your role at the company, whether you're a new hire or current employee and whether you own or rent your home. Depending on the package your employer offers, relocation assistance could cover all moving costs. Make sure you take advantage of this option if it's available to you.
Helping you prepare for the big move
Preparing for a big move can be stressful, but applying these tips will help you save money:
Look for affordable or free packing materials.
Consider hiring labor-only movers and renting a moving truck or container over full-service movers.
Get rid of your unwanted items so you have less stuff to move.
Recruit friends and family to help you package and move your items so you don't have to hire professionals.
Request quotes from multiple moving companies to find the best rates.