That Blizzard Was No Match for the Chevy Colorado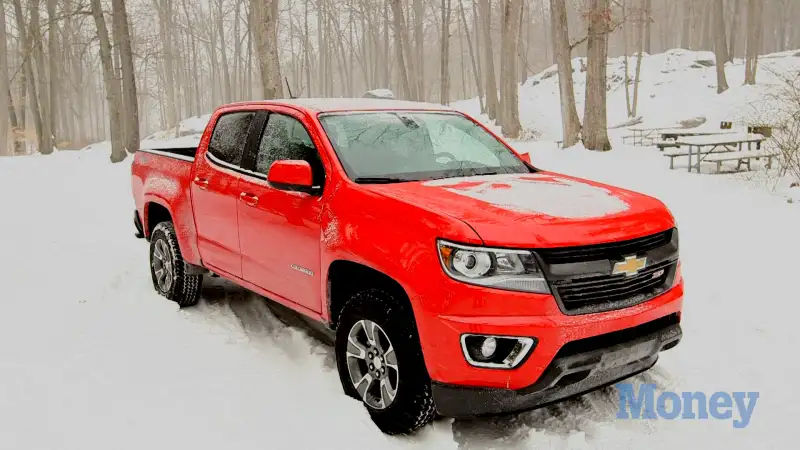 The snow was already falling when I climbed, ever so smugly, into the Chevrolet Colorado. There was no anxiety on my part, because Chevy's new midsize offers available on-the-fly 4-wheel drive as well as a 4-low setting for off-roading, part of the Z71 package on my test vehicle. I was ready for whatever the road and Mother Nature served up.
Chevy reintroduced the Colorado in late 2014, sensing that there was a gap that a newly designed, mid-size pickup truck could fill. Ford had ceded some of that turf when it discontinued Ranger, and General Motors clearly feels that Toyota's 10-year-old Tacoma and Nissan's similarly aged Frontier are vulnerable, given that its marketing calls those pickups out directly. Already knighted Truck of the Year by Motor Trend, what Colorado (and GMC sibling Canyon) brings to market is a smartly designed and executed pickup at a reasonable price.
A couple of months ago, we demo-ed the GMC Sierra Denali 2500HD, a high-riding, 6,500-lb.-or-so truck that had an enormous V-8 Allison diesel engine paired with every kind of creature comfort in the cab. It was a dazzling combination of brute and beauty, but the price tag was a beast, too: around $64,000 fully tricked out.
The Colorado cuts that weight by more than a third and the price by more than half — the entry level price is around $20,000 — but still offers somewhat surprising comfort. And, while short on frills and add-ons, it covers just about everything you need. For instance, there are four USB ports to power phones and tablet. There's a blessedly simple-to-use navigation/infotainment system that includes 4G LTE and a built-in WiFi hotspot. One-touch icons pop up on the 8-inch screen, allowing you to access the radio or Pandora or weather with minimum distraction. All systems should be this simple, but car companies seem to go out of their way to tech them up for no good reason.
One of the themes of the Colorado could be that it gives you less, but in a good way. It's about six inches narrower than its full-size siblings. That might not mean much in rural areas, but in the city it's the difference between nimble and not. Squeezing past double-parked cars in Manhattan's crowded streets was relatively easy. You can buy the Colorado in extended cab and two crew-cab versions with either a very parkable 5-ft. 2-in. truck bed (which runs about 18 ft. in length), or a 6-ft. 2-in bed. One thing you get more of is mileage: about 25 miles per gallon combined.)
The Colorado's city/country capabilities are what might make it a good fit for cities like Denver or Salt Lake or Burlington, Vermont. On the highway, the Colorado has car-like handling qualities in both steering and ride quality; on city streets, although you're sitting up a bit, you don't have the bumpy ride that pickups can produce. The truck is pulled along by either a 200-horsepower 4-cylinder front-wheel drive or a 305-hp sixpack, available in two- and four-wheel drive. I drove the 4WD Z71 Crew Short Box, designed for off-roading, which had the bigger engine. Price: $36,710, including the premium audio/info system.
Although I drove only the six-cylinder, it's hard not to recommend it over the standard version. Despite the larger displacement, the V-6 is not the smoothest in acceleration, particularly in two-wheel-drive mode, but you'll appreciate that power, which you really have to have if you are towing something. On snow-covered roads, the 4-wheel drive was comforting, with very smooth acceleration and power distribution. We also took the Colorado off road for a brief test up and down a relatively steep, snow-covered incline. Piece of cake.
Too bad the Blizzard of '15 proved to be a bit of a flop in my area. Not so the Colorado — it lives up to expectations.