Learn From the Cubs' Triumph to Make Your Own Career Win Last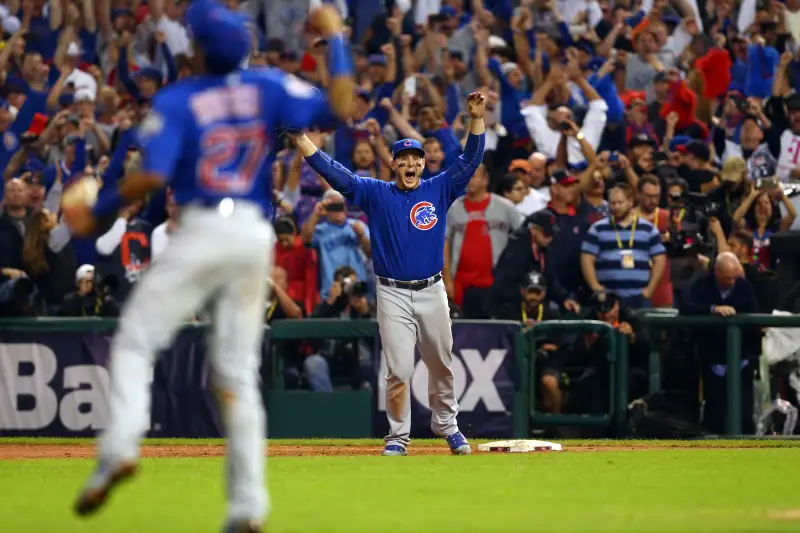 Rob Tringali—MLB Photos via Getty Images
The Chicago Cubs' World Series win—a phrase that, until last night, was a 108-year-old oxymoron—is making waves that will ripple far beyond Lake Michigan.
Wednesday's neck-and-neck, rain-delayed, extra-innings championship will go down as one of the greatest games in baseball history. That's no question. For the Cubs' all-star roster, and the off-field heroes like manager Joe Madden and club president Theo Epstein, first place never felt so good.
So what happens after Wrigleyville quiets down and the champagne (Old Style) runs out? According to professional career coaches, that depends on the business savvy of each individual player. Big wins—whether in sports of business—can be a launching pad for future success or a deep dive into obscurity. Here's some advice for the triumphant (and certainly hung over) Cubbies that the rest of us can use.
Build momentum
In both the business and sports worlds, major wins tend to replicate themselves (Jordan-era Chicago Bulls, anyone?). Bruce Tulgan, a leadership expert and founder of the consultancy RainmakerThinking, advises clients who are celebrating success to use the momentum to their advantage.
"Don't declare victory," he says. "Use the win as a building block to the next challenge — and to leverage an even more successful career."
Sure, big wins feel good, and it's important to celebrate your accomplishments. But don't get too comfortable.
"You have to keep moving forward, even when something really big happens," says Jeanne Branthover, a partner at DHR International. "Don't let your ego get in the way. Now it's about staying on top."
Deconstruct the win
What decisions led to your success? What went right, and how can that knowledge inform your future actions? All of these are important considerations, Tulgan says.
"Just as you would with your failures, use the win as a case study to teach yourself what decisions or actions were made, and how to build those into the future," he says.
Roy Cohen, a career coach and author of The Wall Street Professional's Survival Guide, calls this "deconstructing the win."
"This World Series was not easy," he says. "It wasn't effortless … there was a lot of angst along the way. And there are always steps that could have made this easier."
Share the credit
Go ahead and give yourself a pat on the back, but be sure to spread the love to all the people around you who made the win possible. It bolsters your business case —and its the right thing to do. "Make sure you share credit with anyone who deserves it," Tulgan advises.
A smart next step, according to Cohen, is to use the win to build important relationships and strengthen existing ones.
"Everyone gets excited about us when we're on a winning streak," he says. "Colleagues want to be recognized a friends, and those at the senior level start to see us as valuable. So there's more attention, good attention, being paid to your career. Use that to your advantage."