Get $50 Off Chipotle Super Bowl Orders, Plus 50% Off From a Competitor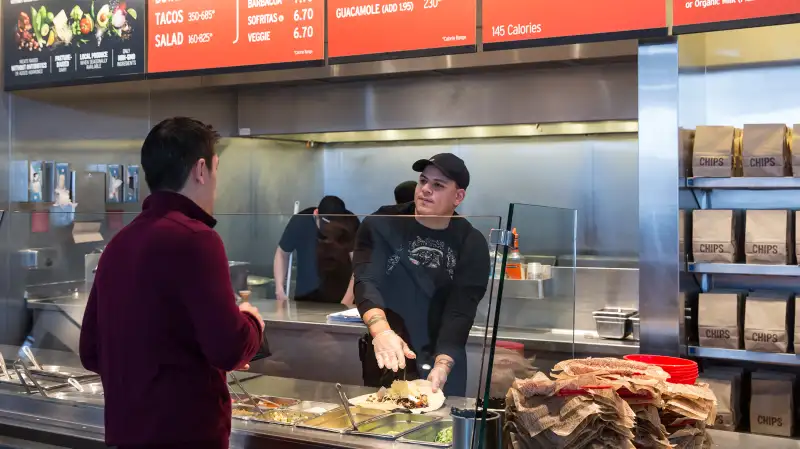 The reputation, sales, and stock price of Chipotle all have taken a beating over the last few months, related to a string of E. coli outbreaks that left the fast-casual burrito chain's customers sick around the country.
The formula for winning back diners after such a debacle is especially tricky for a brand like Chipotle, which prided itself on having fresh, high-quality ingredients. In this case, the attempted comeback features a multi-prong approach.
Chipotle first responded by ratcheting up health requirements of its producers and scaling back on local foods, because gathering ingredients from tons of smaller farms increases the risks of contamination. Next, the company announced it would expand food giveaways: Local Chipotles always rewarded customers with periodic, somewhat unexpected freebies, and now restaurants have been given leeway to increase giveaways, hopefully boosting customer loyalty in the process.
Yet another part of the campaign involves a national shutdown of all restaurants for a brief period on Monday, Feb. 8, in order to hold a company-wide meeting focused on food safety. The shutdown plan has its share of critics. At CNBC, PR executive Mark Macias noted:
Regardless, on Feb. 7—Super Bowl Sunday—Chipotle is trying to ramp up business with a very special big deal. AdAge reports that the first 1,500 catering orders Chipotle receives for 20 or more burritos for Super Bowl Sunday will receive a $50 discount. Yes, the deal doesn't merely require you personally to be comfortable eating Chipotle; it requires that you be comfortable with your entire Super Bowl party eating Chipotle.
Whether that $50 discount is enough to overcome any misgivings—and the inevitable comments that will arise during a Chipotle-catered party—is your call.
The fallout over the Chipotle scandal has also inspired another deal, this one from a Chipotle competitor. On Feb. 8, the day after the Super Bowl, Freshii, a Canadian burrito chain, will offer 50% off its Mexican fare while Chipotle restaurants are closed for its company-wide meeting.
"Like millions of other people, we at Freshii are big fans of Chipotle," Freshii founder and CEO Matthew Corrin said in a somewhat cheeky statement, according to Nation's Restaurant News. "We figured the least we would do was look after their customers while Chipotle paused to recalibrate. If a few Chipotle customers fall in love with a Freshii menu item, we hope they'll come back to both stores more often."