Chrissy Metz Had 81 Cents When She Landed 'This Is Us.' Now, She's Got an IRA — and Loves to Save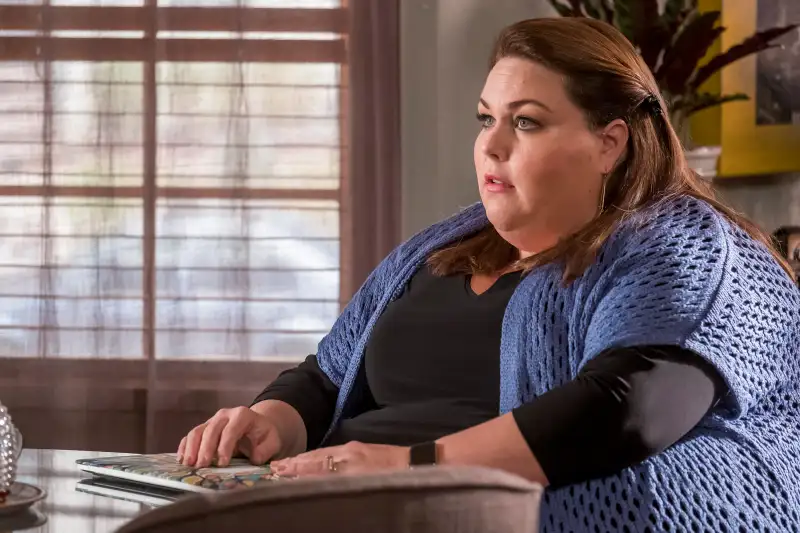 Chrissy Metz never talked about money before she had it.
The This Is Us actress grew up with precarious finances. Her mother would forgo meals sometimes to provide for Metz and her siblings. On her own, Metz lived paycheck to paycheck, working a variety of jobs — from a nanny to an agent — while auditioning for more than a decade before landing the role that would earn her an Emmy nomination.
Metz had just 81 cents in her bank account when she booked the role of Kate Pearson on the NBC drama. Now, with the financial stability that comes with starring on a critically acclaimed television series (and a $250,000 per-episode paycheck), she's opening up about getting herself on a stable financial track and creating a platform to discuss financial struggles for others to relate to.
"If I'm just vulnerable and honest about where I was at financially, or what I struggled with and how difficult it was to even afford an acting class here and there, then maybe other people will feel like they were less alone," Metz tells Money.
As an actress, Metz is used to vulnerability. Her This Is Us character Kate struggles with depression, self-image issues, and a miscarriage. Telling her own story isn't a breeze, but something she can use her platform for, she says. Now, Metz has partnered with Turbo for a campaign focused on breaking down the stigma of talking about money.
She still worries about spending too much — she's hesitant about wearing her Alexander McQueen shoes she bought a few years ago — but she says she's learning along the way. For now, she opened an IRA, is saving like crazy, and adjusting her finances to stay balanced as a working actor.
After all, she says, "things can be fleeting."
Metz chatted with Money about the discomfort in talking about your money and how she took hold of her finances when her This Is Us paychecks started rolling in.
When did money become something you felt comfortable talking about?
You know, I'm still not completely comfortable and that's part of the reason I do anything I do. The only way I'm going to get through it and get better is if I continue to do it.
It was really when we were first doing press for [This Is Us], and people were like, "Oh, it seems like you came out of the blue." I was like, "No, this is 12 years in the making." I wanted to be very honest because when you can be honest about that, it inspires people in a real way. If I'm just vulnerable and honest about where I was at financially, or what I struggled with and how difficult it was to even afford an acting class here and there, then maybe other people will feel like they are less alone.
Has that changed how you view those early career challenges?
You're so afraid of what you don't know, so afraid of what might be, that you get paralyzed in those thoughts. Once you just get past the idea of what it is and get to really what it is, it allows you to have that space to just be honest and to be vulnerable. You're not taught how to do that, and if you haven't cultivated it, it can be really difficult.
It's something I still struggle with: boundaries, real conversations, and honesty about how I'm feeling. I think so much of what we do is saying, "Oh, I'm fine. I'm fine." But we're not fine. So when we talk about it and we're able to admit that we're not all OK, then you feel like this is a community. Once somebody initiates the conversation for a particular topic, then that gives you the platform and space to be real and honest. It's definitely a work in progress — it's definitely something I still work at every day.
You've talked openly about having 81 cents in your bank account when you booked This is Us.
I've never identified as a number — whether it's a number in my bank account or the scale. I've never attached to that as my worth, and I think that was really helpful in realizing that things are going to change. I might be heavier, I might be lighter, I might have more money, I might have less money, things can be fleeting. Treat people kindly. You do good, you think positive thoughts, that's the priority. That's what's important.
I just don't bank on it — no pun intended. They don't make me who I am. They're a part of my life, but they don't define me. I don't need to have shame around my debt. I don't need to have shame around growing up without money. That was a circumstance, but it could be changed.
Now that you have more financial security, what kinds of lessons are you learning?
First of all, nothing is personal. I always try to remind myself of that. No matter what somebody thinks of me or doesn't think of me, I can't attach to what their thoughts are because their perception is their reality. That doesn't mean that's what's actually happening.
I'm learning how to even understand what finances mean and to have a savings or to have an idea and a plan in place so that I don't become — goodness, God forbid if I don't have a job for a couple of years — that I'm not going to be broke again.
All of that has been such a cool learning process. This goes here, and that goes there. Do I have money, is it inefficient to buy something I don't really need? I'm just learning as I go which hopefully we're doing every day, but it's all been quite a learning curve because I've never had to deal with it.
When you live paycheck to paycheck, it's like, "OK, I have my car payment, I have my bills, and if I have anything left, then maybe I can buy groceries." It's all about changes as far as how to handle it and how to organize it and have a plan in place. I never thought about having a plan in place, because why would I? But when I think about it now, I'm sure there's something I could've saved. I'm sure there was a smarter way of doing something. I'm sure I could've called and asked more questions, whether it was credit card debt or what I could pay off. So that's what I'm realizing now. There was probably something I could've done better. When we know better, we do better.
What was the first step you took to make that plan?
It was paying off my debt, paying off the people I borrowed money from. We have paychecks as actors, but people may or may not know that you owe certain percentages to your manager and to your agent and then styling... there are all of those things I have to get in order. I thought, "OK, I'm going to need to know every month what it is I'm paying," then adjusting [spending] to that. "Can I afford to go to this event if I have to pay out-of-pocket for a particular outfit?"
I paid back people I owed money to, and I thought, "OK, what do I need to efficiently be a working actress?" Whether it was therapy or a massage, stuff that might seem extravagant. Can I afford it, or is it not going to make sense right now?
When the [This Is Us] pilot got picked up, I didn't come out of it with tons and tons of money. After taxes and everything, most of it was gone. So it was really kind of holding on to the idea of well, it's not going to be easy right out of the gate, but how can I plan so we're ready when the time comes.
I also decided to open a SEP IRA, pay taxes, all of those things to be very responsible. Growing up about something I've never had to be grown up about or didn't want to be grown up about.
What's your biggest advice for those struggling with financial stability?
It's really about putting pen to paper and saying, "OK, this is our budget, these are the things I'm going to want to do." Whether it's getting nicer paper for your résumé to send out, or making sure that you have access to the internet. It could be something as small as that. Just making sure you understand where you stand.
There are so many things where I'm like, "I don't have the money, I don't have this, I don't have that," and there are ways I could've sort of tightened the belt. Maybe I don't have to buy coffee at the store and that could save $150 a month, and I can put that toward an acting class, or I can put that toward a workshop. Whatever it is that you're pursuing, there's a way to balance it all. If we are brave enough to look at it and say, "OK, maybe I could really change this," or "Maybe I don't really need that."
You just have to hang on and know that all that foundation that you're laying is vital to building the life that you want. But everybody's going to have to sacrifice at some point for what they want.
Interview has been edited and condensed for clarity.