The Great Christmas Ale Taste Test Showdown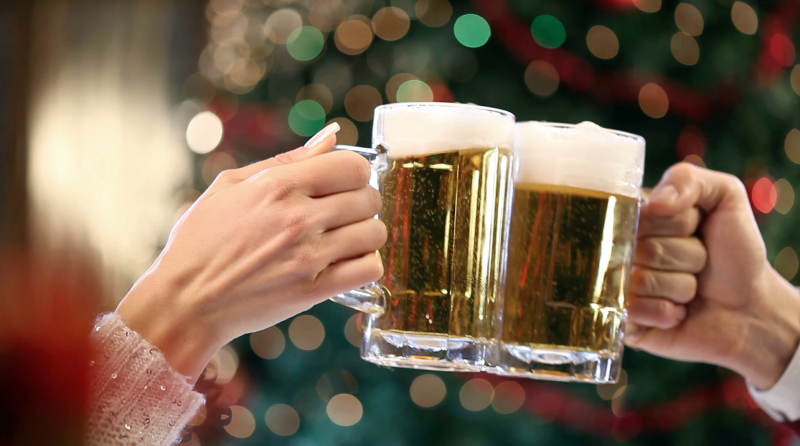 Believe it or not, Christmas ales are just as much a holiday tradition as caroling, Yule logs, eggnog, Bing Crosby, and – yes – ugly sweater parties.
Take Anchor Brewing in San Francisco, for example, which has brewed a Christmas ale every year since 1975. The brewery tweaks the recipe and beer label every year and releases its new version around Thanksgiving. This dark hearty ale is one of Anchor's most anticipated beers, and Anchor is not the only brewery that brews a special ale for the holidays.
Christmas ales are suited to the winter season, according to Chris O'Leary, writer, craft beer drinker, homebrewer, and editor of Brew York, a website covering the beer industry in New York. "These beers are for cold weather. They're very warming and great to relax with and enjoy in a sipping capacity."
But are winter seasonal beers worth buying? And what's the difference between all the varieties? Those were the tough questions that the Money staff set out to answer one day earlier this month—a tough job, yes, but someone's got to do it.
So what are Christmas ales, anyway? It turns out they are more of a tradition than a style of beer. And, like most family traditions, everyone does it a little bit different. "It's really up to interpretation," O'Leary says. "There's no defined style category for a holiday beer."
LikeAnchor, most breweries make a Christmas ale that's darker and richer in flavor than their typical year-round varieties. Some breweries incorporate winter spices like nutmeg, cloves, and cinnamon; others get even more exotic with flavors like honey and cherry; while others skip the spices and flavors entirely. Typically these heavier beers have a relatively high alcohol content, which is meant to warm you up after a bitter cold winter day.
And then some breweries have a totally different take on the season. American breweries known for IPAs such as Sierra Nevada brew a special fresh-hopped IPA for the holidays. Typically hops are harvested in the fall, dried out and stored for later use. Sierra Nevada keeps some of its hops fresh and uses them in their holiday ale, Celebration Ale. While this fresh-hopped IPA might not taste like nutmeg or cinnamon, it's a unique winter drink because it's best consumed fresh in the winter months.
These beers are a labor of love for many craft brewers, and that's reflected in some of their prices. Seasonal offerings are generally more expensive than a brewery's typical year-round offering because of the high alcohol content and amount of ingredients used. But they might be worth the extra money if you're headed to a holiday party or looking to give someone a delicious gift. And for the craft beer-drinker in your life, it's worth kicking in a buck or two more for Christmas ales that have been aged in bourbon or brandy barrels, O'Leary says. Barrel-aged beers offer a more complex flavor than you might get from more standard fare.
For Money's great Christmas ale taste test, we worked with beer rating app Untappd to identify some of the top-rated winter beers. Using that list, we came up with a tasting menu of our own, which included seasonal ales from Thirsty Dog, Sierra Nevada, Tröegs, Hoppin Frog, and Brouwerij Huyghe. All of the Christmas ales we tried were rated higher than a 3.5 (out of 5) on Untappd and cost under $20. A pint of Delirium Noel, a pint of Frosted Frog, a six-pack of Celebration Ale, and a six-pack of 12 Dogs of Christmas Ale cost about $10 each; a six-pack of Mad Elf cost about $20.
So pour yourself a glass of frothy Christmas ale and warm up by the fire with family and friends this holiday season.