Why You Should Be Shopping for Christmas Decorations Right Now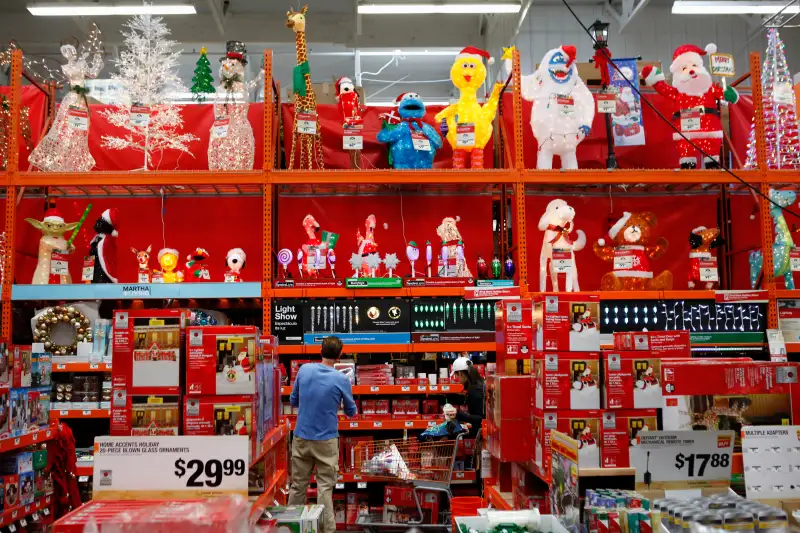 Patrick T. Fallon—Bloomberg via Getty Images
Every price-conscious shopping strategist is well aware of how quickly and dramatically seasonal items go on sale as soon as the peak-buying period around a holiday is over. It's tradition for holiday decorations to go on clearance sale immediately after Christmas, and sometimes even days or weeks before December 25.
But now that we're a week removed from Christmas, shoppers can expect prices on holiday merchandise to plunge even lower. What this means is that this weekend is an absolutely optimal time to buy, provided you're the type who 1) doesn't mind sifting through haphazardly picked-over merchandise for treasures; and 2) will actually remember and keep track of this stuff when the time comes to use it 10 or 11 months down the road.
Here's one indication of how prices have fallen even during the week after Christmas. The deal-tracking experts at dealnews highlighted a few of the best post-Christmas Christmas decorations sales at the end of last week. At the time, a 3.5-foot-high LED Yoda dressed up as Santa and holding an oversized candy cane, for example, was selling for $14.99, half off the original price of $30. By now, however, that same Yoda is marked down to just $7.50, or 75% off the retail price.
Unfortunately, you can't order Yoda online, not even if the force particularly strong with you is. Instead, you'll have to call up your local Home Depot and see if it's in stock, or just head down and browse.
Likewise, shoppers can generally expect to find the lowest prices on decorations in the physical locations of other stores, including Sears, Big Lots, Crate & Barrel, and more, rather than online. At this point, it's problematic for retailers to sell some of their discounted Christmas items online because inventories are so low.
As for what's left behind in individual stores right now, it's something of a crapshoot. Major retailers are desperately trying to unload these items to make way for the next season's merchandise—the stuff they have a prayer of selling at full price—so it's hard to tell in advance what you'll find in the clearance aisles of each store location.
Depending on the item and the retailer, it is sometimes possible to buy ahead online and pick up at your local store. That's the most efficient strategy for shoppers. Those who simply venture into a store to browse can also be assured that whatever leftovers they find will be dirt cheap. Here are a few options:
Big Lots: The discount retailer's Christmas Clearance sale knocks 50% off all seasonal items, including lights, ornaments, trees, wrapping paper, and Christmas pet gifts. ("Selection varies by store," Big Lots warns.)
Crate & Barrel: A winter clearance sale knocks off up to 60% on seasonal merchandise, and there are even deeper discounts on items specifically geared for Christmas, including this Glitter Twig Garland now priced at $8.98 (originally $29.95); many items are available for online purchase but the retailer warns "quantities are limited."
Home Depot: 75% or more off a wide range of ornaments and artificial wreaths and Christmas trees, and much of it can be purchased online and then picked up at a store.
Sears: Up to 70% off artificial trees, holiday collectibles, lights, and indoor and outdoor decorations—much is available for purchase online with free shipping, though there may be even lower prices at physical Sears locations.
Target: 50% or more off holiday costumes, ornaments, decorations, and such
Walmart: A huge mixed bag of Christmas clearance deals, such as a Santa tree topper for $6.97 (originally $16.98)
Yankee Candle: 50% or 75% off seasonal items, with the biggest discounts generally available for Christmas-y goods like Balsam & Cedar ornaments