Cigna Dental Insurance Review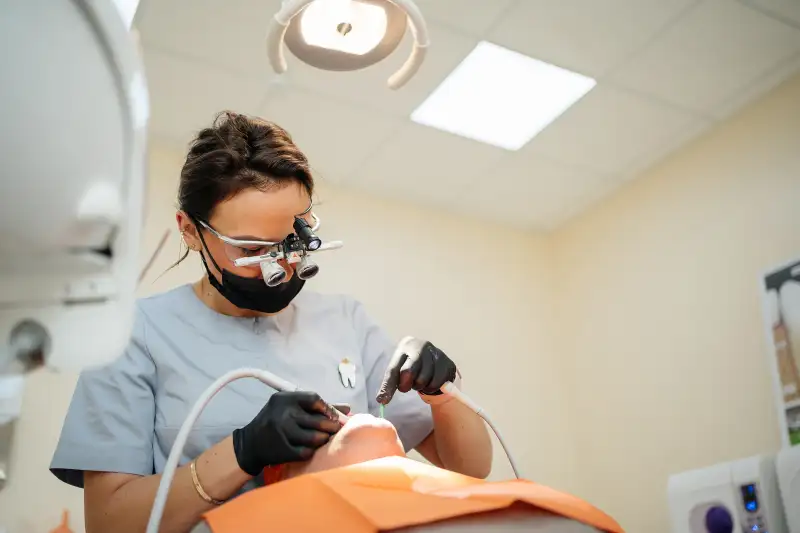 Best known for its health insurance plans, Cigna offers affordable dental insurance options you can sign up for individually or bundle with vision or hearing coverage.
Keep reading to learn about the pros and cons of choosing Cigna dental insurance.
Best deductible
Cigna charges no deductible if you need preventive care services. If you need restorative services, your annual deductible costs a relatively affordable $50 for an individual plan or $150 for a family plan.
Cigna dental insurance pros and cons
Pros
Offers more budget-friendly plans than other competitors
Long-standing positive reputation
100% coverage for preventive care
Cons
No coverage for dental implants
The quote process can be complicated
Basic care and major services have waiting periods
Pros explained
Offers more budget-friendly plans than other competitors
Cigna stands out from competitors for its affordable premiums. You'll especially notice the savings when you explore other plans with similar coinsurance rates for basic and major restorative services.
The carrier's budget-friendly prices make it ideal if you need family coverage or just want to cut costs without sacrificing important benefits. Average monthly premiums range from $19 to $39.
Long-standing positive reputation
While it has only gone by its name since 1982, Cigna has operated in the insurance industry in some form for over 200 years. By choosing Cigna, you'll be covered by a trusted provider that serves more than 18 million dental insurance members. It also ranks among the top health and life insurance providers based on market share.
100% coverage for preventive care
As long as you use one of the in-network Cigna dental insurance providers, you won't pay anything for covered preventive dental care services. These include X-rays, exams and routine cleanings for both children and adults.
Covered members 13 years old and younger get 100% coverage for space maintainers, fluoride treatments and sealants.
Cons explained
No coverage for dental implants
Like many other dental plans, Cigna excludes dental implant procedures from its covered benefits. This exclusion includes preparing and installing new implants and replacing existing ones. Since a single implant can cost between $3,500 and $6,700, carefully consider your future dental care needs to determine if a Cigna dental plan suits you.
The quote process can be complicated
While Cigna shows average premium prices on each dental insurance product page, getting actual quotes isn't that easy. The carrier requires you to fill out a form with your zip code, state, date of birth and desired coverage start date. You must also specify any additional members and answer questions about your desired coverage type.
While it's not a deal breaker, Cigna's quotes process is inconvenient if you want to compare plan prices quickly. Once you see the quotes, Cigna doesn't offer an easy way to compare their features. Instead, you must review each summary of benefits separately.
Basic care and major services have waiting periods
While Cigna has no waiting period for preventive services, you'll have to wait six months for basic restorative services and 12 months for major restorative services and orthodontic care.
Cigna can waive the waiting period required if you already have dental coverage for 12 months through another carrier. However, there are two caveats to this: the former plan must include basic and major restorative services and you have 63 days to sign up with Cigna after canceling your old coverage.
Cigna dental insurance plans/offerings
You can choose from three low-deductible Cigna dental insurance plans. While they all cover preventive care, they differ in additional services covered. These plans all share the same maximum deductible (if applicable) but have different annual maximums depending on the service.
Cigna Dental Preventive Plan
The Cigna Dental Preventive Plan covers preventive care procedures and has no annual maximum or deductible. All members can use the coverage to get a dental exam and cleaning every six months and a routine X-ray annually. Children 13 or younger get other services subject to annual or lifetime limits. Receiving any restorative care requires paying out of pocket.
Cigna Dental 1000
Along with providing preventive care benefits, the Cigna Dental 1000 plan offers cost savings with coverage for basic and major restorative procedures.
Examples of covered basic services include fillings for cavities and noncomplex extractions, while some major services include deep cleanings, oral surgery, root canals, dentures and crowns. This plan has no orthodontic or cosmetic dentistry coverage.
Using an in-network provider requires paying 20% coinsurance for basic services and 50% coinsurance for major services.
Cigna pays up to 80% of an out-of-network provider's contracted fee for basic services and up to 50% for major services. If the out-of-network provider bills you for any amount higher than the contracted rate, the insurance will not cover it. The plan's annual maximum is $1,000.
Cigna Dental 1500
The Cigna Dental 1500 plan adds orthodontia benefits to the preventive and restorative care benefits of the Cigna Dental 1000 plan. Both adults and children can use this coverage for either Invisalign or traditional braces. As with Cigna's other plans, you don't get benefits for cosmetic treatments like teeth whitening or veneers.
This option has the same basic and major services coinsurance rates as the Cigna Dental 1000 plan. Orthodontia has a 50% coinsurance rate with in-network providers, and Cigna pays half the provider's contracted fee if you go to an out-of-network provider. The annual maximum is $1,500, but orthodontic care has a separate $1,000 lifetime maximum.
Cigna dental insurance pricing
When comparing premiums from a survey of the best dental insurance plans, Cigna lists average monthly premiums of $19 for the Cigna Dental Preventive Plan, $33 for the Cigna Dental 1000 plan and $39 for the Cigna Dental 1500 plan.
Your location and age affect your actual premiums. Expect to pay more if you live in a major city where dental care services run higher. In addition, you'll likely pay more if you're an older individual since the carrier sees you as a bigger risk.
For educational purposes, here are sample monthly Cigna dental insurance rates from the quotes tool for a 35-year-old individual in three cities:
| | | | |
| --- | --- | --- | --- |
| | Los Angeles, CA (90001) | Orlando, FL (32789) | Boston, MA (02108) |
| Cigna Dental Preventive Plan | $25 | $18 | $37 |
| Cigna Dental 1000 | $40 | $28 | $52 |
| Cigna Dental 1500 | $47 | $34 | $68 |
Cigna dental insurance financial stability
You'll want to choose a financially stable dental insurance company to ensure the company will have the funds needed to pay the claims you make. AM Best and Standard & Poor's (S&P) are two organizations that provide credit ratings for the Cigna Health and Life Insurance Company subsidiary. While AM Best uses an A++ to D scale, S&P has an AAA to D rating scale.
Based on recent data, AM Best has given Cigna an excellent "A" rating. S&P Global gave the insurer an "A" rating, which puts the insurer in its "strong" category. While Cigna didn't come out on top of these scales, the strong ratings indicate confidence in the company's ability to pay out claims.
Cigna dental insurance accessibility
Cigna makes dental plans accessible regardless of where you reside, with 24/7 customer service by phone and online chat during limited hours. You'll also find an online portal and mobile app where you can access your plan information anytime.
Availability
Cigna dental insurance for individuals is available in all 50 states plus the District of Columbia. Note that plan features, such as out-of-network coinsurance rates, can vary by state.
Contact information
If you need dental insurance quote information, Cigna has phone representatives available at 1-855-340-9388 between 8 a.m. and 8 p.m. EST on weekdays.
You can also call the 24/7 Cigna dental insurance customer service at 1-800-997-1654 for policy help. If you have a myCigna account, you can chat online with a representative between 9 a.m. and 8 p.m. EST on weekdays.
User experience
Once you become a member, you can see claims, estimate procedure costs, get a digital insurance card and make plan changes with the myCigna website and the mobile app. You can also use the app to pay your premiums and find in-network providers. In addition, the main Cigna website has a knowledge center with answers to common dental insurance questions.
Cigna dental insurance customer satisfaction
Despite Cigna's popularity and financial stability, many customers report negative experiences with the company. Cigna doesn't have Better Business Bureau accreditation, and the customer review score is only 1.21 out of 5. When writing what insurance is like through Cigna, dental plan members on both websites complained about poor customer service, issues getting necessary services covered and long reimbursement times.
On the other hand, J.D. Power ranked Cigna slightly above the industry average on its 2022 customer satisfaction study on U.S. dental plans.
Cigna dental care insurance FAQ
How do you cancel Cigna dental insurance online?
Cigna doesn't let you cancel your dental insurance coverage online. Instead, you must
write a cancellation letter
and include your member ID from your Cigna dental insurance card. Mail the cancellation letter to this address: Cigna Individual Services, P.O. Box 30365, Tampa, FL 33630. You may receive a premium refund if you recently signed up and haven't yet filed any claims.
What is non-duplicable coverage with Cigna dental insurance?
Non-duplication of benefits
comes into play when you have dental insurance coverage through two providers simultaneously. In that case, your primary plan, such as one through your work, would pay out a dental claim before you'd get any reimbursement through a secondary plan, such as a Cigna individual one.
Who accepts Cigna dental insurance?
You can use your coverage at in-network dental providers for the best savings and out-of-network providers for flexibility. Cigna's dental insurance network includes 300,000 dental offices and 89,000 providers nationwide. Use Cigna's
"Find a Doctor"
tool to see local dental offices that accept Cigna insurance and learn more about specific providers.
How we evaluated Cigna dental insurance
As we evaluated Cigna dental insurance, we reviewed the carrier's website and plan documents, as well as consulted third-party sources for ratings and customer experiences. We based our findings on the following factors:
Plan options
Premium costs
Policy exclusions
Deductibles and annual maximums
Customer reviews
Accessibility
Customer support
Financial stability ratings
Summary of Money's Cigna dental insurance review
Cigna dental insurance is best if you'd like to avoid a high deductible and get preventive care without any out-of-pocket costs. Despite its relatively affordable premiums, the insurer offers plans that cover many common restorative services and give you the flexibility to use any dentist as long as you're willing to pay more.
You'll also benefit from a financially solid and reputable carrier with plans available nationwide and multiple customer support options. Plus, you can access an extensive network of providers accepting Cigna dental insurance.
On the other hand, Cigna's plans have some exclusions for procedures like implants. So, it's important to consider your dental health needs and read the plan documents carefully before you sign up. Be prepared to pay the required coinsurance and have some money saved to cover any costs above your annual maximum as well.