This NFL Player Lost 2 Endorsement Deals for National Anthem Protests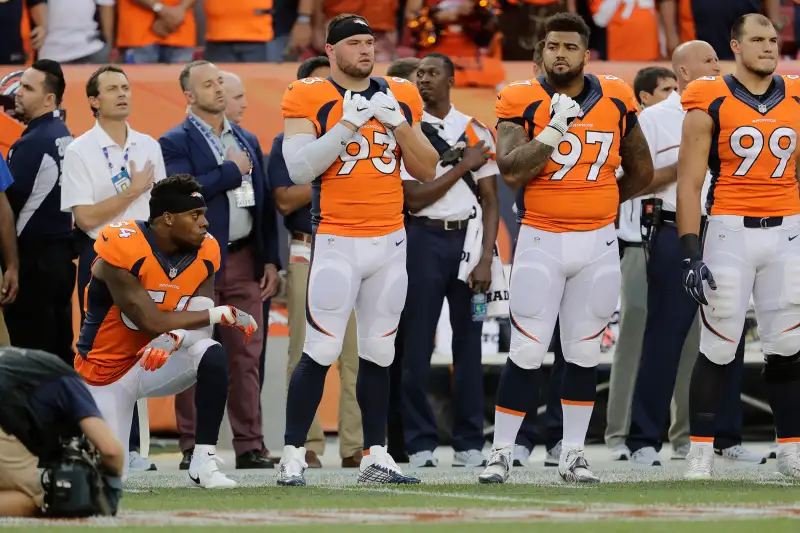 San Francisco 49ers quarter Colin Kaepernick may be the leader of a group of NFL players who are kneeling or raising fists in the air during the national anthem before games as a form of protest, but it is one of the players following in his footsteps who is already paying the price in the form of lost sponsorship deals.
The Denver Post reports that Broncos linebacker Brandon Marshall has seen not one but two of his endorsement deals terminated in the wake of his decision to kneel during the performing of the national anthem. Last week, the Air Academy Federal Credit Union cut ties with Marshall as a spokesman, and on Monday, CenturyLink did the same.
"We completely respect Brandon Marshall's personal decision and right to take an action to support something in which he strongly believes," CenturyLink, whose corporate name is featured on the home stadium of the Seattle Seahawks, said in a statement this week. "While we acknowledge Brandon's right, we also believe that whatever issues we face, we also occasionally must stand together to show our allegiance to our common bond as a nation. In our view, the national anthem is one of those moments. For this reason, while we wish Brandon the best this season, we are politely terminating our agreement with him."
Marshall and Kaepernick, former teammates at the University of Nevada, have been kneeling during pre-game performances of the national anthem as a way "to stand with the people that are being oppressed," in Kaepernick's words. "People are dying in vain because this country isn't holding their end of the bargain up, as far as giving freedom and justice, liberty to everybody."
Read Next: Colin Kaepernick Jerseys Fly off the Shelves Amid National Anthem Protest
The protesting players insist that they are not anti-American or anti-military. Kaepernick has said he is donating $1 million to communities in need, and that he is trying to promote discussion and save people's lives. In addition to the national anthem protests, Kaepernick wore socks depicting police officers as pigs during pre-season training camp.
Police have threatened to boycott games at Levi's Stadium, home of the 49ers, due to Kaepernick's national anthem protests, which have drawn widespread criticism from sports fans, some NFL players and owners, politicians, and random businesses. A cigar lounge in Houston even turned a Kaepernick jersey into a doormat with the help of some duct tape in response to the national anthem protests.
Thus far, though, Kaepernick's sponsorship deals, which include agreements with brands like Jaguar and Beats by Dre headphones, seem to remain intact. What's more, Kaepernick's jersey has become a hot seller since the national anthem protests have been generating headlines, despite his status as a backup player.
Read Next: 5 Strategies to Score NFL Tickets at the Lowest Prices This Season
In some cases, protesting players are getting support from surprising corners. On Sunday, Miami Dolphins' owner Steve Ross shook the hands of and offered kind words to four of his players who knelt during the anthem. "I don't think there was any lack of respect," Ross said to reporters after the team's game. "Everyone in this team and whole organization respects the flag and what it stands for. These guys are making a conversation about something that's very important topic in this country. I'm 100 percent in support of them."