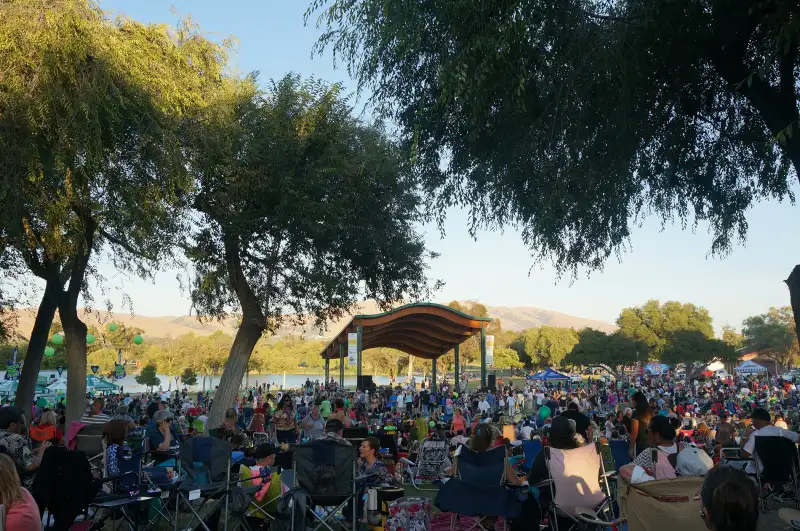 Courtesy of the city of Fremont
| | |
| --- | --- |
| AT A GLANCE | |
| Population | 239,527 |
| Median Home Price | $805,500 |
| Property Tax | $5,780 |
| Unemployment rate | 4.7% |
| Commute time | 41 minutes |
This former Gold Rush town, named for American explorer John Charles Frémont, sits in the San Francisco Bay Area's southeast section. A college town (Ohlone College and Northwestern Polytechnic University are here), Fremont has a diverse population, including the largest Afghan-American population in the U.S. Many local residents work in nearby Silicon Valley, though companies including Lam Research, Fremont Bank, and Silicon Graphics International are just a few of the corporations that have built their headquarters in Fremont. Top 10 employers include Tesla and Kaiser Permanente.
On weekends, residents attend outdoor movies on Friday nights (Charlie Chaplin shot some of his silent films here), frolic at the Ardenwood Historic Farm, Don Edwards National Wildlife Refuge, the Aqua Adventure water park, or Fremont Central Park, with its 83-acre Lake Elizabeth. Each year on the last weekend of August, residents and visitors descend on Fremont for an antiques fair and flea market.
If you need more reasons to relocate here, Fremont boasts 55,000 trees and a Mediterranean climate with fewer than 15 inches of rain each year. In January 2016, the Fremont City Council officially named Fremont a "Compassionate City," meaning that its community members are committed to treating others as they would like to be treated.