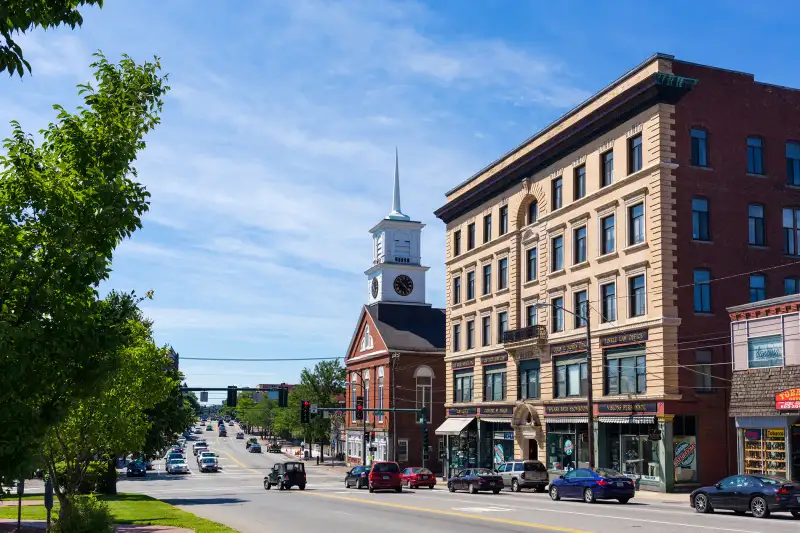 Ian Dagnall / Alamy Stock Photo
| | |
| --- | --- |
| AT A GLANCE | |
| Population | 88,766 |
| Median Home Price | $228,000 |
| Property Tax | $5,005 |
| Unemployment rate | 2.9% |
| Commute time | 24 minutes |
Located just a 45-minute commute from Boston, Nashua is an ideal home for families who want to enjoy the amenities of one of the country's largest cities without the price tag. (There's no state income or sales tax in New Hampshire).
Nashua ranked first on Money's inaugural list of the Best Places to Live back in 1987, and again took the honor in 1997. It's currently undergoing something of a renaissance; residents say young families are moving back to the town, more businesses are springing up on the charming Main Street drag, and new housing developments, coupled with a strong job market, are re-energizing the once sleepy community. A start-up incubator, nashuaHUB, is aiming to put the New Hampshire town on the venture capitalist map.
"The dynamics of the downtown are changing, and that's a cool thing," says Jessica dePontbriand, owner of jajaBelle's, a bakery on Main Street. "There's a vibe that's changed even in the past two years, and it's being driven by young people."
In fact, a robust economy and plenty of job opportunities make the town especially appealing. BAE Systems, Fidelity, Oracle, and UPS all boast large presences in the community. Another point of pride: Nashua's Immigrant Integration Initiative. In a time when immigration has become a contentious issue in the national political discourse, Nashua is working to integrate its immigrant community through job training and mentorship programs. The initiative is a collaboration between leaders in both the public and private sector to connect immigrants with local employers.
"I really feel like I belong in Nashua," says Galina Szakacs, and immigrant from Russia who co-chairs the Immigrant Integration. "You're seeing curiosity start to replace fear."
Boston obviously provides an accessible cultural outpost, but there's plenty to do in Nashua as well. Mine Falls Park offers a beautiful respite from the hustle and bustle; the town hosts festivals and parades downtown throughout the year. The International Sculpture Symposium is an annual event that brings artists from around the world to the city for three weeks. And Mayor Jim Donchess (who also happened to hold the position when Nashua was named the Best Place to Live in '87) is looking to make the city more walkable, implementing wider sidewalks and more bike paths, according to Mike Apfelberg, president of United Way of Greater Nashua.
One drawback: Nashua has been impacted by the growing opioid epidemic in the U.S. The mayor has established a task force to deal with the community's drug problem, and New Hampshire is receiving a federal grant to help combat the issue.