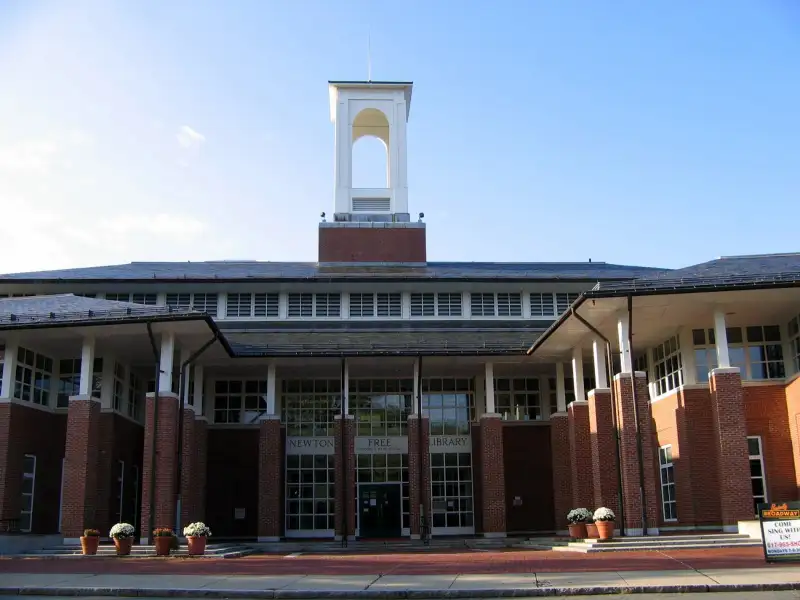 Courtesy of the Town of Newton
| | |
| --- | --- |
| AT A GLANCE | |
| Population | 86,224 |
| Median Home Price | $920,000 |
| Property Tax | $9,037 |
| Unemployment rate | 3.6% |
| Commute time | 24 minutes |
Located just outside Boston, Newton is comprised of 13 small villages, each with its own quaint downtown area. A stone's throw from Revolutionary War battlefields, the city is full of history, both Boston's and its own. The Boston Marathon runs through the city every April, including the race's infamous Heartbreak Hill at mile 18. Those more inclined toward sweet treats than long-distance running might be interested to learn that the city gave its name to the Fig Newton cookie.
It's an ideal place for those who work in Boston, just seven miles away, to which it's connected by bus, train and light rail lines. Interestingly, however, many Newton residents work in the town itself, with Boston College and Newton-Wellesley Hospital serving as its largest employers. It also hosted the headquarters of TripAdvisor until July 2015, when the company relocated to nearby Needham.
Newton's school system is highly regarded, ranking highly among similarly-sized cities. Local high schools partner with universities like MIT and Boston College to implement tech and pre-college programs. It's also a city rich in racial diversity and cultural activities, scoring well among its peers in both metrics. It hosts the Newton History Museum at the Jackson Homestead, which was once an Underground Railroad stop, as well as the. Outdoors lovers can also enjoy dog-walking areas in Norumbega Park and swimming at Crystal Lake.
However, all those perks comes at a cost, with median home prices upwards of $920,000 and property taxes of about $9,037. The cost of living index in Newton, at $137.63, is also far above average for mid-sized cities.